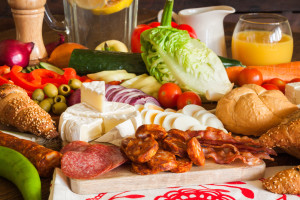 What are the food ten items in your kitchen you cannot do without? Most of us in the western world will have ingredients such as milk, eggs, butter/margarine, sugar and some type of flour on hand, but what else do you need (or makes it hard to get by without) for everyday cooking and meal creation?
1. Garlic Powder – I'll add this stuff to a wide variety of dishes. It's almost as good and universally useful as salt, even if it's just a pinch. If a recipe calls for fresh garlic, then I'll use fresh garlic. But for things that need a quick "spicing up", garlic powder is the answer.
2. Shredded Cheese – Preferably cheddar, or a colby/monterey jack variety. I'm a cheese lover, and there are all kinds of things that can benefit from the addition of a little sprinkle of the shredded stuff. For virtually all Italian dishes, mozzarella or parmesan is a requirement.
3. An All-Purpose Barbecue Sauce – this can make any type of meat and most types of sandwiches taste better.
4. Hot Sauce – a dash of this will perk up even the blandest of sauces and mixes. Like garlic powder and shredded cheese, I use this all the time (even when my family doesn't realize it!). A thin, cayenne- or habanero-based sauce does wonders.
5. Crushed Chile Pepper – a good substitute or alternative to a hot sauce. And this is a must as a sprinkle topping on any kind of pizza.
6. Black Pepper – I love having both the "economy-sized", rectangular-shaped can of pepper and the smaller grinder/shakers in the kitchen.
7. Pasta – we keep numerous types of different pasta in the pantry – mosticcioli, manicotti, spaghetti, rotelle, macaroni, rotini, rigatoni, fettuccine, and others can be found at one time or another. Just boil some up, put some sauce on it, and you have an instant meal the whole family will devour…just as long as there's some meat with it, too.
8. Oregano – probably my favorite herb. Goes nice with more than just Italian recipes.
9. Potatoes – the world's most versatile vegetable. Boiled, mashed, baked, au gratin, broiled, roasted, hash-browned, french-fried, tater-totted…the list goes on and on. I gotta have some form of it, because there's not a meal that exists that can't be complimented by these babies.
10. Onions – I'll be first to admit that I'm not a big onion fan. But added in small amounts and becoming fully cooked, this can make almost the perfect additive or food topper. When a fresh onion is not around, there's a handy-dandy jar of dried onion flakes always on hand.
Looks like I can't limit it to just ten items. Here's a bonus for you to read:
11. Meat – I could NEVER become a vegetarian. We keep a deep freezer stocked with different kinds of beef, pork, and chicken. A meal without meat is just a snack.
12. Coffee – I'm a caffeine junkie. 'Nuff said.
What About You?
What are are some of the must-have food items you always need to keep stocked up in your kitchen? Let us know in the comments below…
Ten Ingredients in Your Kitchen You Cannot Live Without