Fuzzy's Taco Shop is a growing chain of Mexican-style restaurants. The first location was built a little over 10 years ago in Forth Worth, Texas. Now franchises are spreading throughout the Soutwest, South and Midwest United States; and as of this writing, there are 53 stores across 11 states.
I was graciously invited to the VIP Grand Opening of the first Fuzzy's Tacos in the St. Louis, Missouri Metro area, situated in the suburban town of Webster Groves.
The atmosphere and attitude were a far cry from your traditional south-of-the-border eateries. Instead of mariachi music playing, Fuzzy's goes instead for a Baja California-style ambience; and as a matter of fact, with Jimmy Buffet being pumped through the ceiling's speakers, the joint almost had a cool, Key West feel to it. This I liked.
One aspect of Fuzzy's is the usage of double entendres and blatant sexual innuendos in its messaging. The staff at Fuzzy's shamelessly informed me that this was all intentional and made no apologies for it. Although the jokes may fly above younger children's heads, teens and adults could easily pick up on this.
The menu, as you can see in one of the photos below, is full of ridiculously fresh street-style and crunchy tacos, salads, burritos, nachos, queso, and more, with ice-cold beer and soda to provide a thirst-quenching.
Fuzzy's Taco Shops boasts "Butt Burnin' Hot Sauce". Fuzzy's rep Kathleen Karsten was curious to get my reaction to this sauce. It's an elixir probably most similar to a Tapatio with a medium heat and decent cayenne-style flavor tones. It should fit in with the heat tolerance of the general public, but I needed it punched up a few notches, so I asked for a hotter habanero sauce (available from the kichen upon request) in a little plastic cup. This habanero sauce, in unison with the milder Butt Burnin', proved to be a capable-enough duo to add a bit of spicy kick to Fuzzy's food.
I want to thank owner Scott Bonner, as well as all the friendly staff (who attended to every need myself and my girlfriend had), for the invite out and for some delicious, munchable Baja-style vittles. Fuzzy's would be a great alternative to fast food spots when wanting some quick Mexican on the fly.
Address:
8073 Watson Rd. Webster Groves, MO 63119
Hours Open:
Sunday – Wednesday: 7:00 am – 10:00 pm
Thursday – Saturday: 7:00 am – 12 midnight
Website: http://www.fuzzystacoshop.com
Facebook Page: https://www.facebook.com/fuzzystacostl
Twitter: http://www.twitter.com/FuzzysTacoStl

Fuzzy's Taco Shop's Menu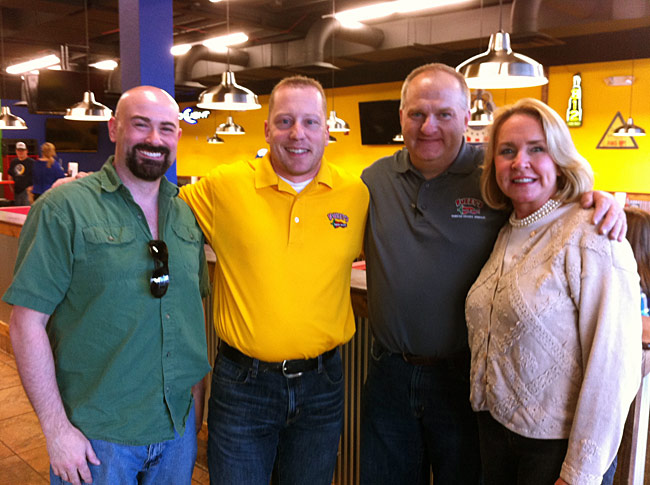 Myself and the senior staff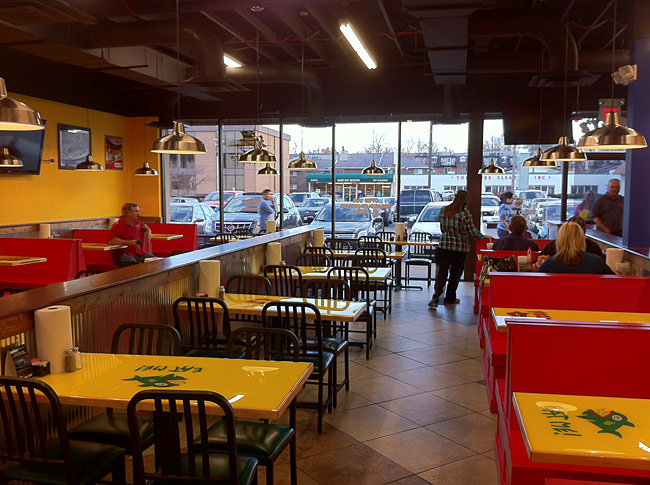 The dining room

Margaritas? No…BEERITAS!

Shrimp, chicken and beef tacos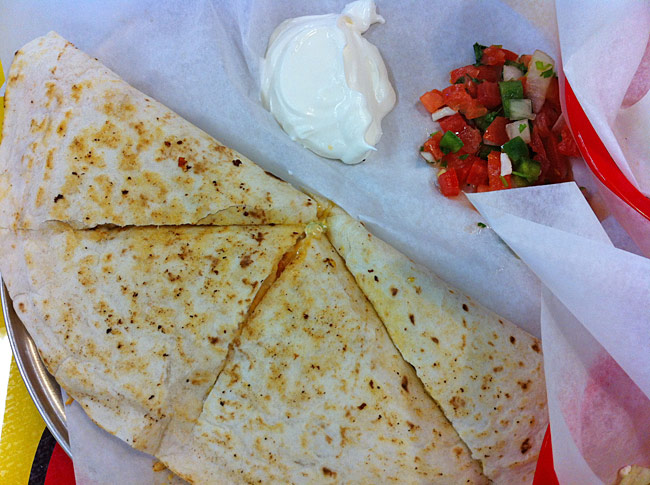 Mary's quesadilla

The Butt Burnin' Hot Sauce in a Corona bottle. These are on every table in the establishment.

Butt Burnin' Sauce on a beef taco

A spicy bite!

My girlfriend Mary smiling for the camera after taking a bite.
Scotty Loves to Munch on Fuzzy Tacos