My latest review is of Sista Natural Pepper Sauce (Picante Chombo), which is billed by creators Alisina, S.A as a "flavorful Panamanian-Caribbean style" elixir. This product of Panama snagged a 3rd place award at during a recent Scovies, so I was intrigued in seeing what this condiment had to offer.
Ingredients:
Aji Chombo (Scotch-Bonnet Peppers), Aji Dulce (Sweet Peppers), Cebolla (Onion), Ajo (Garlic), Vinagre (Vinegar), Curcumin (Turmeric)
Aroma:
3.5 out of 5. Powerful garlic and pepper smell with a dash of onions thrown in. I kind of like it.
Appearance and Texture:
3 out of 5. Sista Hot Sauce is a deep yellow liquid accented by small shreds of red peppers and has a pulpy consistency. Lots of runny globs stick to the inside of the bottleneck after shaking it up and letting the bulk of the sauce run down. The bottle has a restrictor cap and the sauce's viscosity is just right on target for requiring this sort of thing, but since it you may want a lot of Sista on your foods you may have to shake it for a while to get enough of it.
Taste Straight Up:
4 out of 5. Very, very nice chile pepper taste. Often a hot sauce will keep the heat and lose the actual flavor of the chiles used. Not Sista. The first thing I noticed after licking a straight glob off my fingertip was the distinctive taste profile of scotch bonnets. The was quickly followed up by garlic, then vinegar and lastly the onions and turmeric. A bright burn coated the roof of my mouth and back of the tongue and book-ended the experience with a long, lingering finish.
The flavor is more Panama and less Caribbean. When I think of "island" sauces, I picture more exotic spices and perhaps a bit more tropical sweetness. Sista is not that; it's primarily garlic and chiles, but it's terrific at being what it is.
Taste on Food:
4 out of 5. I splashed some of the sauce on a tortilla chip. It worked really well, and while I prefer a chunky salsa on chips, I could very easily see myself snacking on a soup/cereal bowl full of tortilla chips doused with Sista Pepper Sauce
Next was a steak and rice burrito that desperately need spicing up. Sista was great in complimenting the existing spices in the chopped steak mix and salsa, and the sauce took turns both in lead roles and supporting roles with the flavor – as strange as that may sound – where it took a back seat where it needed to and jumped to the forefront at other times.
Heat:
On a scale of 1 to 5, this was a burning 3 out of 5. This is probably too hot for most fair-weather chile pepper and sauce users, but spice lovers should find it wonderfully comforting. Like I mentioned before, there's a long, slow burn on this – mine started about two seconds after tasting and stayed around for a good 30 seconds.
Label:
3 out of 5. With this being bright yellow, it's hard to miss. Between the pepper basket image and the leaves adorning the top, it creates an indelible image that boldly and unmistakably says "chile sauce". I did have to knock off a point or two for the dated-looking fonts and textual placement.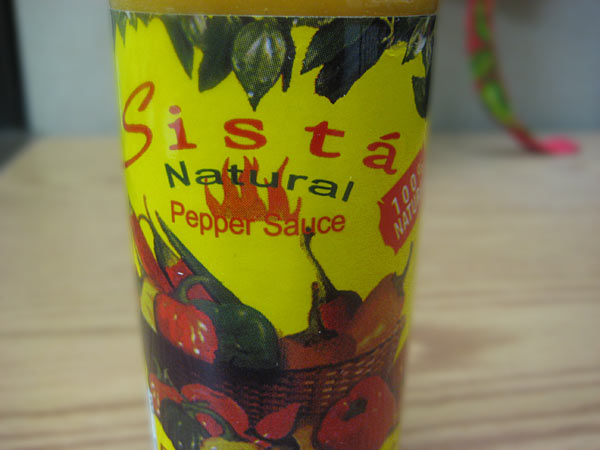 Overall:


I was pleased overall with Sista Natural Pepper Sauce. With a nice kick and a nice flavor, this could complement a variety of Latin American and Mexican dishes.
Sista is a bit difficult to find online to purchase, but it's worth the effort. Do a Google search and you should be able to find this sauce going for around $3.75 – 4.00 for a 5 oz. bottle.
Review – Sista Natural Pepper Sauce