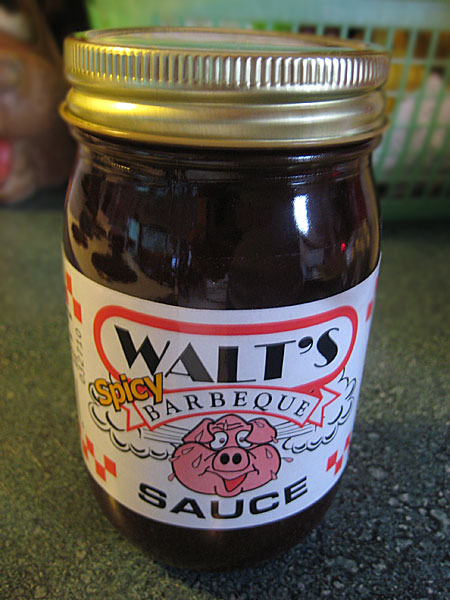 Like a great many BBQ sauces, Walt's Spicy Barbeque Sauce originates from a namesake restaurant (technically, there's now a trio of locations in the Cincinnati, Ohio area). I was impressed with what I had tasted in Walt's milder sauces, so I acquired a jar or two of their fieriest version for review at home to see if it was able to stand up to the same high standards. It received a 5th place finish in the 2009 NBBQA Awards in the Barbecue Sauce: Tomato Spicy category, so perhaps I had a winner on my hands. Or not?
Ingredients:
Ketchup, Vinegar, Molasses, Brown Sugar, Citrus Juice, Habanero, Spices, Liquid Smoke
Aroma:
3 out of 5. This is sweet and smokey to the max. Depending on your mood you may or may not like this, and perhaps want a more subtle sauce. I feel the same way.
Appearance and Texture:
3.5 out of 5. Not much of a surprise here. A deep brownish-red hue with a relatively medium/thin consistency. I noticed two or three deviant flakes of spice floating in the otherwise baby-smooth blend.
Taste Straight Up:
3 out of 5. Wow! This is very, VERY sweet. The ketchup, molasses, and brown sugar taste as if they're used in gigantic amounts and are made to work overtime. It possessed a tinge of tomato-y flavor thanks to the ketchup and an inkling of artificial smoke flavoring but overall the whole presentation is sugary and syrupy. If you go for this kind of thing in your sauces, then this may be perfect for you. Personally I was torn between really liking it and being turned off by it. As a compromise in my taste buds, I thought of it as only being merely decent. I would have rather this have been a slightly more balanced cornucopia of flavors and spices.
Taste on Food:
3.5 out of 5. It's hard to go wrong with some smoked pork shoulder. I cut off a chunk of that luscious meat and tore it into larger, bite-sized pieces (and not shredded like pulled pork typically is). I poured a healthy coating of Walt's Spicy Barbecue Sauce on top. I thought it fared better than just eating the sauce straight – which is obvious, but I think a top-notch sauce should be able to stand on its own and have a well-rounded flavor. there was nothing at all bad about this, save for the fact that this made for some sweet and smokey barbecue. Oh yeah, and a little spicy.
Heat:
On a heat scale of 1 to 5, with 5 being a nuclear furnace, this would rate a nice, comfortable 2.5. The burn may be a bit too much for mild mouths. The heat hits your tongue 1 or 2 seconds after consumption and lingers for quite a while; which for chileheads would be a lovely, soothing, medium-level fire.
Overall:
Walt's Spicy Barbeque Sauce walks the fine line between being a truly great product and a so-so one. My advice is if you like a heavy sweet flavor with a formidable burn, give this a try. If not, Walt's Mild Barbeque Sauce (almost as sweet but more subdued) would be a better option for you.
If you reside in the Cincinnati area or are just stopping along there in your travels, you can pick up a jar to take home with you. Walt's Barbeque website does do mail order sauces, but you have to purchase twelve of their 16 oz jars at a time in order to have them sent to your home. If you're smoking or grilling up a large quantity of meat for family or commercial events, a case might be worth the trouble.
Review – Walt's Spicy Barbeque Sauce