I believe that the "golden age" of hot sauce collectibles has already passed, and probably peaked around 2009.  Does by no means indicates that collecting is over with (witness super collector Vic Clinco and his gargantuan accumulation of sauce bottles) and the number of "fun" themed and novelty hot sauces may actually continue to grow. There may be some of these that are legitimately good tasting and made for daily consumption, but you have to admit it…most of these novelty sauces are for looking at only.
The Three Stooges, one of the 20th Century's greatest and beloved comedic troops, has had their benefactors take advantage of their profitable name and slapped it on a number of products for sale at their online store. Of course, Three Stooges Hot Sauces were some of such items available for fans of our favorite knuckleheads. The powers that be teamed up with sauce manufacturer Mo Hotta Mo Betta to spawn a sauce for each member of the most classic lineup: Mo Hotta! Hot Sauce, Curly's Knockout Hot Sauce, and Larry's Lightning Hot Sauce.
Before trying these, the main questions for me were, do these rise above novelty level in terms of flavor, and do they merit a spot in any Stooge-loving chilehead's refrigerator instead of just their collectible shelf? Read on to see…
Larry's Lightning Hot Sauce
Ingredients: Aged red peppers, distilled vinegar, xanthan gum.
Flavor and Heat: Larry's Lightning is the "entry level" cayenne pepper sauce of the trio, and the one that fair-weather hot sauce fans would be most comfortable with. Larry's Lightning has a watery consistency and bright red color, very reminiscent of a Frank's RedHot or a slightly thickened-up Tabasco. The taste is pretty standard fare for the genre, although Larry's Lightning does have a smoother feel to it, probably because of the lack of salt contained within. If you're turned off by the overly-harsh and salty flavor that's the hallmark of other Louisiana style hot sauces, or if you're on a low sodium diet, then you may want to give Larry's Lightning a try. Other than that, it does very little to rise above the pedestrian.
Heat: 

Flavor: 
Curly's Knockout! Hot Sauce
Ingredients: Distilled vinegar, aged red habanero peppers, salt, dehydrated carrots, dehydrated onions, dehydrated garlic, gum blend, natural flavor.
Flavor and Heat: All, now here is the Curly's Knockout! offering, is it must soitenly be better than Larry's Lightning, we would presume? Only minimally, but not that that's all bad.
First, looks-wise and texture-wise its almost identical to Larry's, with just a tad lighter color. It pours and behaves the same fashion, and is good for a splash-on style condiment. When it comes to flavor, however, it deviates from it's fellow Stooge sauce with a brighter, tarter, and moderately spicier. A good sweet kick from garlic rushes in with each bite and provides some substantial complexity. The heat blast does not hit you like a poke in Curly's eyes from Moe, but it's a warm comfortable burn that many chileheads would put at a medium "table sauce level".
Curly's Knockout! does not make me "nyuk nyuk nyuk" with giddy, garlic-loving delight, but Mo Hotta could have done a lot worse.
Heat: 


Flavor: 

Moe Hotta! Hot Sauce
Ingredients: Habanero peppers, carrots, onions, vinegar, garlic, lime juice, salt.
Flavor and Heat: Homer Simpson in all his pothole-deep wisdom declared many moons ago a fact we all knew: "Moe is their leader", in reference to his stature and position inside the Stooges' ranks. And with this Moe Hotta! Hot Sauce, it's no different when compared to the other sauces.
This one is strikingly similar to the other two in terms of hue and viscosity: an orangish-red and thinly textured condiment that requires several splashes to cover your dishes. It packs a non-offensive, middle-of-the-road habanero flavor profile, and simply works well in a utilitarian capacity. Is it innovative in any way? Hell, no; it's got as much originality as a black suit at a funeral. But that's not necessarily a negative here. It's just a good, all-purpose hot sauce with a nice medium heat and I actually kind of like it.
Heat: 


Flavor: 

On Food
As you can see, all of these Three Stooges Hot Sauces have a very similar appearance.
Larry's Lightning:
Curly's Knockout:
Moe Hotta: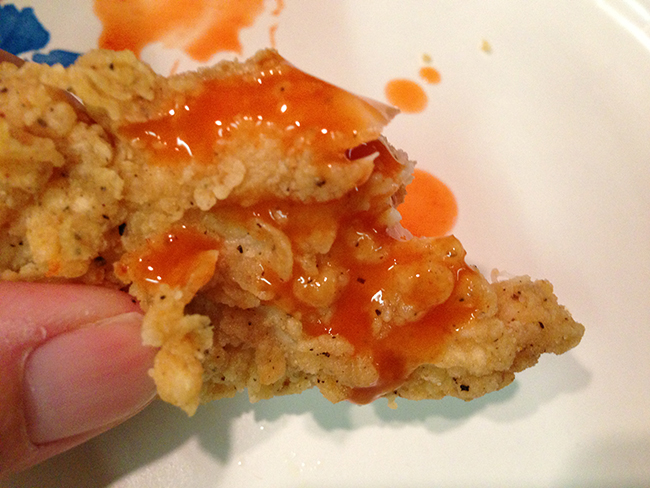 There's no use in trying a myriad of unorthodox applications for these hot sauces, as they all pretty much fit the mold of going best with your typical, standard uses for splash-on sauces: eggs, tacos, burritos, pizza, or just a bunch of slaps and shakes into your recipes. Here is Moe's on homemade pizza:
Bottom Line
I see no reason to rush out and buy any of these, as none of them deserve any awards for outstanding taste. But as table sauces? Sure, they're not too bad.  In fact, Moe Hotta! works good in that regard. If you are a collector and a fan of the Stooges (and what red-blooded American male isn't the later?), then you'll want to get these.
They are available individually or as a set at the official Three Stooges website at http://www.shopknuckleheads.com/three-stooges-hot-sauce-set
Review – Three Stooges Hot Sauces