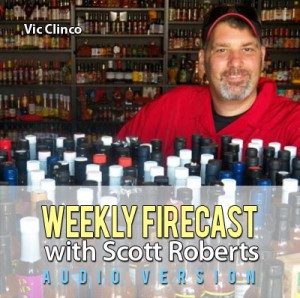 The Audio Weekly Firecast with Scott Roberts:
Episode 007 – Interview with Hot Sauce Collector Vic Clinco, Plus Black Swamp Gourmet
Scott interviews chilehead Vic Clinco, who just so happens to have the world's largest privately-owned hot sauce bottle collection. Vic is an undisputed hot sauce expert, a fellow writer for Chile Pepper Magazine, and has recently undertaken some serious formal culinary training. In addition to chatting with Vic about the collection and the industry as a whole, Scott also picks Vic's brain to see what his favorite sauces are for particular gastronomical uses.
Elsewhere in this episode, Scott interviews Karen and Bob Basel of Ohio-based BBQ sauce and seasoning company Black Swamp Gourmet. The review of the week is Intensity Academy's Chai Sweet Chili Sauce.
Links mentioned in the episode:
• Vic Clico's Hot Sauce Collection Photos (on Facebook)
• Black Swamp Gourmet
• Intensity Academy
• 2GuysTalking Feedback Gauntlet (provide feedback and enter to win $100)
• Jungle Jim's Weekend of Fire
Listen Instantly!
 Click Above to Listen to This Episode Now!
Download this episode |
Subscribe via iTunes |
Subscribe via RSS Feed
Weekly Firecast Episode #7 – Interviews with Vic Clinco and Black Swamp Gourmet