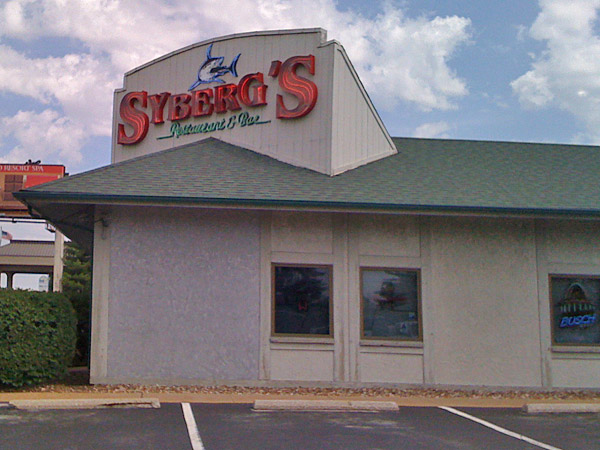 The next stop (just one of among many other forthcoming destinations) for fantastic St. Louis hot wings is the highly lauded Syberg's Restaurant. Unlike most wing joints, Syberg's is noted for having a noteworthy mustard-based wing sauce. Of source to give it credit, Syberg's, with it's four locations (five if you include the Syberg's-owned Helen Fitzgerald's Grill and Pub) is not a basic, "hole-in-the-wall" wing shack; most are sizable restaurants with expansive rooms, perfect for get-togethers with large groups of friends or family members. From past experience I would recommend Syberg's when you and your clan need a family-friendly sports bar to hang out, eat, and have a good time.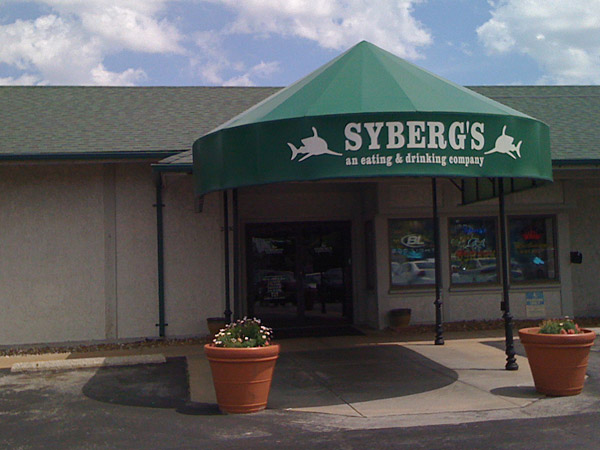 The entrance to the Syberg's Dorsett location
But today's review is not on the restaurant itself, but on their trademark chicken wings. To test these out for my Syberg's review, I decided to order some for carry-out during a weekday lunch. I gave a call to the nearest location to my place of employment (which was the Dorsett restaurant). Since they have their Syberg's mustard-based Famous Wing Sauce, Smoked w/ BBQ, regular Buffalo Hot Sauce, Tay's Teriyaki Sauce, and the breaded variety with a sweet hot sauce (which I was anxious to try), I figured I would get four different kinds by purchasing two orders of 10 wings each and splitting each order, thereby having five wings with their own kind of sauce on them.
Unfortunately, the girl on the phone nixed my request. She stated it was the "kitchen's rules" that an order of 10 could only contain one type of sauce. What? Buffalo Wings Wings would gladly do this for me. Culpepper's would do this. I could rattle off a half-dozen restaurants in the area who would be happy to accommodate an easy-to-accomplish request like this. Now, I certainly would understand if they would turn me down if I were being anal, asking unreasonable things like, "make only two wings this sauce, but only one and a half wings that sauce, and three other wings in the same order made yet another way but double the amount of sauce on two of those…" But a simple half-and-half? Nope, she wouldn't budge. This immediately took off a point or two from my judging of Syberg's. Due to limitations in my budget and my appetite, I was reluctantly compelled to get two 10-piece orders, one with the mustard sauce and one with the buffalo hot sauce.
After about 20 minutes of mild irritation passed, I was walking back from my car in my office parking lot ready to tear into my lunch. I plunked the brown paper bag on my desk and pulled out the twin styrofoam containers which stored the goodies.
I began with the standard hot wings. There were no complaints on the size – they were plump but not huge. They were tasty enough to plow through the whole ten, but was it because of my intense hunger? I liked them, but there was nothing special about them. In fact, they were downright ordinary. I thought the chicken meat was a bit on the dry side, but the adequate amount of buffalo sauce make up for that shortcoming.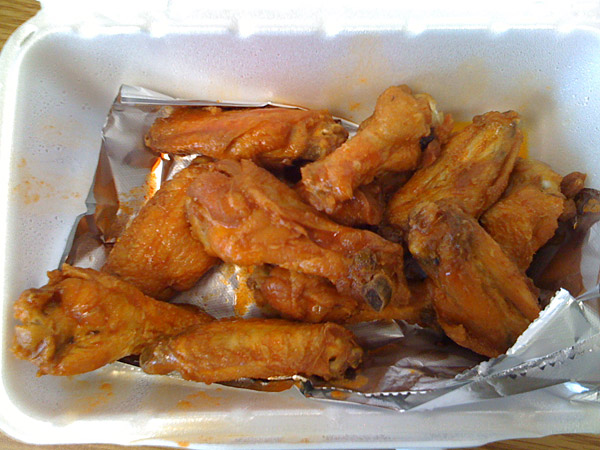 Syberg's Hot Buffalo Wings
If I weren't a chilehead, I would guess that the sauce used to make these Buffalo Hot Wings was only lightly fiery and spicy. On a my scale of 1 to 5, with 1 being "lukewarm" and 5 being "nuclear blast-furnace", these would rate a nice, warm, barely-registering 1.5.

Syberg's Hot Buffalo Wings
But Syberg's true star is their hot mustard wings. It really is remarkable stuff. It's very a tasty sauce, with the right balance of heat and mustard flavor, with a tinge of sweetness. My beef with a lot of other mustard wings is the overally strong taste they have. Not Syberg's. The thick Famous Wing Sauce is right on the money with flavor. But there is one problem – Sybergs puts the sauce too heavily on their mustard wings, nearly making it too much of a good thing. I liken it to a gorgeous women being all over you at a party or a nightclub (happens to all of us, right?), literally doing nothing but kissing you. Sure, it's great, but you do have to come up for air occasionally or else you'll suffocate. A little less with the wing coating and these would be perfect.

Syberg's Mustard-Based Famous Buffalo Wings
Heat-wise, the hot mustard are a touch hotter than their hot wings, and would place a 2 in the 1 to 5 scale.
A 10-piece order of wings (any variety) will cost you $7.50 plus tax at all Syberg's locations. For more information on Sybergs, go to http://www.sybergs.com/.
Other wing reviews:
St. Louis Wings, Part One – Culpepper's Wings
St. Louis Wings, Part One – Imo's Wings
Review – Syberg's Wings – St. Louis Wings, Part Three