Look anywhere online for foodies' and chileheads' thoughts on the Americanized version of the Thai Sriracha Hot Chili Sauce produced by Huy Fong Foods in California, and you'll see an avalanche of rave reviews and comments. People go bonkers for this stuff! Since I've never formally reviewed it, Glenn Suarez was kind enough to send me a bottle of Sriracha to review. After trying the sauce on many things, I have to admit I have different feelings about it than others do.
Ingredients:
Chili, Sugar, Salt, Garlic, Distilled Vinegar, Potassium Sorbate, Sodium Bisulfate as preservatives, and Xantham Gum.
Aroma:
2.5 out of 5. Powerfully strong hot chiles and garlic. And if I didn't see that it was missing on the ingredients list, I would SWEAR that horseradish was in it.
Appearance and Texture:
4 out of 5. Sriracha is very thick and pasty, and almost the consistency of tomato ketchup. It's a tint more orange than Heinz' most popular product. It's easy to see why it's compared so often to the popular American condiment (especially when it's known so well as a dipping sauce in Thailand).
Taste Straight Up:
2.5 out of 5. Prominent hot chile and garlic flavor with a splash of a horseradish-like taste. It may be a taste-bud illusion, but perhaps it's the overpowering infusion of garlic that's giving it that flavor. Sriracha is somewhat hot, but it's also very strong, and I think that more than anything controls the direction of the taste. The sugar in this also gives it little sweetness, making it a few inches closer to being like ketchup. But make no mistake, this is not a replacement for a saccharine-y tomato-based condiment; it's in a completely different universe.
If you love a good horseradish sauce – or even stuff with wasabi or lots of fresh garlic – then Sriracha may be right down your alley. I've never been a horseradish fan so this didn't appeal to me instantly. I knew I had a real challenge on my hands in finding a compatible dish for the sauce.
Taste on Food:
A mixed bag in terms of a rating.
My wife made some of her fantastic chicken egg roll wraps. Sriracha's thickness proved it to be an admirable dipping sauce – I was able to sop up a lot on there! But taste-wise it still didn't "click" for me. I tried bites with both a little and a lot of sauce, and I preferred only a tad bit of Sriracha with each dip.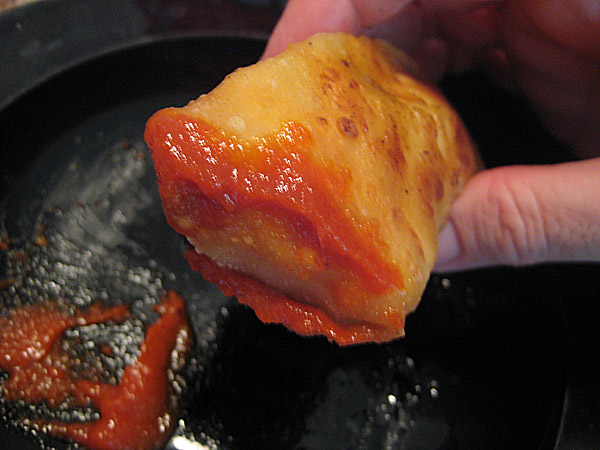 I cooked up some white rice and mixed in several squirts of Sriracha. It fared better, but not much.
Egg noodles was next up at bat. Wow, this did not go well at all. I had to spit out my third spoonful of this creation.
Scrambled eggs? Well, I prefer non garlicky stuff on any morning food with eggs (omelets & breakfast burritos to name a few), but admittedly this wasn't too bad for some reason. Still, I would've liked a Trappey's or Cholula instead.
In the end, I couldn't find anything I felt was comfortably compatible with Sriracha. Is it me, or do all those other commentators on the internet really know what the hell they're talking about? I'm inclined to agree with that last statement, but I'm not going to open that can of worms.;-)
What's odd is that I love dishes with loads of fresh, powerful garlic, and obviously I love the chile-induced heat. Often I like those two flavors melding with one another. But Sriracha just doesn't cut it for me. I guess those throngs of Sriracha lovers and I will have to agree to disagree.
Heat:
2 out of 5. Not much heat (2 out of 5 on a scale where 5 is the hottest) but does possess pungency from the dominating garlic/pseudo-horseradish flavor. Because of this it may seem "spicier" than it actually is.
Label:
3 out of 5. Huy Fong Foods' Sriracha Sauce comes in a clear, squeezable plastic bottle. All the text is plain white and printed in different languages. It's interesting to look at while you're sitting at the table but isn't exactly the latest in cutting-edge graphic design. The rooster is a very distinctive image, and I've heard others refer to this as "rooster sauce" or "Sriracha cock sauce".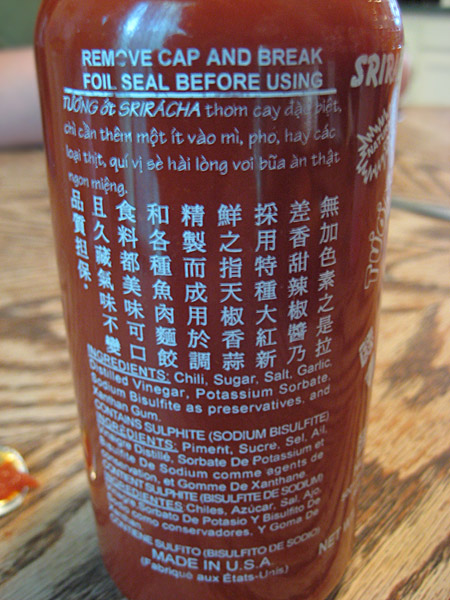 Overall:
As hard as I tried (I mean I really, REALLY wanted to like this sauce) I couldn't bring myself to really love this sauce. While it's nowhere near being a terrible condiment, I "borderline" cannot recommend it. Maybe you'll just have to try it out for yourself.
Look hard enough, and you should be able to find Sriracha in a specialty grocer near your area or in a plethora of online stores. Just Google it. Available in 17 oz. and 28 oz. squeeze bottles.
Review – Sriracha Hot Chili Sauce