If you're ever dined at one of the fun-for-kids Rainforest Cafe locations, you may or may not have been blown away by the food depending on the fare you order. Anything with the Smokin' Mojo BBQ sauce gets a thumbs up from me. Curious as to see if the Smokin' Mojo Rib Rub (A Spice Island Adventure) stacks up to the finger lickin' sauce, I purchased a bottle of the seasoning from the Rainforest Cafe naggingly persistent gift shop to try at home…
Ingredients:
Salt, sugar, hydrolyzed soy protein, molasses, maltodextrin, brown sugar, spanish paprika, onion, garlic, malabar black pepper, red pepper, oleoresin, paprika, white pepper, french oleoresin celery, and less than 2% calcium to prevent caking.
The shaker is a 6.4 oz. bottle.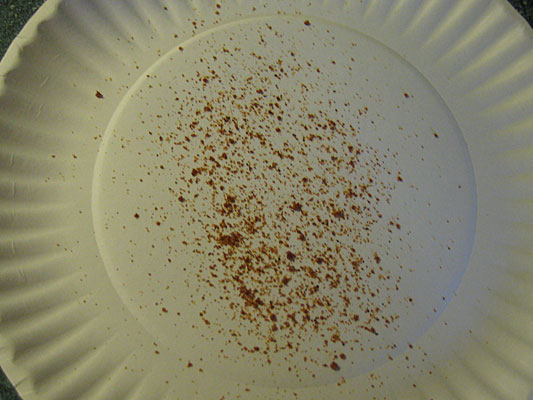 Texture and Appearance:
3 out of 5. This stuff has a colorful blend of dark orange, red, brown, and lighter-colored ingredients. Even after storing this in a dry environment for a couple of weeks, the seasoning started to cake up (despite that fact that the ingredients included calcium to prevent this), requiring me to give the bottle a few violent shakes in order to loosen the mixture.
Smokin' Mojo poured out gives you a nice view of what's there – ground-up spices and additives no larger than a grain of salt in size.
Aroma:
3 out of 5. The smell is similar to your all-purpose seasoning salts but with sweeter and smokier notes.
Taste Straight Up:
Salt, garlic, and brown sugar are dominant, with hints of paprika and onion powder present.
Taste With The Meal:
I realize I kind of went against the spirit of the review and applied it to something else other than ribs, but since I didn't have any handy I grabbed some readily available chicken breast pieces (the label did say it was good for "ribs, meat, and poultry", so why not?). I gave each side of the chicken pieces a good coating of Smokin' Mojo and rubbed it in: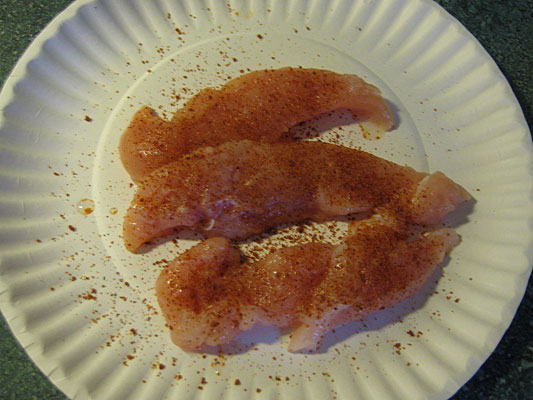 And fried them up over a medium heat:
It was time to chow down.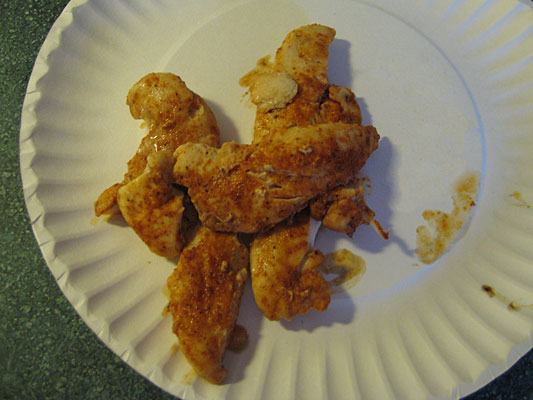 Smokin' Mojo went well with the chicken, giving it a congenial blend of complementary flavors, but didn't exactly make my taste buds dance for joy. The smoky sweetness was somewhat agreeable and something I like in a meat rub. You could probably get a generic bottle of rub or seasoning salt at your local supermarket for $2.00 and have just as good of a taste. 2.5 to 3 out of 5 on this criteria.
Heat:
0 out of 5. Park all of your spiciness expectations at the door, and you won't be disappointed. Even with the presence of paprika, red pepper, black pepper, and white pepper, there was nary a single hint of fire. If you need a kick, steer clear of this or blend in some additional chile-based spices or sauces when cooking.
3 out of 5. Graphics are exotic and fun.
Overall:
Smokin Mojo is a good but still non-spectacular rub. If you want something to "wow" your palette, look elsewhere.
I've searched but unfortunately you can't order Smokin Mojo online, but it should be available inside the gift shop at any Rainforest Cafe locations across the United States.
Review – Smokin' Mojo Rib Rub