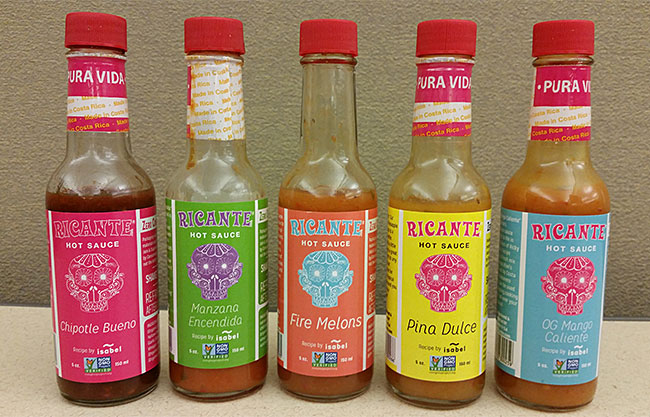 Hailing from the egregiously-underrated hotbed of spicy pepper sauce activity in the great country of Costa Rica, Ricante Hot Sauces is a family-owned company started by Ricky Ricante by using fresh chiles from his backyard. He combined them with fruits such as mangos (a staple of many sweet hot sauces) to create what would become his flagship product, OG Mango Caliente.
Later, Ricante Hot Sauces would branch out not only in their native Costa Rica, but also in Southern California, North Eastern Ohio, Virgina, South Carolina, North Carolina, Illinois and other select markets throughout the UNited STates. Armed with four other sauces, Fire Melons, Manzana Encendida, Pine Dulce and Chipotle Bueno (all of which I will review today for you today), Ricante aims to become one of the bigger players in the international fiery foods industry.
I'll first go through the five sauces, list off the ingredients, and give you my initial impressions of them.
Fire Melons
Ingredients:
Melon, kiwi, habanero chili (organic), lime juice (organic), water, sugar cane vinegar, cilantro (organic), xanthan gum, salt.
Thoughts:
The texture and viscosity of Fire Melons is right up my alley with excellent medium to medium-thick pourability. The initial flavor was very fruit-dominated, like a fresh blend of honeydew and strawberries with slight bite of heat on the backend. Fire Melons could have used perhaps a tiny presence of carrot or garlic to balance things out to make this a well-rounded hot sauce. The noticeable spiciness was subdued, yet may be sufficient for those with timid palettes.
Taste Straight Up: 2.5 out of 5.
Manzana Encendida
Ingredients:
Mango, carrots, apples, habanero chili (organic), lime juice (organic), water, sugar cane vinegar, cilantro (organic), xanthan gum, salt.
Thoughts:
Manzana Encendida is similar to Fire Melons is terms of appearance and texture, so it wins a solid point in that department. I enjoyed this flavor a little more, as it boasted considerably more of a richer, savory edge, as well as a fuller sweetness. The burn from the habaneros was a healthy medium on my own spicy scale. A step above Fire Melons overall.
Taste Straight Up: 3 out of 5.
Og Mango Caliente
Ingredients:
Mango, kiwi, hananero chili (organic), lime juice (organic), water, sugar cane vinegar, cilantro (organic), xanthan gum, salt.
Thoughts:
Og Mango Caliente is the flavor bridge of sorts to the aforementioned Manzana Encendida and Fire Melons sauces. After sampling this one, I see where Ricante Sauces' taste boundaries existed, and I was hoping for a little more diversity than this (yes, perhaps a bit unfair because there are two remaining sauces, but my mild concern is justified).  Og Mango Caliente is another winner when it comes to thickness and looks. Like I stated before, the taste is sweet and fruity, with playful notes of kiwi blending well with mango, yet had the same base notes as the others. The heat was comparable to the others as well.
Taste Straight Up: 2.5 out of 5.
Pine Dulce
Ingredients:
Mango, pineapple (organic), hananero chili (organic), lime juice (organic), water, sugar cane vinegar, cilantro (organic), xanthan gum, salt.
Thoughts:
Finally there was that diversity I was craving, even if the core taste profile did not stray too far from where the first three Ricante sauces originated. The pineapple taste in Pine Dulce was very dominant, and was backed up by a great deal of high-end tartness and the supporting flavor and heat from the habanero. Perhaps I'm used to other pineapple-based pepper sauces having a wider range of complementary components that give it a richer, more bottom-ended flavor profile, so I thought Pine Dulce's taste could have benefited from a small boast from something a tad sweeter or perhaps something to offset the tartness, although only marginally. This packs a similar positive thick consistency and overall burn as the other sauces.
Taste Straight Up: 3 out of 5.
Chipotle Bueno
Ingredients:
Jalapenos (organic), Chipotle Chilies, Yellow Onion (organic), Garlic (organic), Cane Vinegar, White Sugar (organic), Lime Juice (organic), water
Thoughts:
Wow! Chipotle Bueno is the family member in Ricante's tribe of sauces that seems adopted rather than related to any of the other four. It drastically deviates from the fruity formula and aims (and for the most part hits the target) with a more savory and smokey condiment. I enjoyed Chipotle Bueno much more than the others, to the point of inspiring my mind with things to pair this sauce with. There is a toned-down and smooth presence of fresh jalapenos highlighted with a tough of smoked chipotle goodness, along with garlic, onion and sugar tones. It's a bit milder than the first four to the point of being a sauce in which beginner chileheads can indulge.
Taste Straight Up: 3.5 out of 5.
Taste with Food
I gave all five Ricante Sauces an extensive battery of taste trials. I wish I could have gotten more pics of them, but at least I have photographic evidence of a couple of uses.
First off was a litmus test than rarely ever fails, and that is on pizza. For those of you doubting whether or not a sweet or fruity sauce can hold its own on a slice of Italian pie, let me tell you that it's a great way of putting most any hot sauce through its paces (just think of how pineapple chunks can fit on pizzas, after all). I've had a huge number of fruit sauces that have complimented pizza extraordinarily well.
Well, I had mixed results with Picante Sauces. Fire Melons, Manzana Encendida, and OG Mango Caliente did not hold up as elegantly as I hoped; they had a pit of tang and a moderate amount of chile pepper burn, but the sauce flavors nearly clashed with the mozzarella and pizza sauce. I did happen to dig the pineapple-charged Pine Dulce and the savory and smoky Chipotle Bueno sauces.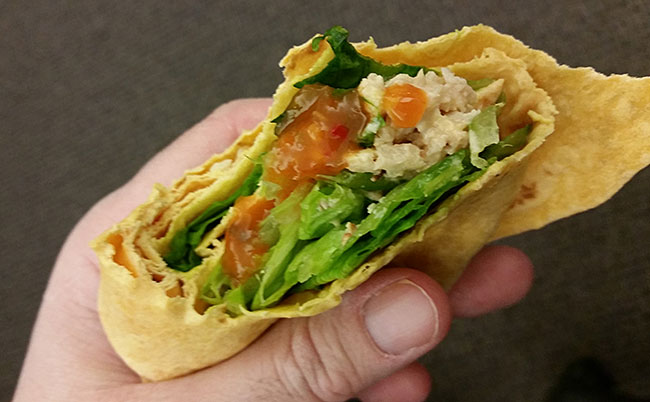 Chicken wraps were another challenge. Fire Melons and Manzana Encendida were way out of place, and the Og Mango Caliente and Pine Dulce were only so-so at providing a harmonizing flavor. Once again, the sweet n' smoky Chipotle Bueno sauce came to the rescue, giving a delicious boast of taste and heat to the wrap in light doses.
Simple burritos with seasoned beef, cheddar cheese and baby spinach leaves got a give thumbs up from me from the Chipotle Bueno sauce treatment. Manzana Encendida did surprisingly well, while not blowing me away. Og Mango Caliente was also nice. The pineapple-based Pine Dulce sauce and super fruity Fire Melons did not add anything positive to the burritos at all.
I wanted to rustle up something that would give the more fruit-dominated sauces a fair shot, so I baked some flaky white fish. Ah! Now we were getting some where. The Pine Dulce was fantastic on the fish, as was the Og Mango Caliente. The Manzana Encendida was marginally effective. For some reason, I still did not get great results out of the Fire Melons sauce.
I randomly applied the five Ricante Hot Sauces to various meals and snacks "officially" (meaning I did not formally keep track of the results), and I got similar findings as mentioned above. The results were mainly so-so, with the Chipotle Bueno getting high marks, but the Fire Melons really not fitting in anywhere, even on the website-recommended rice and beans, unfortunately.
Labels and Bottles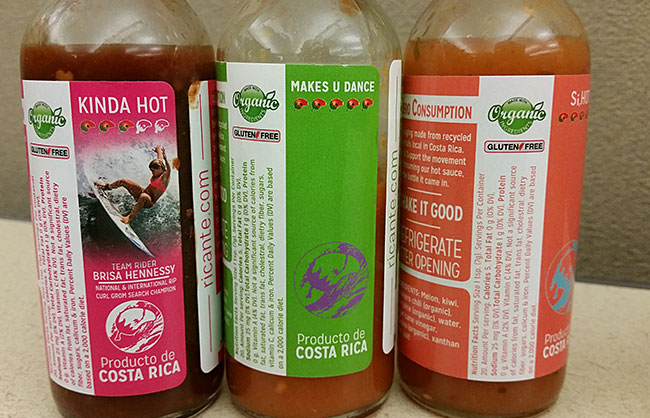 The labels on these are certainly colorful, with bright hues of hot pink, salmon orange, green, pale blue and yellow adorning the bottles. Admittedly, it took a little while to keep track of what sauce was in what color, even though none of the colors were mistakable.
I liked the decorative skull design that served as the center graphic on the front of the label. Yet I don't know if it was a personal thing with me, but the fact that some of these skulls were different colors yet others were the same added a bit of confusion as to what sauce was what (three were hot pink, one was light blue and one was darker bluish-purple)
The backs and sides of the labels were very busy with text, ingredients lists, comparative heat scales, and even the odd photo (as you can see in the photo above).
Overall on Label and Packaging, I would give a 3 out of 5.
In Conclusion
The quintet of hot chile pepper sauces from Ricante Hot Sauce are unique and stay away from the "me too" approach, even if a few of them were unremarkable for me.
I would give the chipotle and jalapeno-infused Chipotle Bueno a big thumbs up, with hesitant recommendations for the pineapple-dominated Pine Dulce and the mango/carrot/apple/habanero mismash off Manzana Encendida. The other two I would say to go ahead and skip.
If you're interested in trying these products out for yourself, go to http://www.ricante.com for something fruity and off the beaten path in hot sauces.
Review – Ricante Hot Sauces