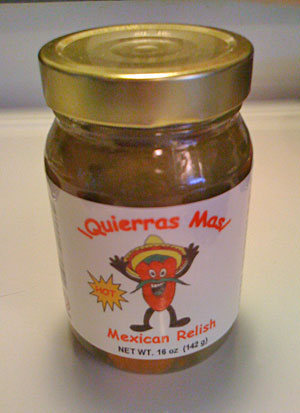 !Quierras Mas! Mexican Relish is a blend of chunky vegetables that promise to spice up most ethnic dishes in a way few other toppings or condiments have done before. Does it meet the approval of my taste buds? Is it worthy of a regular pace in my pantry or fridge? Read on to find out…
Ingredients:
Water, Vinegar, Onions, Salt, Carrots, Jalapenos, Sesame Oil and Spices
Aroma:
1 out of 5. A very, VERY strong vinegar smell came out of the jar as soon as I opened it, with hints of chile pepper and salt. Just imagine a jar of sliced, pickled jalapenos multiplied by 5, and you'll understand what I mean. Quierras Mas was too overpowering for me, and for anyone in the vicinity of my kitchen.
Appearance and Texture:
3 out of 5. The pieces of vegetables were nice and large, just the way I like 'em. Being jarred veggies, I certainly did not expect them to retain any real crispness, as any food that comes in cans or jars will tend to get "water-logged" and soggy in whatever juice or liquid in which they're packaged. They certainly were not too terribly soggy and thankfully were still firm enough for my liking.
The trio of the carrots, onions and jalapenos were very colorful and guarantee to add a splash of visual beauty to bland-looking dishes.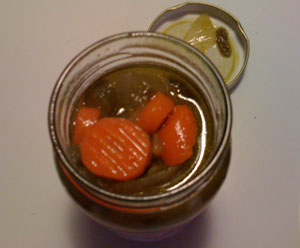 Taste Straight Up:
1.5 out of 5. I took a few vegetable pieces out with a spoon and tasted them individually. Unfortunately, each veggie did not retain any of it's distinct flavor. They all tasted like a super-tart and spicy vinegar and salt mixture. Also, there was an immediate heat that originated from each bite. God Almighty, it was pungent stuff.
Taste on Food:
1.5 out of 5. What could I create in the St. Louis branch of the Peppers and More Test Kitchens that might simultaneously benefit from and mask the vinegary flavor of Quierras Mas? I decided on a ham and cheddar-cheese omelet. I whipped one up and applied generous amounts of the relish.
It was better at masking the over-tartness, but only by a little. Each vegetable was like a comping into a super-vinegar-soaked jalapeno. By the time I had consumed the entire omelet, the hot vinegar and salt taste had coated every square millimeter of the insides of my mouth and remained there for a good half-hour.
Heat:
2.5 out of 5, with 5 being the hottest. This had good amounts of heat, and probably seemed spicier because of the pucker power derived from the heavy amounts of vinegar.
Label:
4 out of 5. This was one of the only bright spots about this product. I do have to automatically deduct one point for it's use of Comic Sans.
Overall:
There might be an audience out there for !Quierras Mas! Mexican Relish, but I'm certainly not included in it. I do see potential, if only each vegetable would have been allowed to keep it's own taste, therefore making a better, unified blend of taste, which is what you'd want in any condiment, salsa, or relish.
Quierras Mas comes in a 16 oz. jar and sells for $5.99 online. To order or to get more information, go to the Quierras Mas website.
Review – Quierras Mas Mexican Relish