How many hot sauces have you tried that have become an instant staple in your house, where you absolutely had to have a bottle on hand at all times and became as commonplace in your kitchen as ketchup and white bread? My "must-have" in the hot sauce world is Ott's Wing Sauce.
I first became addicted to Ott's sometime in the mid-1990s when St. Louis area Denny's restaurants used Ott's on their Buffalo Chicken Strips. I tasted them and knew I had to get my grubby little paws on the sauce. After a bit of research my wife and I found the answer, and a bottle of it has been in our kitchen ever since.
Sadly, our local Denny's ditched Ott's a few years ago in favor of a runnier, redder, and weaker buffalo sauce on their chicken breast strips. It's a shame that more scraggly 2:00 am diner-goers who ordered the Buffalo Chicken Strips wouldn't be able to experience what I consider the best mild-to-medium buffalo sauce in the world.
Ott's Original Wing Sauce in the new 2008 bottle
Here's a breakdown of that Ott's Wing Sauce is all about:
Smell – 4.5 out of 5. Has a very distinctive blend of scents – cayenne pepper, oil, vinegar, and maybe a touch of garlic? It all blends together very well to create a pleasant, inviting aroma as soon as you open the bottle.
Texture and Appearance – 5 out of 5. Ott's Wing Sauce is a thick, creamy sauce with instant "clingiblity"; it will stick to whatever food you apply it to, whether it be wings, chicken strips, or burgers. This is also a fantastic dipping sauce for nuggets or pizza. It's consistency is completely smooth and free of clumps, greasy patches, and any visible specks or spices, and it's viscosity almost compares to oil-based salad dressings (which, or course, is what Ott's Foods specializes in) like Ranch or Caesar. Ott's possesses a bright, deep orange color. It would compliment most foods perfectly with the exception of eggs, for which I would prefer a runnier, hotter sauce.
Taste – 5 out of 5. Ott's flavor sets it apart from most other wannabe wing sauces. It's pure peppery deliciousness with noticeable hints of cayenne, tangy vinegar, and even a bit of a vegetable-like sweetness. The sauce refrains from being too oily and heavy while retaining a full, rich creaminess that is abscent in thinner, vinegar-based condiments.
Heat – 1.5 to 2 out of 5. It's spicy enough for many chileheads, but not too spicy for children. The cayenne peppers give it a slight punch. Total flameheads may be disappointed, but in my opinion the overall taste of the sauce more than makes up for any deficiencies in the heat department.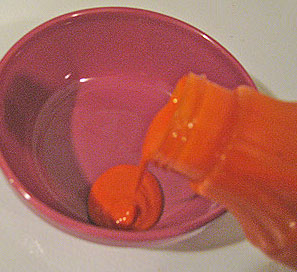 Behold the thick, creamy goodness of the beautiful orange Ott's Wing Sauce. Mmm-mmm!
In conclusion, Ott's Wing Sauce is a solid winner that deserves a spot in every chilehead's refrigerator. It's available in many supermarkets in the midwest, or on the interweb at the Ott's Online Store. At $2.99 for a 17 oz. bottle it's a steal, so order yourself two or a dozen bottles. You can thank me later.
Review: Ott's Original Wing Sauce