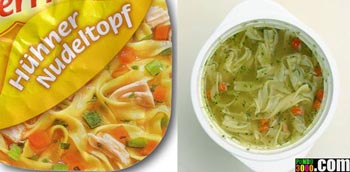 German website Pundo3000.com has taken photos of one hundred different, locally store-bought, food products and compared them side-by-side with the doctored pictures that are on their packages.
Here's a German paraphrased translation of the web page, thanks to http://babelfish.altavista.com/:
"100 products were compared with their advertising photos. All products were bought, the packaging was photographed, the actual products were removed from their packaging and prepared and photographed, too. All the products were then eaten.
With this project it was not our intention to descredit any products or brands. Our only purpose was to critically evaluate the packaging advertising with the inside contents.
Videos featuring advertisement against reality: YouTube and MyVideo."
Pictures of Actual Food Compared With Their Package Photos