Whether or not you like him (that's a topic to be discussed another day), you have to admit that Guy Fieri has one of those in-your-face personalities that demands attention. I can't vouch for what the Guy (pun intended) is like in person, but he seems like a cool enough dude, with an earnest interest in bold, spicy, flavorful food that regular, no-nonsense joes like me can appreciate. When I got wind that he was releasing a line of salsas in addition to BBQ sauces, I thought that these might have some potential, unlike some of the other crap that a celebrity chef's name has been slapped on only to make a quick buck.
Fieri's people had shipped me his new grocery store lineup for review: Old Skool Original Salsa, Green & Mean Salsa Verde, Da Spice Is Right Chipotle Salsa and Burn Baby Burn 7 Pepper Salsa. Overall I think this saucy quartet is a sad letdown, yet I discovered some good elements in a couple of them…
Guy Fieri Original Salsa Old Skool
Ingredients: tomato puree (tomato paste, water), tomatoes, red bell pepper, red onion, yellow onion, canola oil, sea salt, garlic, cilantro, pasilla pepper, lime juice, jalapeno pepper, spices
I love the consistency of Old Skool (and the other Guy Fieri salsas, for that matter) and was excited to get some loaded on a chip for good old fashioned snacking. It poured out thick and chunky with terrific-looking pieces of ripe red tomatoes and spices suspended in a medium-viscosity base.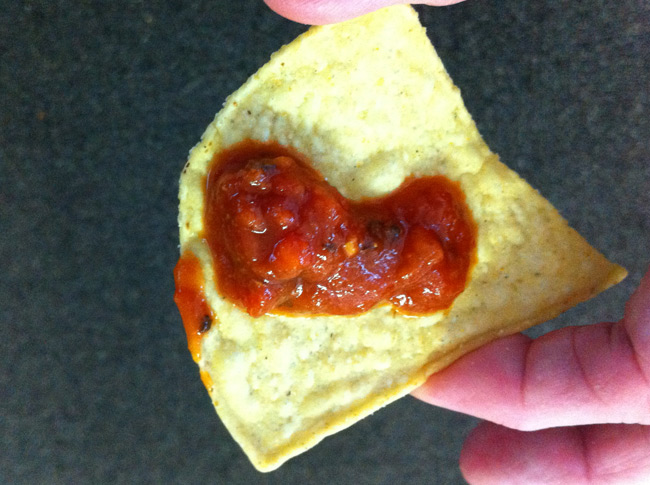 Wow, was the aroma dominated by onions, oil and jalapeno peppers! I then took a nice spoonful of Old Skool Salsa. The flavors were rich, bold and heavy on the tomato taste. I also tasted garlic, oil, oregano and light onions and immediately thought of an Italian-style sauce that could be used for spaghetti or some other type of pasta. This should have been a little less like marinara and more like Salsa Mexicana. This is not what I would look for in a general, all-purposed salsa, but the flavor is decent nonetheless. The heat flirts with journeying over to medium territory but resides pretty much in the mild range.
Overall:

Guy Fieri Salsa Verde Green & Mean
Ingredients: water, green bell pepper, onion, poblano pepper, canola oil, white balsamic vinegar, cilantro, parsley, sea salt, garlic, cumin, vegetable stock (vegetable juice concentrates (carrot, onion), celery puree, salt, dextrose, yeast extract, corn starch), lime juice, natural fire roast flavor, black pepper, xanthan gum
Lovely and colorful, this green salsa has nice, medium-sized chunks of the varying components – onions, green bells and poblanos and accented by flakes of cilantro all in a scrappy solution that's thankfully not too watery or drippy. Salsa Verde Green & Mean smells bright and fresh, with a heavy olfactory push from the onions.
Unfortunately, I think most of the positives end there about the salsa. A quick lick on the tongue revealed this to be unlike anything I was expecting, such as a cool, fresh blend blasting with a dynamic pepper and cilantro taste. Instead I was met with a super high-end tartness and sourness and an odd oily and oniony afterbite. Thinking that maybe I was mistaken on my first impression, I chomped down a few tortilla chips with Salsa Verde Green & Mean added and received the same kind of over-tartness and annoying afterbite. Maybe I'm somewhat spoiled by other green salsas that contain tomatillos, but even with that fruit's acidic bite it never reaches this level of being bright and puckery.
There's a wee bit o' heat in this concoction – probably a low-end medium 2 on a 1 to 5 burn scale. I think perhaps with a lot of additional fresh ingredients in your dishes that the niggling presence of Green & Mean can be somewhat masked. Otherwise, this is way off the mark compared to better green salsas.
Overall:
Guy Fieri Salsa Chipotle Salsa Da Spice Is Right
Ingredients: tomato puree (tomato paste, water), tomatoes, onion, red bell pepper, chipotle chile paste, canola oil, jalapeno pepper, garlic, sea salt, lime juice (from concentrate), white balsamic vinegar, chili powder, spices, smoke flavoring
Let's see how Mr. Fieri fares with a smokey flavored-salsa.
The aroma is extremely appetizing right off the bat, and gave me high hopes that this one will hit the ball out of the park. Texture-wise it's a touch more pureed than the previous two Guy Fieri offerings yet is thick enough for me to give it a thumbs up.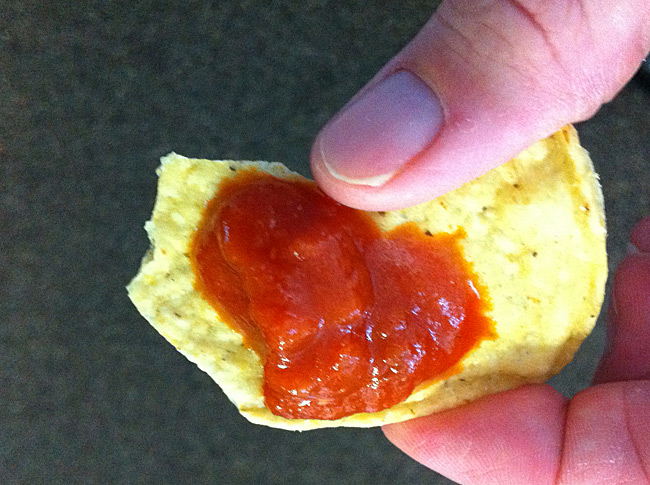 In this one I detect a lot of good tomato tones (the puree grabbed center stage), delecate chipotle-derived smoky accents and a touch of sweetness. It wasn't too salty, too tart or too heavy with the peppers. I really, really liked this salsa, but….all throughout the tasting that irritating oily and oniony afterbite again, just like with the Green & Mean Salsa Verde. It wasn't enough to be persistently sledgehammer-like with its presence yet it was enough to knock my overall opinion of this smokey salsa down a notch or two. I dug the burn and would be something I'd go for if I was looking for a medium-level kick in the pants.
Overall:
Guy Fieri Salsa 7 Pepper Salsa Burn Baby Burn
Ingredients: tomato puree (tomato paste, water), red bell peppers, tomatoes, yellow bell peppers, onion, garlic, cilantro, canola oil, guajillo chile peppers, sea salt, lime, juice (from concentrate), habanero peppers, chile de arbol peppers, chilaca peppers, black pepper
Ah, the "hot" offering in Guy's lineup. As you know, what is considered to be high-end heat by mainstream manufacturers would more often than not be laughably weak to chileheads out there. This unfortunately falls into the same generalization and isn't as fiery as it could be. Of course, Fieri is gunning for a larger, and ultimately more profitable, mainstream audience for his products so heat freaks be damned.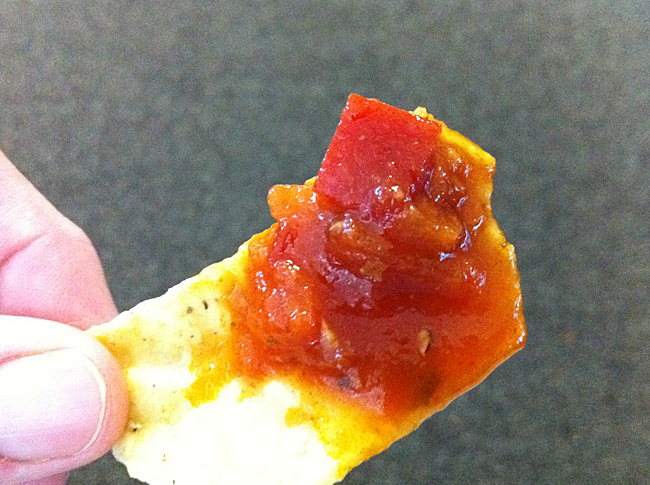 What's the consistency and taste like? The texture is as meaty and thick like the other three, and that's fine by me as I like a salsa with some heft to it. 7 Pepper Salsa has more noticeable fragments of chile peppers than the other as opposed to primarily mushy, cooked tomato pulp. The flavor is strikingly similar to Guy's Original Salsa Old Skool with an added chile pepper boast, in that it's rich with tomato-like zest with onion, oil and garlic undertones. The individual chiles in Burn Baby Burn 7 Pepper Salsa are difficult to pin down when it comes to their individual, distinctive tastes, so I really couldn't tell if there were habanero peppers in this if I had no knowledge of the ingredients. I certainly did not get any habanero-level singe (or chile de arbol heat, for that matter). The burn never manages to climb over a 2.5 out of 5 in spiciness.
Overall:
Labels
2.5 out of 5. These clear labels are snazzy to a point – they all have bold, clean lettering, they all are colored-coded to differentiate between the four salsas, and a photo of Guy Fieri nestled within a black flame shape. His name is listed twice as "Guy! Guy Fieri", an aspect that looked sorta strange upon deep viewing.
One negative thing that really stuck out at me was the appearance of tiny, blotchy white dots on the clear label. I know that those are 100% intentional and are supposed to be part of an eroded, grunge-y design. To me, though, it looks as if another label or sticker was applied to these at some point and then had gotten removed, leaving little white paper or plastic remnants behind where it might have been glued. This is a very unprofessional effect, in my opinion.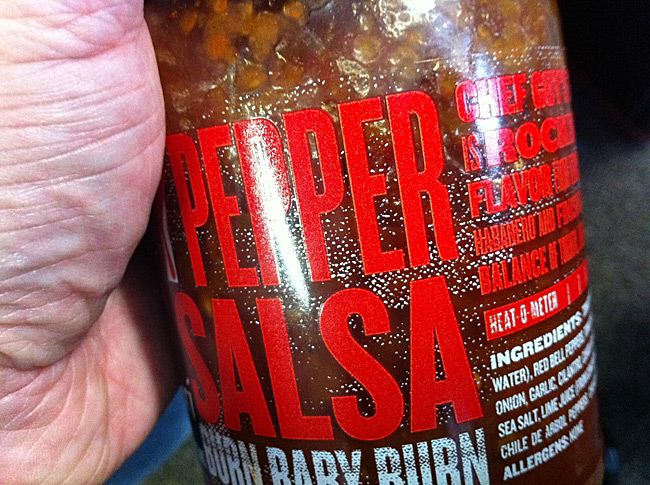 Just what is that white blotchy stuff?
Each label also displays a "Heat-O-Meter", which should only serve as a rough guide at best.
In Summary
Collectively these four Guy Fieri salsas are mildly disappointing. There are a lot of positive points about products and none of them are terrible by any means, but all I can think of is that these had huge potential and all of them fell sort of the mark. The Da Spice Is Right Chipotle Salsa, for instance, could have been a gargantuan winner yet was plagued by that slightly off-putting taste. I would rather have had a more "off da hook" group of salsas containing fresher, more delicious and more addictive notes.
All four of Guy Fieri's salsa products are available at select supermarkets across the United States.
Review – Guy Fieri Salsas