Cow Girl Chocolates produces some of the most delectable gourmet sweets on the planet. What separates this Idaho-based company from other chocolates is the presence of chile peppers in most of their offerings. I've said it many times before and I'll say it again: the combination of spice and sweet is the most underused food pairing in all the culinary world. They just go too well together. There's more than just hot cinnamon candies or a mouth-warming mole sauce; there's an entire universe of hot desserts and snacks just waiting to be blown into the mainstream. Cow Girl Chocolates have tapped into this concept and have hit an out-of-the-park, grand slam home run with it.
Label/Packaging:
5 out of 5. Let me start off the review by stating that this is among the most top-notch packaging on any food product I've ever laid eyes on. Everything was beautifully wrapped, and the graphic artwork was second to none. Everything about this screams elegance, yet retains an genuine Old West feel; it's a perfect balance. Kudos to the design people on this.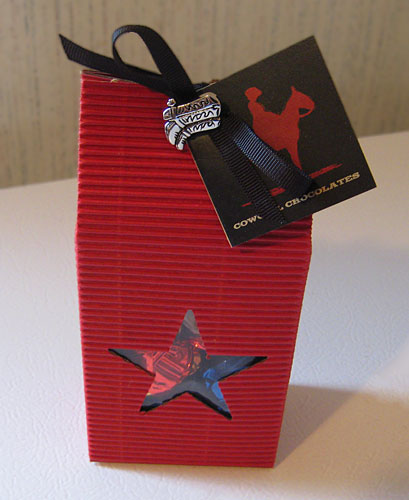 Chocolate Truffles

Think you've had the ultimate? You may want to re-think that once you've tasted one of Cow Girl Chocolate's exquisite truffles. Although Cow Girl makes a line of mild chocolates, it's the pepper-induced candies that really shine. Here are the ones I had received in my sampler pack:
Spicy Double Dark Chocolate – I love dark chocolate far more than milk chocolate. This one had a really delicious truffle center. The spicy heat was just enough to get a little sizzle goin' on your tongue.
Spicy Hazelnut Milk Chocolate – My least favorite but tasty nonetheless.
Spicy Raspberry Dark Chocolate – Totally wonderful! The sweet fruity flavor blended in flawlessly with the spice and topped off by a dynamite dark chocolate taste. I was disappointed there weren't more of these.
Spicy Cappuccino – Brilliant, complex combination of chocolate, coffee and peppers done just right.
If you're wondering, these looked (no recognizable chunks or flakes of peppers) and tasted just like fine chocolates. The heat in all of these truffles rest terrifically between mild and blazing and add a mind-blowing new dimension in flavor. It's akin to eating sweets in "black and white" all your life and suddenly someone turns on a switch and turns on vivid color.
Hot Habanero Caramels
Also included were hot habanero caramels. To me, these were the royalty of the bunch. Rich, soft, and buttery, these were the best caramel cubes I've ever had. And just like a fresh habanero pepper, the caramels possessed a slow, delayed heat that made itself known after five seconds or so. After twenty seconds the magnificent burn matured and I knew that these were the pinnacle of spicy sweetness. A match made in heaven. These are absolutely perfect.
Spicy Dessert Topping Sauces
The two dessert sauces also come highly recommended from me. These are perfect for ice cream, apple pie, or any other sweet dish you wanna perk up.
Chocolate Dessert Sauce
This stuff makes Hershey's Syrup taste like water. Cow Girl Chocolate Dessert Sauce is rich and super-thick. It's fudgy flavor is reminiscent of brownies. Is it spicy, you may ask? Yes it is, but not too hot. Like the truffles it's got the right amount of heat. Warm up the desired portion in a microwave, spoon it on your food and you'll wake up most bland desserts.
Delicately Hot Caramel Dessert Sauce
Nearly as good as the habanero caramels, this dessert sauce is the ideal topping for a great many things. I tried it on french vanilla ice cream. Would it be good on hot apple pie? Hell, yeah! It's slightly hotter than the chocolate sauce. This may be a teensy bit too spicy for mild food fans; for us pepperheads it's spot-on.
Spicy Old Fashioned Hot Chocolate
Rounding out the reviewed Cow Girl Chocolates items was the Double Dark Chocolate Chunk Hot Chocolate. Now I really haven't cared for any kind of hot cocoa since I was a kid, but this beverage was mighty fine.
The powdered hot chocolate mix was accented with random small pieces of dark chocolate which soften and melt when you add hot water. Although there was enough creamy goodness to make this an above-average drink, I found that most of the melted chocolate had settled at the bottom of the cup.
It's heat is roughly equivalent to the spicy caramel sauce. It may be a turn-off to weaker-tongued cocoa fans. Adventurous folks should like this.
This is yet another way to "warm" you up on a cold winter day!
In Conclusion
Cow Girl Chocolates truly take confections to the next level. If you have sweetie who's also a chilehead, these impeccable treats would make the perfect gift. Comes with my highest recommendation.
You can order Cow Girl Chocolates at their website. Different variations of what I've reviewed abound there, so take a close look and see what package is best for you.
Review – Cow Girl Spicy Chocolates