Rudy Reviews is back with a sauce that has a motto of "If It's Not Hot, It's Not Right!" Today's review is for Haba Haba "Dime" Hot Sauce made by Arthur Wayne Hot Sauce L.L.C., located in Missoula, MT.  Started in 2014 by Arthur Schubert. Arthur started crafting his sauce back in 2007 after he peered into his refrigerator, noticed the amount of different sauces and said to himself (and me) "whoa, I can make sauce."  I assumed that the dime in the name of his offering was because he feels like it's a "10" but in fact he gave the name because it took him ten times experimenting with his recipe until he was satisfied with the result.
Arthur Wayne L.L.C. currently has two sauces available in their range and will be adding three new sauces in 2015 – a scorpion pineapple, a mild jalapeno, and a huckleberry ghost pepper. On their website they have even offered to make a sauce for any occasion that you may have which I think is pretty neat.  I'm not sure if custom labels are made but it's still a nice service they offer.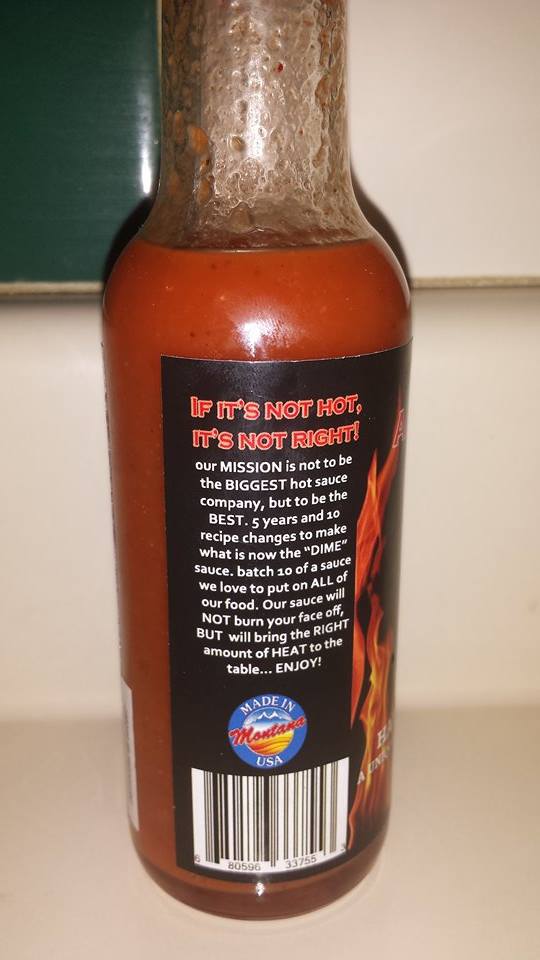 Let's take a gander at the ingredients for this one.
Ingredients:
White Vinegar, Habanero Pepper, Tomato, Red Jalapeno, Cayenne, Mango, Salt, Dried Onion, Garlic Granulated, Lemon Juice, Spices
Aroma:
3 out of 5. To be expected, when I removed the flow restrictor from the bottle there was a blast of vinegar then habanero. I detect a certain sweet and sugary sweet note which I do believe comes from the mango. Tomato is in the background and garlic is present as well as onion.  I don't pick up on lemon juice all that much or the tag-team of Red Jalapeno and Cayenne.
Appearance and Texture
3 out of 5.  I've said in previous reports that I enjoy all sauce consistencies so I have no problem watery thin pepper sauces.  Given the proper application, any consistency works. This sauce has that "classic" pepper sauce color which is nice. There are some chunks of ingredients as well but as you can see, it's mostly liquid.
Taste Straight Up
3 out of 5.  Vinegar with a nice garlic note.  The fruity quality of habanero peppers blend with the mango and make this a sweet heat sauce.  The mango isn't overpowering at all but I could pick up on it.  The onions aren't as bold in the taste as it was in the aroma to me.
Taste On Food
3.5 out of 5.  I tried this on several different things – I found this sauce worked the best with eggs.  The sourness from the vinegar and sweetness from the habanero, tomato and mango woke up my eggs quite nicely.  For some reason, I picked up the onion when I had it with food but not straight up.
Heat
2 out of 5.  This one packs a nice little punch to it.  It won't cause you to run into your kitchen in search of a slice of lime or a piece of bread for relief but it has a nice sting to it.
Overall
This pepper sauce is good.  I know vinegar heavy sauces don't bode well with a lot of people but if it does with you, you'll enjoy this one.  This is a nice sweet habanero sauce with a (on my scale) slightly lower than mid-level burn.  I'd recommend that you use this one on pizza, use as a dipping sauce with a sandwich, on eggs, salad and pasta dishes.  I'll provide a link below to where you can locate Arthur Wayne Hot Sauce.  Thank you very much for reading my report and as always, remember to stay on the spicy side of life.  It's more fun that way.
http://www.arthurwaynehotsauce.com
Review – Arthur Wayne Haba Haba "Dime" Hot Sauce Review