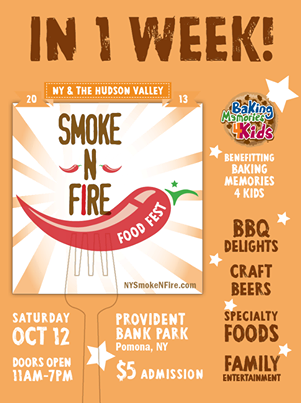 The weekend is close at hand! At the NY Smoke 'N Fire Food Fest, there is TONS of family fun, lots of great food and live entertainment! They have nearly 40 vendors and only $5 admission.
Check out the vendors online at NYSmokeNFire.com. Spread the word! You can also "like" them and share on Facebook https://facebook.com/NYSmokeNFire.

Remember, the event is benefiting Baking Memories 4 Kids and the more attendees they have, the more great memories they can make for kids with terminal illness!
Link: NYSmokeNFire.com.
NY Smoke 'N Fire Food Fest This Weekend!