Here's the story: Texan Chef Wayne Brawley obtained a large amount of fresh tomatoes from his mother, so instead of letting them go to waste he decided to fire roast half of them and concoct a salsa recipe from them. Wayne's family became big fans of his newly-spawned product, in particular his brother Wesley, who encouraged Wayne to continue to make salsa and suggested he tried to sell it in stores. Wesley had passed away in 2004. Wayne entered a pair of salsa contests with his chipotle-infused creation and took home First Place prizes for both. Believing he had a viable product on his hands, Wayne decided to take his brother's urgings to market the salsa to retail locations around Texas. In honor of his late brother, he called it 2 Brothers Salsa.
I've asked Wayne some questions to shed additional light on his past, his company and salsa today, and what lies ahead for him and industry…
Scott: Where are you and your family from geographically?
Wayne: We live in the North Dallas area currently. My wife and I both lived in College Station, Texas about 10 years before moving here.
Scott: I understand that you started making salsa when your mother got 50 lbs of tomatoes and that you decided to roast some of it. Were you and your family into making or eating spicy foods before that?
Wayne: I have always loved spicy foods, Cajun being my true favorite, and Mexican food at a very close second. I grew up in Texas, so I remember my Dad sitting with jalapenos and Pace Picante with just about every meal. My brother and I would try to outdo each other and see who could take the most heat. Not until just the past few years, though, did I get into the really spicy stuff. There are just so many more great products out there than there used to be.
Scott: What is your culinary training, and how did you develop the recipe for your salsa?
Wayne: I went to Culinary School in Austin in '95 through '96, and have worked in the food business for just over 20 years. The recipe for our salsa has evolved so much over the past years, but it really got its start in a restaurant I used to work at. Me and two of the very best cooks I have ever worked with used to make Juevos Rancheros (which is just eggs and red salsa) for ourselves on Sunday mornings. From there, I added a few things, and now we have a finished product that we are very happy with.
Scott: I think it's a great tribute that you named your salsa after you and your late brother Wesley. How much input and inspiration did he give you over the years both in terms of creating your salsa and deciding to sell it?
Wayne: Wesley was a big factor in both ways. Really, the thing that he had to say most as far as creating the salsa was that he always wanted it hotter (smiles). He liked it so much, that I had to continue making it for him because he stopped buying salsa at the grocery stores. He pushed me to add some things, and really refine the recipe. He would constantly be telling me to try and get it into stores. After he passed away, I actually entered a couple of competitions as an amateur, and took home 1st place in both of them. I took that as a sign, and found a guy that did an awesome job on the logo and labels, and it just kind of took off from there. I knew going in that I wanted to do something in his memory, and I think the logo and labels reflect that. We are also currently working with The American Lung Association to set up a contribution to research in Wesley's name, with a part of our proceeds going to them.
Scott: That's awesome. What do you think has been your biggest challenge so far?
Wayne: My biggest challenge so far is time. Being in the restaurant business, until recently, has not allowed me much time to dedicate to this business. In fact, there was a point where I was just ready to give it all up, because it was too difficult to keep up with it. Fortunately, I have a great group of people that have pushed me to make something of this, and a recent change in employment has allowed me to do so.
Scott: How much salsa do you currently make in a week or month?
Wayne: Currently, we aren't producing as much as I'd like to be, but we are growing steadily, and I am always on the hunt for new locations. We do about 20 cases per week, but I see a light ahead and feel like this is really about to take off. We have gotten such great responses from our clients, and the slow season is hopefully about to end.
Scott: You currently offer Mild and Medium versions of your chipotle salsa. Do you have any other products up your sleeve that you're planning on releasing soon?
Wayne: We are actually just waiting for labels on our Habanero/Hot version the Chipotle Salsa. We are hoping to have an Authentic Red Salsa in Mild, Medium, and Hot, as well as a Tomatillo Salsa. I am very picky about what I will let pass though. I would rather have a few very good products, than a lot of mediocre or even bad products.
Scott: Are you a huge chilehead? What kind of heat that you can take on a regular basis?
Wayne: I am honestly not a "hardcore" chilehead, but I do like spicy foods. I am more into flavor with heat, than melt your tongue hot. I do put some form of "spicy" in just about everything I eat. But it's usually like a Cholula or Sriracha.
Scott: What makes your product different from everyone else's?
Wayne: Our product stands out from others because we just don't add a lot of unnecessary ingredients. Our recipes are very simple actually, and flavor is important above all else. That is really why we have just the one product right now, because I refuse to just crank out products, just for the sake of having variety.
Scott: Describe a typical day for you.
Wayne: I am not a very organized person, so it varies greatly from day to day. After getting the kids off to school, I will usually spend a couple of hours researching new stores to approach. After that I will hit the road to drop off samples, and speak with store managers about our product. Usually toward the end of the week I will drive down to our kitchen and spend a couple of days producing salsa. I have found myself driving a whole lot more these days.
Scott: How often do you eat your own salsa?
Wayne: We eat it enough to say that my family members are probably getting tired of it. I went on a kick for about a week and a half where everything I cooked had 2 Brothers Salsa in it. From pulled pork, to chili, to enchiladas, I tried it all! Our salsa definitely is something that you can use to add flavor to any dish, not just with chips.
Scott: What's the weirdest thing you've ever heard your salsa being used for?
Wayne: Rust remover. Just kidding. I actually have two nieces that eat it directly out of the jar with a spoon. I find that a bit weird, but I also have to take it as a huge compliment.
Scott: What's your favorite spicy food product you don't make yourself?
Wayne: I haven't tried a lot of the better sauces out there, but I put Cholula in just about everything.
Scott: How helpful do you see the internet in both marketing your company and in staying up on industry news and happenings?
Wayne: Extremely helpful. I love the whole social networking craze going right now. It's a fantastic way to advertise for free, and let fans of 2 Brothers know what's going on. Google is my best friend when it comes to researching new stores, and to see what the competition is up to.
Scott: If you could ask one question of salsa eaters, hot sauce fanatics and chileheads in general, what would it be?
Wayne: "Wanna know where to get your 2 Brothers Salsa?"
Scott: Where do you see the future of the fiery foods industry in 5, 10, 20 years?
Wayne: I think the industry is still just starting to grow. I see a lot of products out there, some really good, and some mediocre and some really bad. I think as the public's tastes grow more refined for fiery foods, we will see some of these smaller companies emerge, and be very successful. It's an industry that I see just picking up steam, and we hope to ride that train as far as it can take us.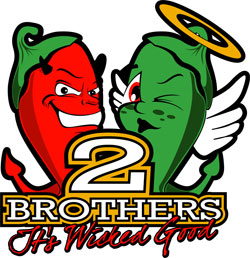 Scott: Where do you see 2 Brothers Salsa company itself going in 5 or 10 years?
Wayne: Well, of course we are going to be in lots more stores. I envision us being a national brand, and who knows, maybe even international? We have a ton of work to do to get there, but we have more and more people outside of Texas asking where they can buy 2 Brothers. I think if we can do more shows, get more stores, and weather out this economy, 2 Brothers is going to be a huge success.
---
Wayne currently sells Mild and Medium versions of his Chipotle-flavored salsa (the later of which I'll be reviewing soon!), and in addition to brick and mortar shops, he sells the product online at http://www.2brotherssalsa.com.
FireTalkers – Interview with Wayne Brawley of 2 Brothers Salsa