There's no doubt that Sriracha is the hottest trend in hot sauce nowadays. There is simply something incendiary about this style of spicy condiment that has garnered a ravenous following among foodies, chileheads and hipsters alike.
Sriracha, as a general type of sauce, is named after where is is believed to have originated in the coastal city of Si Racha, in the Chonburi Province of eastern Thailand.  It is a thick, sweet, garlicky-pungent chile sauce that typically has a base of fermented red chile peppers, distilled vinegar, garlic, sugar, and salt. Although sales-wise it's still not as popular as the more traditional, runny, Louisiana-style pepper sauces (typified by heavyweights McIlhenny Co.'s TABASCO Pepper Sauce, Frank's RedHot Sauce, Texas Pete, Bruce Foods Corporation's Louisiana Brand Sauce, and Baumer Foods' Crystal Hot Sauce), Sriracha is rapidly picking up steam, and is in an estimated 9% of all U.S. households.
By far the most popular producer of Sriracha sauces is Huy Fong Foods, Inc., based in Irwindale, California, in a state-of-the-art 650,000 square-foot facility, which owner David Tran completely designed himself. And although there are numerous direct competitors, including scores of small, craft hot sauce makers all vying for their slice of the Sriracha pie, it is Tran's "Rooster Sauce" (its informal nickname because of a picture of a rooster on each clear plastic bottle) gets almost all the attention and adoration in the fiery foods world.
Tran, an immigrant from communist Vietnam, started making his Huy Fong sauces in 1980 along Spring Street in Los Angeles' Chinatown district. After a move to a 68,000-square-foot factory in Rosemead, California in 1987, sales for his signature product started to take off, growing steadily throughout the 1990s and '00s. By 2010, Huy Fong Foods opened their Irwindale factory, and their Sriracha Sauce (which Tran pronounces "see-RAH-cha") became a household name, all with zero advertising; quite a triumphant "word of mouth" American success story.
In honor of Huy Fong Foods launching the brand new redesign of their website (just within a day of this writing), David Tran was kind enough to let me ask him some questions.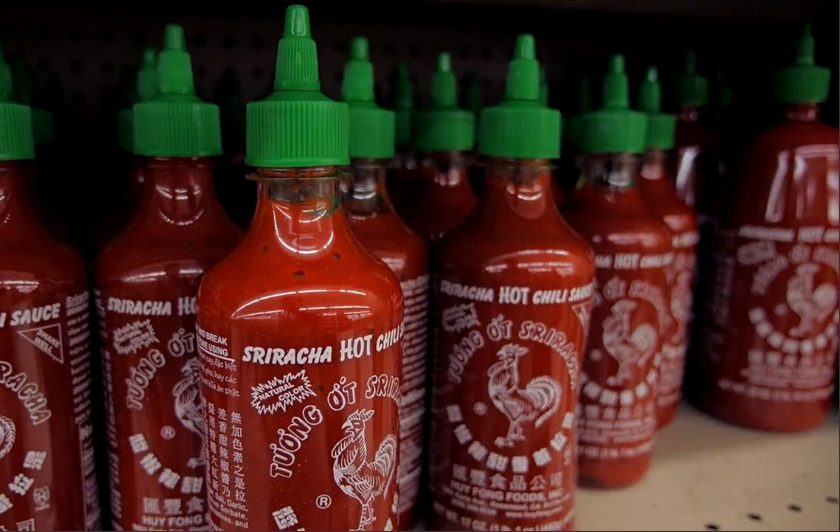 Scott: What kind of sauces did you have while you lived in Vietnam?
David: All three sauces that I make now, and also Pepper Sate, which I don't make any more.
Scott: You got the name of your company, Huy Fong Foods, from the name of the ship (the "Huey Fong") you sailed over from Vietnam, correct?
David: Yes.
Scott: Why did you choose to put a rooster on your sauce bottles?
David: I was born in the Year of the Rooster [1945].
Scott: How did you develop your current recipe for Sriracha Sauce?
David: It was before America accepted me when I was fleeing Vietnam in 1979. So when I come to America, I landed in Boston first. Here I found that the red jalapeno chile pepper is perfect chile to make Sriracha and I was told it could be found in California. So I came to California in 1980, and started my business here in America. I just make my hot sauce based upon my personal taste, and I find my taste can be achieved with the chile grown here in California.
Scott: Spicy foods are becoming mainstream now in the 2010s, but how did people initially react to your sauce back when you lived in Boston and then later California?
David: At the beginning we only sold mainly to Chinese markets and restaurants. They were interested in it and liked it and ever since then we never have enough product to sell to every one.
Scott: What other products does Huy Fong Foods produce?
David: We used to make five, but now we only make the three products – Sambal Oelek, Chili Garlic Sauce and Sriracha Hot Sauce.
Scott: Was there any one point when there was a boom in growth in Huy Fong Foods Sriracha Sauce?
David: No, from the first day, I believe it steadily increased – but always limited by how many chiles we receive.
Scott: What kind of difficulties did you face during your massive growth periods?
David: Not enough red jalapeno chiles to supply the demand for our sauce. We get only chiles from Underwood Ranches since 1990.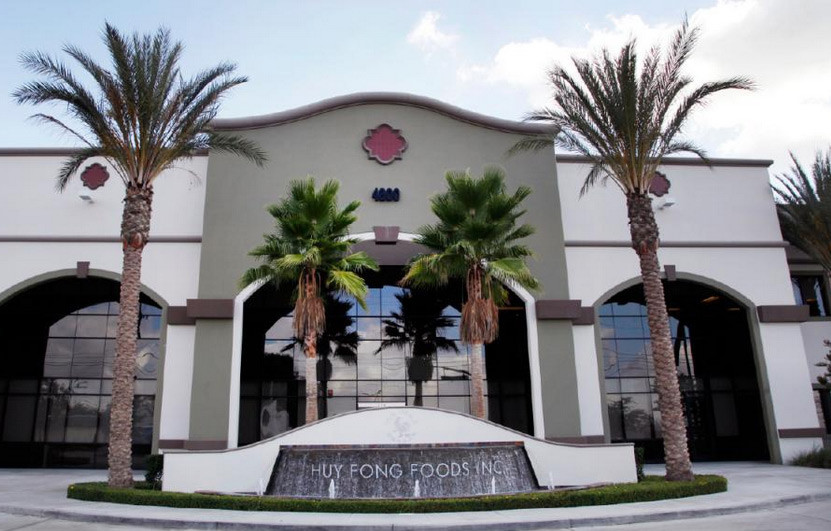 Scott: Huy Fong Foods gained quite a bit of media attention in the past year when the City of Irwindale, California temporarily shut down your factory. Had anyone previously complained of the pungent odor of chile peppers?
David: In Rosemead, California, where we had our first big factory for the past 32 years, no one complained about our chile odor.
Scott: What do you think caused the City of Irwindale to drop their lawsuit against you?
David: They stated we have odor, but we proved we do not have the odor. We've had the open houses to show we don't have the odor!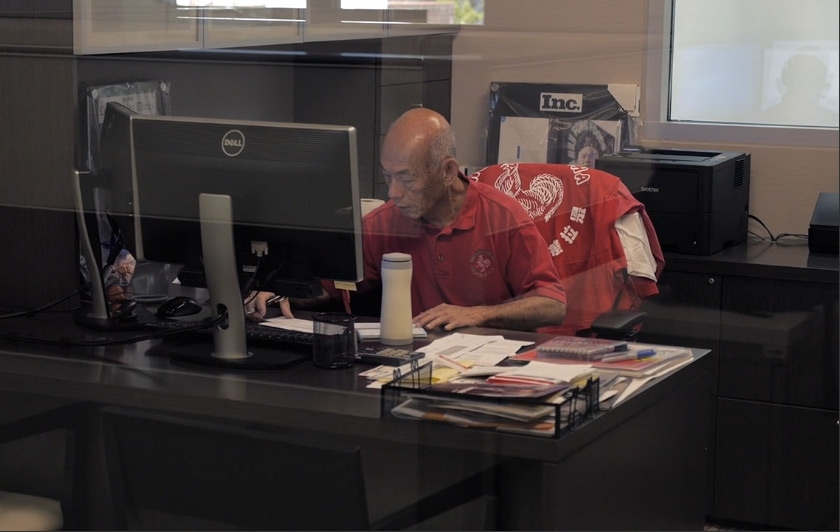 Scott: How much sauce do you sell?
David: We sell over $60 million in a year now. Over 20 million bottles. Our factory is open 24-hours a day, 6 days a week.
Scott: Obviously you have a lot of hardcore fans. Sriracha's cult-like has grown to incredible proportions. What is the craziest thing you've heard someone do or use Sriracha Sauce on?
David: On YouTube, there is a guy that drank three 28 oz. bottles of Sriracha!
Scott: Where do you see Huy Fong Foods in another 10 or 20 years?
David: I do not know what will happen even this year, because there is a "Rooster-Killer" sauce now out there…
Scott: Do you foresee a time when Sriracha will become as ubiquitous as ketchup in restaurants or in people's homes?
David: I don't really think like that; but maybe [it will], because I read Sriracha was in 9 perecnt of households, as said in foodbusinessnews.net:
"New to the latest report is sriracha, found to be a hot sauce staple in 9% of total households. The number skews higher for younger adults; the condiment is kept in 16% of kitchens with a homemaker under age 35.
'I think that's part of a general picture of how millennials and younger adults are more willing to try foods that are somewhat foreign, that break the mold of traditional American cuisine,' Mr. Seifer said. 'The fact that they just have sriracha on hand I think is telling of the rise of Asian influence. We've certainly seen Asian restaurants wherever you go, particularly in big cities.
'It seems as if for a while, it was reserved for away-from-home consumption. Now with sriracha making its way into home, it looks as though some of that influence is making its way into people's kitchens.'"
Scott: David, thank you very much for taking time out of your busy schedule to chat!
David: Thank you.
Huy Fong Foods, Inc.'s products are available nationwide, and you can visit their revamped website at http://www.huyfong.com.
Firetalkers: Interview with David Tran of Huy Fong Foods, Inc., Makers of Sriracha "Rooster" Sauce