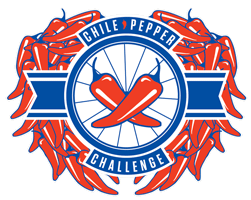 The El Paso, TX area's biggest cycling event, the 33rd annual Chile Pepper Challenge, offers rides of 10, 22, 40, 62 and 100 miles on Sunday, Sept. 28, 2014. All rides will begin and end at La Viña Winery in La Union, N.M.
This is the 3rd year the Challenge has been based at the winery, 4201 S. N.M. Hwy 28. The winery will also be the site of the Chile Pepper Fiesta after the ride. The Fiesta is an event for the entire family. We will have live music by El Paso's favorite salseros, Azucar, DJ…, and plenty of food and beverages. The event is sponsored by the El Paso Bicycle Club.
All rides incorporate the region's favorite cycling route, N.M. Hwy 28, which runs through chile and cotton fields, pecan orchards and historic Mesilla Valley communities.
The rides begin with the 100-mile event at 7:30 a.m.; the 62-mile event begins at 9 a.m.; the 40-mile ride begins at 9:30 a.m.; the 22-mile ride begins at 10:30 a.m.; and the 10-mile fun ride begins at 10:45 a.m. All route maps and other details are posted at www.chilepepperchallenge.com.
The Chile Pepper Challenge is a fully supported ride, with support vehicles and rest stops (with snacks and relief stations) along the route. Entry fee includes a post-ride burrito/sandwich and refreshments, plus a variety of door prizes.
Riders can pick up their rider package at Academy Sports East on Zaragosa south of I-10 from 5 pm to 9 pm on Friday September 26 or at Academy Sports West, 801 S. Mesa Hills on Saturday Sept. 27 from noon until 7:00 pm; or right before the ride at La Viña Winery on Sunday, Sept. 28, starting at 6:30 am.
Consider registering early to save. The entry fee is $25 by Sept. 1; $35 Sept. 1-28 but $40 day on the day of the event. Children, 17 and under, ride free with a paying adult. Registration is available at www.active.com or by downloading the registration form at www.chilepepperchallenge.com. The Chile Pepper Fiesta is from noon to 5 p.m. at La Viña, with live music and entertainment. Wine will be sold by La Viña, with food and beverage concessions available. Admission to the Fiesta is free.
A record 930 riders participated in last year's Chile Pepper. The annual event has raised thousands of dollars for local charities. This year's selected charity is the El Paso Diabetes Association (EPDA). The EPDA is 100% local and its efforts of diabetes prevention and control mirror the efforts of the El Paso Bicycle Club. A healthy lifestyle has been proven to delay the onset of diabetes and in some cases, to prevent diabetes altogether. To find out more, please contact the EPDA at (915) 532-6280 or online at www.epdiabetes.org.
Chile Pepper Bike Challenge jerseys, t-shirts and socks are available on the Chile Pepper website: www.chilepepper.com. Items will also be available at La Viña during the event.
The El Paso Bicycle Club is a volunteer-run recreational club that offers weekly rides and an annual rider development program. For more information, go to www.elpasobicycleclub.com.
Chili Pepper Bike Challenge Held Again in El Paso, Texas