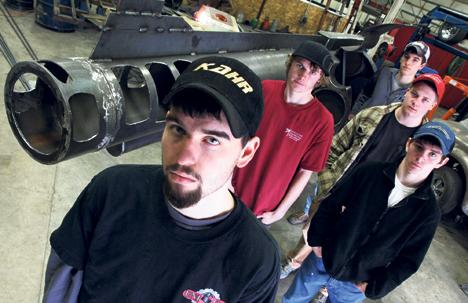 Remember that photo I posted a while back of the BBQ grill shaped like a Smith & Wesson Magnum 500 revolver? It appears that the people responsible for that beyond-cool barbecue have been discovered thanks to ScottRobertsWeb.com blog reader Mike (MJE1979).
This smokin' gun grill was architected and constructed by five welding students from Sandpoint High School in Idaho for a local firearms dealer.
If you click on the above link, you can see the five young welders standing with the nearly-completed 15-foot long grill before it was painted (I've also posted a thumbnail image to the right). You can read more about the project and more of what the students do at http://www.bonnercountydailybee.com/articles/2010/02/17/news/doc4b7b9c7cca614755102078.txt.
As an aside, I think that these gentlemen should consider beginning a career designing and building these types of grill and smokers. Could you imagine how rabid the marketplace would be for these?
Photo by RALPH BARTHOLDT
Smoking Gun BBQ Grill Creators Found!