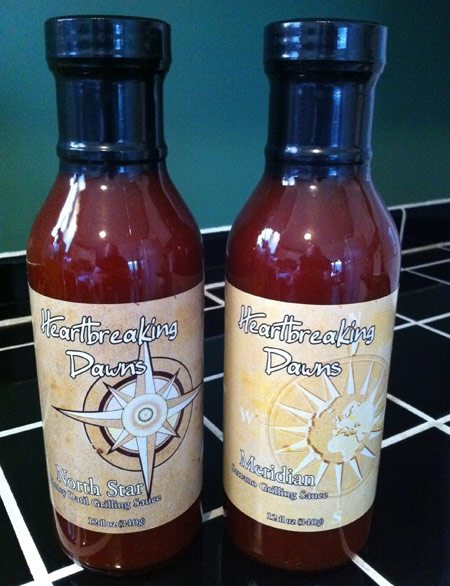 Heartbreaking Dawns cannot be explained away as another young food enhancer maker attempting to have a ubiquitous presence by overextending themselves with lots of new but unnecessary products. Like an elder spicy sauce manufacturer such as CaJohns, just about everything Heartbreaking Dawns sells is good. And as long as they offer quality products and are able to sustain their current clench of focus, then more power to 'em if they produce 8 items or 80.
With a pair of fairly new grilling sauces – North Star Honey Datil Grilling Sauce and Meridian Serrano Grilling Sauce, Heartbreaking Dawns continues their steamroller-like proficiency in yet another area of flavoring food. While neither is a dead-on, perfect sauce, each one has its strengths and is worthy of you picking up a bottle or two of each to try for yourself.
North Star Honey Datil Grilling Sauce
Ingredients:
Honey, Tomato Paste, Cider Vinegar, Datil Peppers, Garlic, Carrot, Water, Molasses, Brown Sugar, Sea Salt, Lime Juice, Onion, Coriander
Aroma:
3 out of 5. This one is surprisingly fruit-like, with quasi peach-like scents. There were also the familiar datil and tomato tones typical in datil pepper sauces.
Appearance and Texture:
3.5 out of 5. Thick and red, like a melding of a BBQ sauce and ketchup. Upon tasting it and feeling it in my mouth, there were lots of noticeable pieces of pepper flesh in the medium-thick liquid. This did not make it "chewy" per se, but added a texture that might turn off chileheads or BBQ fans that don't like more solid flecks of ingredients in their sauces. It did not bug me at all.
Taste Straight Up:
3.5 out of 5. The first thing that hit my tongue was a tomato-y sensation, with a light tang and and a datil pepper burn and flavor following up close behind. The peachiness I thought was in the aroma was not coming through in the taste, although in a vague manner there was a "sugary", fruity presence playing around in the background. Not much coming from the honey component, but this might have blended in with perhaps the lime juice, brown sugar, carrots or molasses to conjure up the faux-fruit taste. All in all it was light, mellow and good.
Meridian Serrano Grilling Sauce
Ingredients:
Apricot Preserves, Tomato Paste, Cider Vinegar, Serrano Peppers, Brown Sugar, Molasses, Worcestershire Sauce, Water, Garlic, Onion, Sea Salt, Soy Sauce, Lime Juice
Aroma:
3 out of 5. More of a dual onion/tomato smell, somewhat reminiscent of a classic ketchup that's been infused with a sharp twang and a serrano aroma.
Appearance and Texture:
3.5 out of 5. Meridian is denser and a deeper brown than the North Star.
Taste Straight Up:
4 out of 5. Mighty tasty stuff. The fruit flavor comes through but at no point does it become too heavy or dominant. Excellent, rip-roaring barbecue stylings with a nice balance of savory, sweet and tangy elements. Not as much heat as North Star Honey Datil Grilling Sauce, but this certainly is not detrimental to the overall experience I had with this.
Taste on Food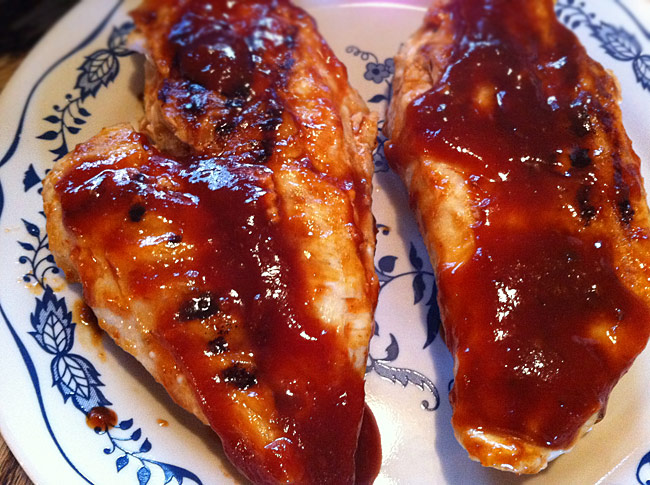 A simple test was to grill up a few chicken breasts and apply the sauces shortly before cooking was complete.
Each one of the sauces had it's own little unique spin on what it was able to do to the poultry. The North Star Honey Datil Grilling Sauce had a fresh taste that was very familiar to a lot of other sweet sauces and BBQ sauces I've had in the past yet still different in a lot of ways. The heat definitely kicked things into chilehead category, so those who don't care for much heat probably won't go nuts over this stuff. Meridian Serrano Grilling Sauce is closer to BBQ territory and will seem a bit more comfortable and familiar to a general audience, and quite frankly I liked it a bit more.
Labels
5 out of 5. I love these! The simplicity of the nautical/map-like symbols, the choice of soft, soothing colors and the Ed Hardy-esque Heartbreaking Dawns logo (which I've quickly grown accustomed to) all join in unison to make one sharp piece of packaging.
Overall
North Star:

Meridian:
Each one comes in a 12 oz. bottle and will cost $6.99 plus shipping. Go to http://www.heartbreakingdawns.com to try these or any of the other products from Heartbreaking Dawns.
Review – Heartbreaking Dawns Grilling Sauces