Crazy Uncle Jester's Inferno World makes some good spicy stuff, but I was really let down with their last product I reviewed, the Spontaneous Combustion Hot Sauce. I found the unpalatable taste of chile extract in it was simply to dominant and covered up any other ingredient that might have otherwise produced a redeeming flavor. I honestly could not recommend that sauce except for some very light additive work, such as putting a drop or two into a bowl of chili or soup.
I'm gratified that Crazy Uncle Jester's Blazing Hot Mustard has come to the rescue. This versatile condiment has snagged a Second Place award in the Mustard category at the 2009 Fiery Food Challenge and is very deserving of this honor.
Blazing Hot promotes itself on the label as a "Sweet Hot Habanero Dipping Mustard", yet there's more to it's kick than just habs – in fact, habanero peppers the last ingredient listed – and it's far more than simply a liquid to dip pretzels or chicken nuggets into.
Ingredients:
Vinegar, Mustard, Brown Sugar, Flour, Turmeric, Sugar, Pectin, Bell Peppers, Jalapenos, Serranos, Habaneros
Aroma:
4.5 out of 5. Very smooth, light, and easygoing smell with a sweet and mustardy zing to it. A noticed hints of mustard seed, vinegar and turmeric.
Apprentice and Texture:
4 out of 5. Granted, most mustards aren't very appealing looking, mostly because of their color. From the typical range of hues going through bright yellow, murky yellow, dirty gold and muddy brown, it doesn't take much imagination to wonder why. Despite that, Crazy Uncle Jester's Blazing Hot Mustard is nice to look at, and has a texture that's easy to spoon or knife out of the jar and spread on your favorite dishes.
Taste:
5 out of 5. This has an incredible taste! Blazing Hot Mustard has a well-balanced flavor and hits on many bases, including sweet, mustard, tanginess and spiciness that are wrapped up in one smooth-tasting package.
Upon putting a nice-sized glob on my tongue, I straightaway sensed the mustard with the tartness of the vinegar both on a bed of lovely brown sugar flavor. The turmeric adds a touch of exotic beauty and there was a sensation of heat immediately. It warmed up the middle of my tongue to serrano-like levels within 2 or 3 seconds and stayed for a good half minute, leaving a satisfying finish with a nice chile pepper taste.
Suggested Uses:
Anything and everything you would put normal mustard on and more would be fantastic with Blazing Hot Mustard: hamburgers, hot dogs, bratwurst, polish sausage, soft pretzels, chicken wings (perhaps with a little buffalo sauce mixed in?), bologna or ham sandwiches, corn dogs, fried chicken tenders, and sub sandwiches. Because it's an ideal blend of spicy, peppery, sweet, and mustardy, it could go terrifically with a vast number of foods.
Taste on Food:
For my taste experiment, I slathered some Blazing Hot Mustard on a cheeseburger with pickles and tomatoes: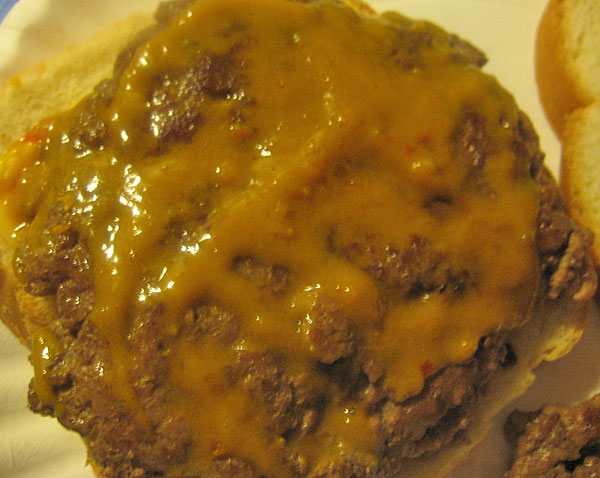 To add even more heat, I topped it off with slices of a fresh fatalii pepper:
It was burger heaven!
Heat:
Not bad. It's tolerable for those who like a bit of flaming "zap" in their foods. It would rate the heat at perhaps a 2 or 2.5 on a scale of 1 to 5.
Label:
This, like the Spontaneous Combustion, shows the older style label with a jester that shows a similarity to a Batman villain. The newer ones, which debuted sometime this past August, display an only slightly revamped character but with a wholly better design overall.
In Summary:
This is one of the pleasing-est, delectable mustards I've encountered. This gets my highest recommendation.
Blazing Hot Mustard can be purchased at Crazy Uncle Jester's website for $6.00 for an 8 oz. jar. A possible downfall I see is if you're a heavy mustard user, you'll tear through this relatively small-sized jar in no time.
Review – Crazy Uncle Jester's Blazing Hot Mustard