Welcome to another incendiary installment of Review Bites, where I give short but tasty morsels of opinion on four different products. This time out, I cover CaJohn's Bourbon Infused Chipotle-Habanero Hot Sauce, High River Sauces Tears of the Sun Hot Sauce, Anthony Spices Phoenix Limited Edition Death Sauce and Mad Dog Envy Hot Sauce and give you my no-holds-barred take on each chile-laden condiment. Read on to see if you agree or disagree…
CaJohn's Bourbon Infused Chipotle-Habanero Hot Sauce
Ingredients: Brown Sugar, Apple Cider Vinegar, Red Habanero Chiles, Tomato Paste, Jim Beam Black Label Bourbon, Chipotle Chiles, Corn Starch, Salt, Spices and Natural Applewood Smoke Flavoring
If you haven't tried this wondrous little elixir, then stop what you're doing and order a few bottles from the CaJohn's website. It's easily in my top twenty sauces of all time.
How can I describe CaJohn's Bourbon Infused Chipotle-Habanero Hot Sauce? Well, it's not easily pigeonholed as it crosses the lines of being a barbecue sauce or a steak sauce (it excels on all types of meat), so the moniker of it being a mere "hot sauce" can be a deceptive one. This runny, brown tonic has incredible tang and sweetness, with a full range of depth thanks to the brown sugar to the smoked chiles to the presence of Jim Beam Bourbon. This is a complex-flavored sauce with lip-smackin' versatility. Bourbon Infused Chipotle-Habanero Hot Sauce certainly won't go good on everything (it won't replace what you normally splash on your eggs, for one example) but for a real "man's sauce" with sweet and heat, it's hard to beat.
Overall Rating:

High River Sauces Tears of the Sun Hot Sauce
Ingredients: Apple Cider Vinegar, Pineapple, Peaches, Papaya, Mango, Orange Habanero Pepper, Water, Brown Sugar, Lime Juice, Ginger, Salt, Garlic, Crushed Red Pepper
High River Sauces' Steve Seabury's second spicy sauce is a far cry from his savory Hellacious Hot Sauce I reviewed last week. His Tears of the Sun is primarily a sweeter, fruit-based condiment. I don't think it's adaptable to a wide range of uses, but for what it's worth, it's an even better-tasting product than Hellacious.
Tears of the Sun's looks and consistency are gorgeous and spot-on with what I would want with a sauce containing orange-colored fruit (it's also accented by red peppers), and pours and sticks to food marvelously. The aroma and initial flavor on the tongue smack you with a yummy smoothness where all the individual fruits marry together nicely, yet allowing elements such as vinegar, habaneros and garlic to breath properly. Tears has some good fire in it, typical of a medium/hot habanero sauce, and is fantastic on chicken, fish, and as the label suggests, with cream cheese. Any dish that you can conquer up that could benefit from a delicious n' spicy pineapple/peaches/papaya/mango blend, look no further than Tears of the Sun.
Overall Rating:

High River Sauces Tears of the Sun Hot Sauce
Anthony Spices Phoenix Limited Edition Death Sauce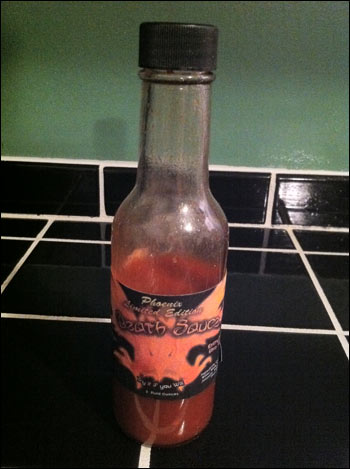 Ingredients: Cayenne Paste, water, White Vinegar, Salt, Jalapeño, Habanero Mash, Bhut Jolokia
Lance Anthony of Anthony Spices deals mainly with Southwestern-style dry seasonings and spice mixes(I reviewed his last year). Like many in the fiery foods industry, the Chandler, Arizona entrepreneur also offers a few hot sauces and BBQ sauces, one of which is what he calls Phoenix Death Sauce.
At it's most basic level, it's a really spicy cayenne pepper sauce. Phoenix has all the typical attributes of that description: a bright red color, a runny consistency, and a core pepper/vinegar/salt flavor.
I'm torn between calling this a completely boring, unoriginal, and pedestrian sauce and calling this a really great, high-heat table sauce with a myriad of uses. It's both so I'm going to compromise and give this a 3 out of 5 overall.
Overall Rating: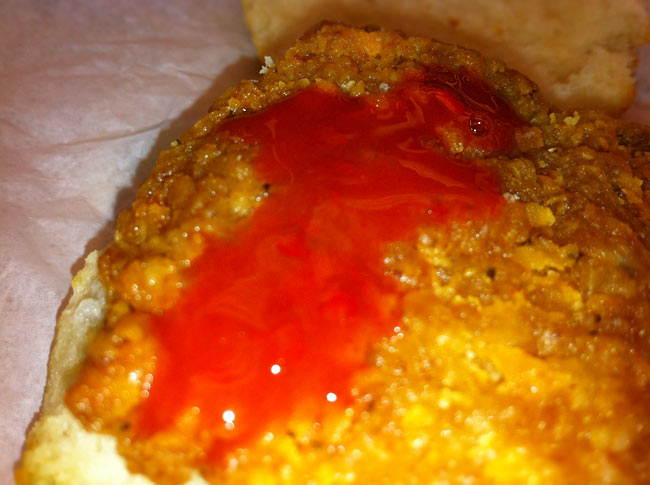 Anthony Spices Phoenix Death Sauce
Mad Dog Envy Hot Sauce
Ingredients: Jalapeño Peppers, Red Wine Vinegar, Lime Juice, Cilantro, Onions, Garlic, Salt, & Jalapeño Peppers Extract
This is Ashley Foods''s gauntlet amongst one of the most underrated styles of spicy condiments, the green jalapeno sauce. I love a really good green sauce that can actually claim a balance of fresh, earthy jalapeno tones, plenty of cilantro and a dose of sweetness from lime juice. Mad Dog Envy Hot Sauce isn't too bad, but I found it to be too lopsided on the tart side, with too much punch from the vinegar. I'd tone down the sourness in this sauce a bit, and then Mad Dog's David Ashley would have a terrific green sauce that not only would be killer on some Mexican food, but would also be a product that other sauce companies could truly envy.
Overall Rating:
Review Bites – CaJohns, High River Sauces, Anthony Spices and Mad Dog Sauces