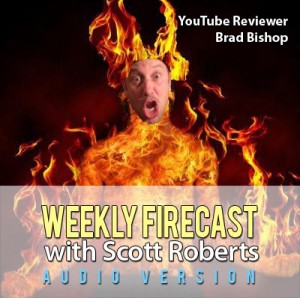 The Audio Weekly Firecast with Scott Roberts:
Weekly Firecast Podcast Episode #30 – YouTube Chile Pepper and Hot Sauce Reviewer Brad Bishop
One of the best known video reviewers on the web, Brad Bishop, talks about eating chile peppers and hot sauce on his YouTube channel, as well as the motivation behind doing his various characters. In his Fiery World segment, Ken Alexander talks BBQ and grilling with Scott. The Product Review of the Week is Blair's Death Rain Jolokia Pepper Potato Chips.
Links mentioned in the episode:
•  Brad Bishop's YouTube Channel
•  Voodoo Chile Sauces
•  Rev. Tommy 2 Tone's YouTube Channel
•  Hellfire Hot Sauce
•  It's a Fiery World – Ken Alexander's Blog
•  Blair's Sauces and Snacks
•  Scott Roberts Facebook Page
•  Scott Roberts Twitter Page
Listen Instantly!
 Click Above to Listen to This Episode Now!
Download this episode |
Subscribe via iTunes |
Subscribe via RSS Feed
Weekly Firecast Episode #30 – YouTube Chile Pepper and Hot Sauce Reviewer Brad Bishop Chats with Scott