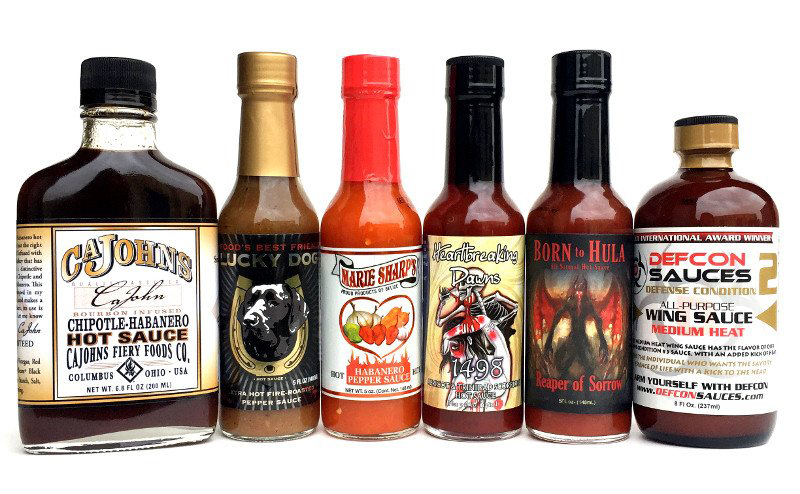 For years, I've thought of somehow creating a really cool "hot sauce of the month" club or compiling a really nice multi-bottle gift set so that chileheads can try out some of the best hot sauces available. Let's face it; we've all seen them, and inevitably, there will unfortunately be lackluster sauces or junk products included in these types of sets that the retailers force upon you. It's made me ponder, "why can't there be one package that people can buy which contains all top-notch hot sauces?"
I'm excited to present the solution to that problem! I've collaborated with Dylan of Heat Hot Sauce Shop to give you a 100% custom-selected hot sauce gift pack. The Scott Roberts Gift Set is exactly what you've been looking for. It has six sauces that I've personally chosen as some of the best and most flavorful pepper products in the fiery foods industry today!
You'll get:
CaJohns Bourbon-Infused Chipotle Habanero Sauce – One of CaJohn's best, which works exceptional as a hot sauce, a BBQ sauce, or even a spicy steak sauce! It's sweet, rich, smokey, and it's killer on beef.
Lucky Dog Black Label Hot Sauce – This stuff is so tasty, with a fresh vegetable flavor and a medium heat. Highly versatile.
Marie Sharp's Hot Habanero Sauce – A classic blend of habaneros, carrots, onions and garlic that is phenomenal on pizza.
Heartbreaking Dawns 1498 Apricot & Blueberry Scorpion Pepper Sauce – Possibly the best Trinidad Scorpion sauce around. 1498 has a base of a "Louisiana style" pepper sauce, and ups the ante with sweet tones and intense heat.
Born to Hula Reaper of Sorrow – A delicious blend of Carolina Reapers and red jalapenos in a base of red wine vinegar, with a slight "sriracha" twist.
DEFCON Sauces Defense Condition #2 Medium Heat Buffalo Sauce – The best wing sauce there is. Period.
With the Christmas holidays coming up, your search for the perfect present for the chilehead in your life – or even for yourself – is over! Order a few sets for the heat fans in your office and in your family. They'll LOVE these sauces!
Order today from Heat Hot Sauce Shop, and you get free shipping. Yes, you read that right – FREE SHIPPING! So take advantage of this NOW and get The Scott Roberts Gift Set!
Link: http://heathotsauce.com/products/scott-roberts-gift-set?variant=30908449411
[GARD]
Want the Perfect Hot Sauce Gift Pack For the Holidays? Try the Scott Roberts Gift Set