It's that time of year again!
What I'm actually talking about is the end of the fiery foods festival season. Around mid-to-late-October all chile pepper events and hot sauce shows have all but pretty much ended through the remainder of the year, only to start back up a few weeks after the New Year.
So it being this time, it's also the time in which I will update my Hot Sauce/Chilehead Events and Festivals Calendar page of hot sauce shows, spicy food festivals, and other chile pepper-related events occurring around the United States for the coming year.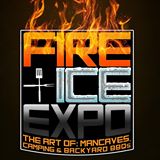 In 2016, we see a lot of returning shows, and a few new ones. A pair of fresh events come in the Fire + Ice Expos, which are piggybacking on a larger Outdoor Sports, Camping and Barbecue expo. These are taking place in the previously-quiet (with the exception of ZestFest) month of January, and are being held in New Jersey and Chicago, Illinois.
Many entries listed in the Hot Sauce/Chilehead Events and Festivals Calendar page are tentative and/or do not have official dates announced.
And keep in mind that several many events and festivals will most likely occur, but it is either way too early to post anything about them, or the producers and promoters of the shows have zero info on them. This is especially true for September and October dates in 2016 (after all, it's only been a few weeks since their 2015 events wrapped up!)
All dates, links and pieces of info are subject to change.
If you have any confirmed dates for any large-scale events that aren't listed on the Calendar page, please contact me with all the pertinent details: website, Facebook pages, dates, times, and anything else you can scrounge up about it, and I'll add it as soon as I can.  Thanks!
Updated Chilehead Festival Events Calendar for 2016