Last time out, Jungle Heat's Hottest We've Got Sauce faced Pepper's Georgia Peach & Vidalia Onion Hot Sauce in an odd pairing of very different condiments. Even though Georgia Peach & Vidalia Onion is popular among foodies and chileheads for its sweet, delicious flavor, Hottest We've Got proved too hot for it when it came to drumming up support from fans.
Today's duke-out is between the smoky Golden Toad Chipotle Pepper Sauce and the legendary Blair's Original Death Sauce.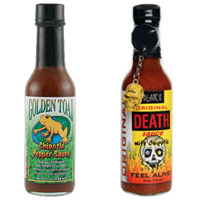 Which one will emerge the victor? As always, it's up to YOU, the hot sauces fans, to determine the winner of this battle!
You have until the End of Day on Monday, Sept 30, 2013 to make your choice.
You can view the bracket as it currently stands here.
Ultimate Hot Sauce Showdown – First Round – Golden Toad Chipotle VS. Blair's Original Death Sauce