There may be extract-based sauces and additives that are far hotter, but for "all-natural" hot sauces (meaning ones that do not contain chile pepper extract), there may be none in the world more mouth-scorching than the ones listed below that are commercially available.
Many chileheads and sauce aficionados feel that pepper extract possesses a nasty, bitter, "chemical"-like flavor, and prefer the taste and burn provided by ground-up or pureed chiles. If you're looking for the most eye-watering, tongue-throbbing, throat-burning, all-around hottest non-extract hot sauces, take a look at these fine offerings…
Chillimans Ghost Pepper Sauce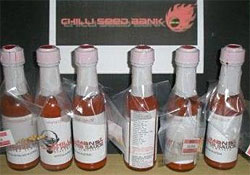 Ingredients: Bhut Jolokia, African Birdseye, Mexican pequin, other chilli, fruit, vinegar, Australian Bush spices, herbs, & salt.
This Aussie-made, orange-colored elixir has a very distinctive sweet n' fruity taste and may be even hotter than the "official" hottest non-extract sauce, Lethal Ingestion Hot Sauce. As of this writing, it's out of stock. Keep an eye open for it at the link below and order yourself a bottle when it's available.
Link: http://www.chilliseedbank.com.au/id62.html
CaJohn's Lethal Ingestion Hot Sauce

Ingredients: Fatalii, Red Savina and Bhut Jolokia chiles, Vinegar
Lethal Ingestion is yet another of CaJohn's umpteen fine sauces and this is very flavorful for a super-hot sauce. It supposedly has a chemical process that's done to it to squeeze every last bit of heat out of it (CaJohn won't say exactly what it is) but it's still technically non-extract. Put a big spoonful of this on a soft taco for a pleasurable punch in the mouth.
Link: http://cajohns.com/vmchk/Hot-Sauces/Lethal-Ingestion-Hot-Sauce.html
Danny Cash Naga Sabi Bomb Hot Sauce


Ingredients: Naga Jolokia peppers, Red Habanero Peppers, Wasabi, Vinegar, and Salt
Extremely hot sauces boast a wallop from chile peppers, but this has the dual spicy action of naga jolokia chiles AND wasabi – the sinus-cleaning Japanese condiment that's similar to horseradish. Like its name sounds (Naga Sabi…Nagasaki…get it?), this is like an atomic blast to your tongue and throat. It's powerful stuff, so if you plan to consume some of this, be prepared. Flavor-wise, it's not the best-tasting condiment I've eaten, but it's worth a try just for kicks.
Link: http://www.hotsauceworld.com/hsw1489.html
Mild to Wild Red Savina Garlic Hot Sauce

Ingredients: Red Savina® habaneros, Vinegar, Garlic, Citric Acid ,Vitamin C
There's nothing fancy about this; it's just an all-around blistering sauce with a balanced taste. A few drops of this on a large slice of pepperoni and cheese pizza make a kickass lunch.
Link: http://www.wildpepper.com/sauces.html
Holy Jolokia Hot Sauce

Ingredients: Vinegar, Bhut Jolokia Chiles, Sugar, Salt, Granulated Garlic, Lemon Extract, Xanthan Gum.
This is CaJohn's joint venture with the Chile Pepper Institute. Decent taste in my opinion, and Holy Jolokia is easily one of the smolderingest bhut jolokia-based sauces that contains no extract.
Link: http://www.cajohns.com/Hot-Sauces/Holy-Jolokia.html
Mild to Wild Ralph's Righteous Habanero Sauce/General Hurtin'

Ingredients; Hand Selected Habanero Peppers, Vinegar, Garlic, Onion, Turmeric, Spices, Salt, Xantham Gum
Another infernal liquid created by Mild to Wild Pepper & Herb Company. These two are actually the same sauce, just with different names and labels. Very pungent, bold, and HOT!
Link: http://www.wildpepper.com/sauces.html
Ol' Man Stillmanz Quadraphonic

Ingredients: Naga Morich/Bhut Jolokia, Fatalii, Trinidad 7 pot, Trinidad Scorpion Chillies, Vinegar, Lime, Sugar, Spices and Xanthan gum.
Okay, Quadraphonic is technically NOT commercially available, but I just had to include it. To taste it yourself, you need to participate in one of the Fiery Wing Challenges sponsored by Ol' Man Stillmanz in Australia. Maybe, just maybe if we're lucky enough this blazing liquid will be offered on the OMS website for purchase sometime in the next couple of years.
Link: http://www.olmanstillmanz.com.au/saucesDetail.php?Quadraphonic-8
The World's Hottest Non-Extract Hot Sauces