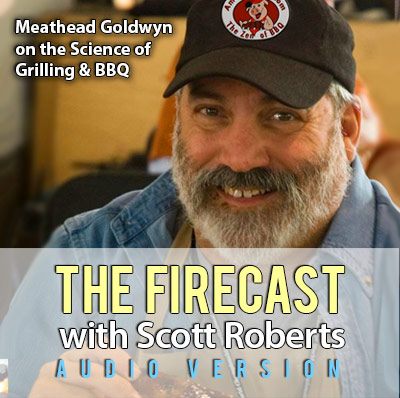 Listen Instantly!

Click Above to Listen to This Episode Now!
The Firecast with Scott Roberts: Firecast Podcast Episode #57 – Meathead Goldwyn of AmazingRibs.com on the Science of Grilling and Barbecuing

Meathead Goldwyn, creator of the world's most popular barbecue website, AmazingRibs.com, joins Scott for an extended conversation about the science of BBQ and grilling.  From busting myths and the perfect way to grill a steak, to the difference between direct and indirect heat and whether or not marinading and brining actually work, Meathead gives us a one-of-a-kind lesson in outdoor cooking you won't want to miss.
Links mentioned in the episode:
Chile pepper coverage:
Other Links:
 Download this episode | 
 Subscribe via iTunes | 
 Subscribe via RSS Feed
The Firecast Podcast Episode #57 – Meathead Goldwyn of AmazingRibs.com on the Science of Grilling and Barbecuing