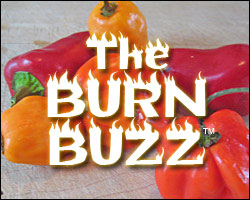 Dishin' it out in another edition of The Burn Buzz, where I list hot n' interesting links about spicy food and BBQ that have been floating around on the intertubes lately…
ChilliPepperPete Naga Tested at 85,540 Scoville Units higher that current world record holder – This cultivar may be hotter than the Naga Bhut Jolokia.
This Chile Pepper Sets Souls Afire – More on the bhut jolokia chile.
Jim Campbell's Open Fields – Report from chilehead Jonathan Passow about the Indiana chile pepper picking, camping, and festival event. Also: Part 2 Part 3 Part4
Domino's Adds Four New Bold Sandwiches to Its Oven-Baked Line-Up – Includes a Sweet and Spicy Chicken Habanero Sandwich and a Buffalo Chicken with Blue Cheese Sandwich.
Blair's Death Sauce Creator Celebrates Double Milestones This Week – The 20th Anniversary of Death Sauce and the 40th Birthday of Blair Lazar.
Subway intros LTO Buffalo Chicken Sub – For a limited time, the world's biggest chain is offering a buffalo-flavored sandwich.
Whataburger Debuts New Buffalo Whatachick'N® Sandwich – The Southern U.S. burger chain also is featuring a limited time offer spicy buffalo chicken sandwich.
Brighton Entrepreneur Launches Home Made Hot Sauce – Canadian man creates his own pepper condiment.
National Hot-Food Craze Fires Up November Pepper Conference – Scientists and producers will meet in November in South Texas to explore ways to improve the industry.
Baska Farmers Towards Commercial Horticulture – An interactive workshop was organized in the Indian district of Baska to discuss local crops, including the bhut jolokia pepper.
Chili Peppers, Native to New World, Add Zip and May Even Be Addictive – Decent overview article about peppers with several recipes.
The Burn Buzz – Spicy Food News 10/2/09