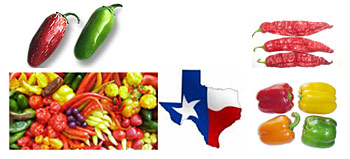 The following info comes form Dr. Kevin Crosby, Dr. Juan Anciso, and Dr. Ben Villalón:
The Texas pepper research is fine and doing well in Weslaco, Texas. The Texas Pepper Foundation (TPF), dissolved after 32 years, was organized in 1976 with over 300 members from 25 different states, several other countries including Mexico and Canada who recognize the importance of peppers (chile, chilli) as the number one spice ingredient in the world. Members included research and extension scientists, growers, producers, seed and chemical industry and major food processing firms. TPF members supported the genetic improvement of peppers being conducted at TAES Weslaco previously by Dr. Ben Villalón and now by Dr. Kevin Crosby and several other scientists throughout Texas. TPF sponsored periodic conferences, field days, and financial research support. This was one of the last major public assisted pepper improvement organizations in the U.S.A. Dr. Crosby has released several outstanding pepper cultivars with more to come, since Dr. Ben retired in 1996.
A Scientific Texas Pepper Conference and Field Day is Being Planned and Organized for November 12 – 13, 2009 at the Weslaco Research Center.
Thursday evening program consists of a 6:00 P.M. Welcome Reception at the Best Western Motel. Friday morning program includes observation of field plot trials of diverse, improved pepper genotypes. The Texas Bar-B-Q noon lunch at the Center will be followed by presentation of the latest research findings by scientists throughout the country.
CONTACT: k-crosby at tamu.edu, Phone: 979-845-7012; bevillalon at msn.com, Phone:1-956-968-2549; j-anciso at tamu.edu Phone: 956-968-5581. RSVP real soon.
Hotel Accommodations-Best Western Palm Aire- 415, S. International Blvd., Weslaco, TX, 78596(956-969-2411), (1-800-780-7234), $62.00/night. http://www.bestwesternpalmaire.com
TENTATIVE: Saturday activities might include a 2 mile PEPPER POWER walk/ run at Harlon Block Sports Complex to promote nutrition and physical activity. The $5.00 contribution goes towards efforts to beautify the city of Weslaco.
Beautiful South Padre Island is only 56 miles east of Weslaco. Some of us are planning a little R&R there that weekend.
An extended after conference trip to South Padre Island, Sea Life, Sea Turtle, Inc. with lunch at or Tino's Best Sea Food and Dolphin Watch tour might also be possible!!
For more information, download this PDF file of the Texas Pepper Conference Agenda: 2009-Texas-Pepper-Conference.pdf
Texas Pepper Conference on November 12 – 13, 2009