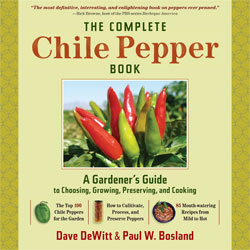 The last time I interviewed Dave DeWitt for this site, the focus of the questions and answers was to help dispel some of the annoying myths about chile peppers and hot sauces that continue to float around in popular culture.
This time out, it's to talk about his latest literary excursion, The Complete Chile Pepper Book: A Gardener's Guide to Choosing, Growing, Preserving, and Cooking, which he co-authored with a longtime colleague and fellow chile expert, Dr. Paul Bosland of the Chile Pepper Institute. Dave has penned over 35 books during his storied career, most of which have covered spicy foods and the culinary arts. I happen to think that The Complete Chile Pepper Book is not only Dave's best, but also the most comprehensive tome ever written on the subject of genus capsicum. I purchased my copy back in September, and there's hardly a week that goes by that I don't open it up and refer to it for one reason or another. One needn't even be a gardener or a hardcore spicy food cook to benefit from the book; there's enough great information from this book that would interest even fair-weather pepper fans.
The Complete Chile Pepper Book is available from Amazon, and is a beautifully-photographed, full-color, hardcover edition that makes a must-have Christmas gift both for you or the chilehead in your life.
Scott: Everyone in the chile world knows of you and your expertise in all things spicy, but how did you first get into fiery foods?
Dave: After I moved to New Mexico in late 1974, I vowed to start my freelance writing career and starting writing articles on New Mexico food and travel, which led me directly to chiles. I discovered that there was not much available research on the subject, so I went to libraries all over the state and photocopied the librarians' files.