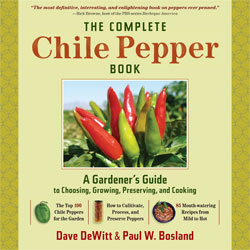 The last time I interviewed Dave DeWitt for this site, the focus of the questions and answers was to help dispel some of the annoying myths about chile peppers and hot sauces that continue to float around in popular culture.
This time out, it's to talk about his latest literary excursion, The Complete Chile Pepper Book: A Gardener's Guide to Choosing, Growing, Preserving, and Cooking, which he co-authored with a longtime colleague and fellow chile expert, Dr. Paul Bosland of the Chile Pepper Institute. Dave has penned over 35 books during his storied career, most of which have covered spicy foods and the culinary arts. I happen to think that The Complete Chile Pepper Book is not only Dave's best, but also the most comprehensive tome ever written on the subject of genus capsicum. I purchased my copy back in September, and there's hardly a week that goes by that I don't open it up and refer to it for one reason or another. One needn't even be a gardener or a hardcore spicy food cook to benefit from the book; there's enough great information from this book that would interest even fair-weather pepper fans.
The Complete Chile Pepper Book is available from Amazon, and is a beautifully-photographed, full-color, hardcover edition that makes a must-have Christmas gift both for you or the chilehead in your life.
Scott: Everyone in the chile world knows of you and your expertise in all things spicy, but how did you first get into fiery foods?
Dave: After I moved to New Mexico in late 1974, I vowed to start my freelance writing career and starting writing articles on New Mexico food and travel, which led me directly to chiles. I discovered that there was not much available research on the subject, so I went to libraries all over the state and photocopied the librarians' files.
I then ran into Nancy Gerlach, a registered dietitian and recipe developer who also loved chiles, and we started writing together and traveling with our spouses to hot and spicy places. Our first book, Fiery Cuisines was published in 1984. With Robert Spiegel as publisher, we launched Chile Pepper magazine in 1987 and the following year my wife and I launched the National Fiery Foods Show, as it was originally called. In those days, it was easy to sell (through an agent) books to publishers on a new culinary subject, so the rest was history.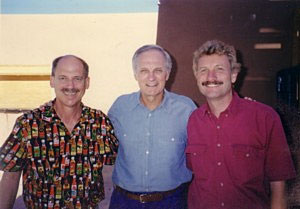 DeWitt (left) and Bosland (right) flank actor/host Alan Alda during the production of a PBS television show a few years ago.

Scott: Dr. Bosland and you had previously collaborated on the books The Pepper Garden and Peppers of the World: An Identification Guide. Was the fact that they were out of print inspire you two to create another book? What did you want to include that wasn't covered in the other books or do differently?
Dave: A lot had happened since The Pepper Garden was published in 1993 and Peppers of the World in 1996, and we wanted to update everything. Also, many of the pepper varieties in Peppers of the World lacked common names and that book was not focused enough. We also wanted to tie together the entire process of identifying, growing, preserving, and cooking. So in the new book, there are new varieties available by seed or plants, new growing techniques like advances in hydroponics, bonsai, etc., new preserving techniques like juicing and candying, and, of course, new recipes. All of this illustrated with color photos, which the first book lacked enough of.
Scott: How long was The Complete Chile Pepper Book project in the making?
Dave: I joke and tell people more than two decades, but it's really the truth as it is an accumulation of knowledge.
Scott: In the book you list the top 100 peppers for growing in your garden. Are there a top two or three chile peppers that are fairly resilient and perform well in a variety of temperate climates? Personally, I've found that cayennes have grown best for me, and have been very fruitful in the yo-yo temperatures and weather conditions during the late spring, summer, and early fall here in Missouri.
Dave: Cayennes are good because they've adapted to environments worldwide, and I think serranos work well because they are good container plants. Rocotos are, too.
Scott: Other than perhaps trying to avoid over-watering and over-fertilizing, what couple pieces of advice would you give home gardeners to produce highly fruitful and healthy chile pepper plants?
Dave: Sunlight, sunlight, and more sunlight. Chiles need energy to live and fruit, especially indoors. And watch for the three biggest threats: white fly, spider mites, and aphids, especially in warm climates. Frankly, I've never found an effective all-natural treatment for these nasty bugs.
Scott: How much home gardening do you do? What types of plants do you grow?
Dave: These days my chile growing experimentation is over, so I only grow what we eat: colored bells, serranos, and an occasional habanero or rocoto. It's silly to grow New Mexico varieties because they are so readily available here. I also grow a lot of heirloom tomatoes, eggplants, and many herbs.
Dave DeWitt a field during a video shoot for one of chef Bobby Flay's shows.

Scott: Personally, what are your favorite peppers to eat? Do you have a big tolerance for heat?
Dave: I have a medium tolerance for heat. My favorites are New Mexican chiles, chipotles, serranos, and rocotos.
Scott: Do you have any predictions on what might be the "next big thing" in the fiery foods world in the coming year? Two years? 5 or 10 years?
Dave: Genetically modified crops, despite what anyone might think of them, are perfectly legal and cannot be stopped because of big agri-businesses. Nearly all the corn and soybeans we eat are GMOs. I predict that the technology will advance to chiles, and gene replacement will eventually result in disease resistance, larger yields, fewer uses of chemical pesticides and herbicides, and chiles selected for heat and flavor. Fiery foods will continue to increase in popularity, as will chile gardening. A chile pepper hotter than Bhut Jolokias will be found, bred, or developed. Someone will codify the flavor profiles of the major chile varieties.
—–
Coming Soon – win a free copy of The Complete Chile Pepper Book!
Keep an eye out for an upcoming contest to win a copy of The Complete Chile Pepper Book here on ScottRobertsWeb.com. I will put up contest details very soon!

FireTalkers: Dave DeWitt on His New Book, The Complete Chile Pepper Book