The spice invasion has begun. Oh, you as a hot sauce fan may think that the current trend of fiery fast food sandwiches are a feeble attempt at best at approximating the capsaicin-heavy, tongue-scorching food items we all know and love. The spicy chicken sandwiches at Wendy's and McDonald's, the Angry Whopper at Burger King, and the Buffalo KFC Snacker, plus many others, may have disappointed heat lovers, but at least the foot is in proverbial door. A pair new sandwiches, the Domino's Sweet & Spicy Chicken Habanero Oven Baked Sandwich, and the Subway Buffalo Chicken Sub have furthered the push of spicier fare into the mainstream, but are they worthy of your money?
Domino's Sweet & Spicy Chicken Habanero Oven Baked Sandwich
The first thing I have to say about sub sandwiches from pizza joints is…does anybody ever order these things from them? Yeah, I know both large chains and neighborhood mom 'n pop restaurants dealing mainly with pizza have offered subs/hoagies/grinders/heroes/whateveryouwannacallthem for decades, but pizza pie and wings have to comprise the enormous bulk of their sales. Not that there's nothing wrong with adding an alternative menu item or two, especially for the oddball who might want something different.
You may love or hate their pizza, but if you're a chilehead you have to admit that you're at least a tiny bit curious when Domino's introduced a product with "habanero" in the title, weren't you?
That was my rationale for testing this out. I picked up the Sweet & Spicy Chicken Habanero Oven Baked Sandwich from a Domino's location close by my work and took it back to the office to munch away at it.
Opening the box, a fairly decent-sized sandwich was revealed. The "artisan Italian bread", as Domino's calls it, looked nice and toasted, which is what you would want for a hot sub; for some reason, the crispiness and lightly tough exterior goes far better than limp, soft, cold bread would.
The food smelled good, and after a quick study at the ingredients spilling out between the slices of bread I was actually a bit anxious to eat this. But a further examination was in order by opening the bread up.
The bread was soft on the inside and had gotten a bit soggy and a touch oily from the other contents. One thing I noticed right away was the heavy inclusion of jalapenos. Uh…jalapenos? On a habanero sandwich? I wouldn't expect full slices of habby rings to be placed on this, but shouldn't the heat come from the sauce, with perhaps seeds or specks of habaneros in it? Mainstream food companies think in strange ways, so I would give them a pass on this one.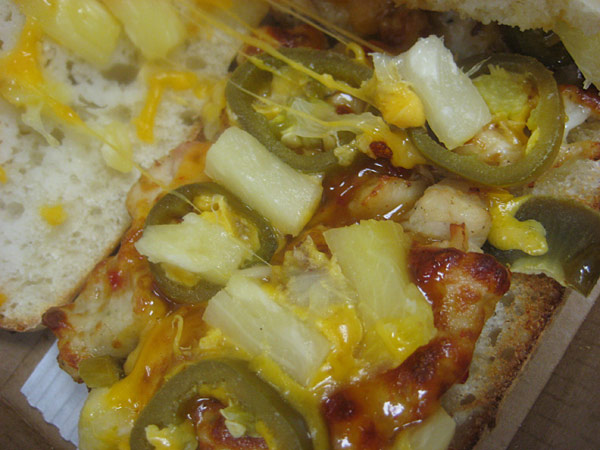 There was a moderate amount of good-sized pineapple chunks sprinkled on here as well as provolone and cheddar cheese. And as much as the chicken breast chunks looked re-heated and processed to the max, with artificially-colored grilling or roasting marks, I still wanted to jump into this.
First bites…not bad. Not bad at all. The flavors complemented each other well. I noticed that the habanero sauce contained very little heat, probably comparable to a mild buffalo wing sauce. It was sweet and had a bit of tang to it, but minimal burn. The only time I got any substantial heat was when a bite had plenty of jalapeno slices in it. I was highly disappointed at this fact. I would have rather them work on adding a little more spiciness to the sauce than to rely on a pepper that's not even advertised.
The bread was quite good; it had chewiness and substance to it. Pineapple in hot sauces and salsaa is employed frequently, and I feel it's used well here. With melted cheese and then chicken, everything fused well together. I honestly would say that I would recommend this sandwich IF you're stuck with Domino's as a meal choice AND you're not in the mood for their pizza. At around $4.99, it does satisfactorily as a lunch.
Overall Taste: 3.5 out of 5.
Subway Buffalo Chicken Sub
While most stray away from sandwiches in the land of pizza and wings, at Subway it's their…er…bread and butter. Since 1965, the world's largest fast food chain (in number of store locations) has been dishing 2 billion submarine sandwiches a year since the turn of the millennium. They've featured many excellent food offerings (God, I miss the Chicken Caesar Sub) and a good deal of so-so ones. Subway has had jalapenos as a sandwich ingredient for a couple of decades, and introduced a mild chipotle dressing several years ago, so flirting with spice is not new to them. But the new, limited time-only low-fat Buffalo Chicken Sub may be the first nationwide push for a blatantly hot-tasting sub in the company's history.
I know it may seem contradictory to what I said above, but I got my Buffalo Chicken sub non-toasted (maybe I was in a weird mood that day). I had it loaded up with lettuce, tomato, onions, black olives and jalapeno peppers.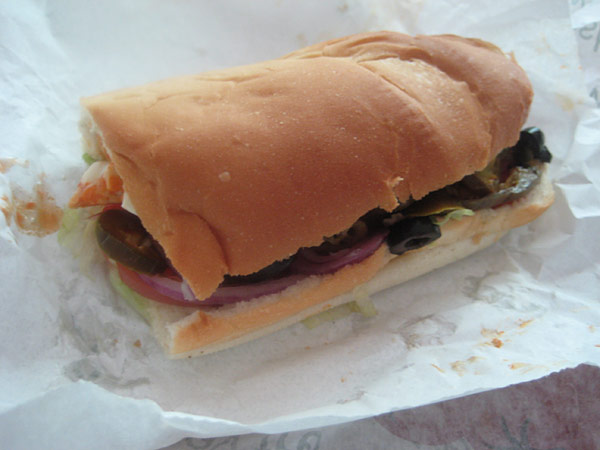 I also received double meat. With the extra chicken breast meat and sauce, there would be no excuse for this to be under-flavored.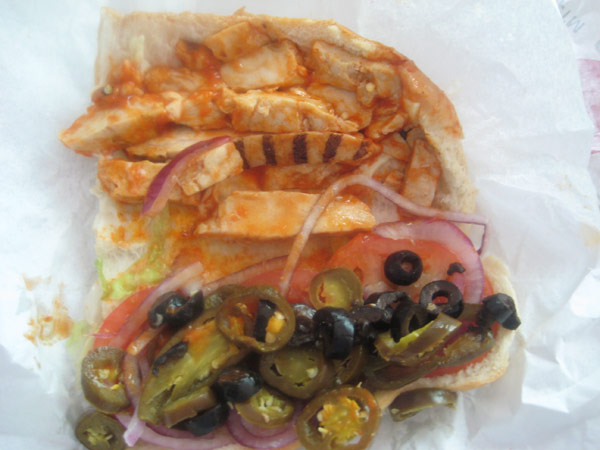 You may have been thinking, "with all of those jalapenos, how are you going to be able to truly get an accurate sense of what the sauce and chicken taste like? Wasn't the brunt of the heat on Domino's sub handled by the jalapenos?" Well, I took a chunk of meat off the sandwich to see what the flavor was. Wow, pretty bland. I took another bite. It was just as underwhelming. Ladies and gentlemen, this watered-down, reddish-orange liquid Subway calls "Buffalo Sauce" has got to be the worst excuse for a peppery sauce I have ever tasted from a restaurant.
Thoughts flashed through my head as to what could have been a more suitable replacement for this slop: Tabasco. Old El Paso Taco Sauce. Even Taco Bell Mild Sauce. I think you get the idea.
I closed up the bread and proceeded to reluctantly gulp down the rest of the sandwich. I suppose as a "wet chicken strip sub" this might've been okay, but as a buffalo-type product, Subway really dropped the ball with this one. Avoid it if you can.
Overall Taste: 1.5 out of 5.
Final Verdict
It's over 3 minutes into the second quarter of the game: Domino's takes out Subway handily.
Sub Sandwich Review Face-Off: Subway Buffalo Chicken Versus Domino's Sweet and Spicy Chicken Habanero Sandwich