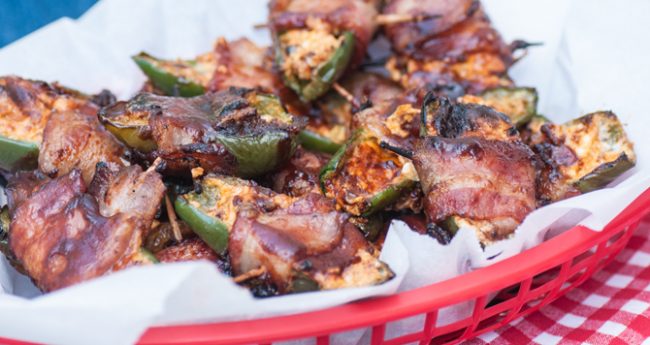 With tailgating season right upon us, here is a great recipe to get you started! Courtesy of my good friends at Stubb's BBQ, here is a winner of an appetizer platter: Smokey Stuffed Jalapenos with Bacon.
Ingredients
24 fresh jalapenos, halved and seeded
16 oz. cream cheese
½ lbs. uncooked chorizo
24 slices of bacon, cut into halves (about 2 lbs.)
1 cup Stubb's Smokey Mesquite Bar-B-Q Sauce
Cooking Instructions
Preheat a skillet to medium heat. Remove the chorizo from the casing and cook over medium heat until cooked through, about 8 minutes. Remove from heat and transfer chorizo to a paper towel lined plate to drain and cool.
Mix the cream cheese and chorizo.
Stuff each jalapeno half with cream cheese mixture. Wrap with half a strip of bacon and secure with a toothpick.
Prepare the grill for direct cooking. Place peppers onto the grill and cook for 8-10 minutes, turning frequently. Baste peppers with Smokey Mesquite Bar-B-Q sauce in the last 2 minutes of cooking.
Alternatively, cook in the oven for 25-30 minutes at 350°F, adding the Bar-B-Q Sauce during the last 10 minutes of cooking.
Thanks again to Stubb's Legendary Bar-B-Q.
[GARD]
Smokey Stuffed Jalapenos with Bacon Recipe