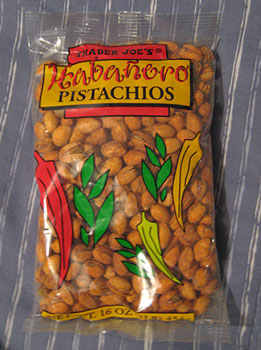 After eating a few Trader Joe's Habanero Pistachios, they rapidly became an addictive snack. I am definitely not a nut fan (with a few rare exceptions), but these babies are so good they just might change my mind…
Here's the lowdown on these delectable little spiced nuts…
Ingredients:
Pistachios, habanero dust, salt, hint of lime
Aroma:
4 out of 5. A very light, non-descript peppery smell. A hint of salt is noticeable, also.
Appearance and Texture:
3.5 out of 5. The tan pistachio shells are lightly covered in a fine, orange, habanero dust and salt coating: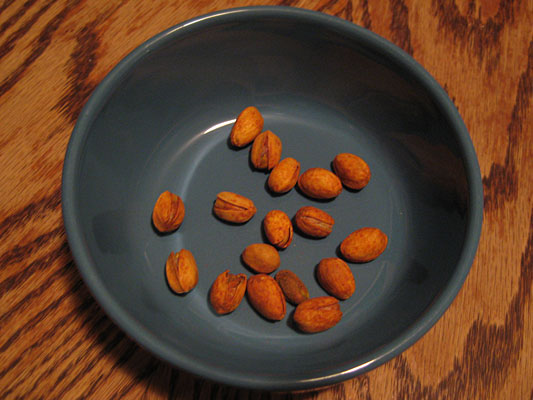 Most of the flavoring is on the shells and not the pistachio nuts themselves. But unlike red-dyed pistachios, you won't get a heavy coating of orange stained on your fingertips. A quick wipe with a napkin will take care of any yucky residue.
Taste:
5 out of 5. Delicious and spicy, these nuts have a superb taste. I do not care for plain pistachios, but these hit the spot. The bit of habanero dusting gives them a nice kick. There's just the right amount of salt, too. These do not have a dark, bitter, or overpowering flavor like some other spiced snacks I've tried. I advise you to portion these out before eating or else you might devour three-fourths of the bag before you realize it.
Heat:
If you love sucking on the shells (God only knows why you would do such a thing), you'll get the brunt of the heat. If you're like me and consume only the nuts inside, I would rate the warmth a respectable 2.5 on a scale of 1 to 5. May be a tad too hot for the non-Chilehead.
Label:
1 out of 5. Not much to rave about on this one. Since Trader Joe's regularly stocks and rotates 50+ different bags of dried fruits and nuts in a store on any given day, it looks like they just quickly assembly-lined the bag design. Features cheap, cartoon-looking drawings which barely resemble leaves and peppers; the graphic art person probably didn't know that habaneros are short, round chiles, and not the long, slender variety pictured on the bag.
Overall:
These habanero-spiced nuts from Trader Joe's rock, plain and simple. If you can take some scalding on your tongue then you've love these. They're available in 16 oz. bags from a Trader Joe's near you. If you're not sure where a store is, you can have a look on their website's locator: http://www.traderjoes.com/locations.asp.
Review – Trader Joe's Habanero Pistachios