Sun Pony DC Rebone Hot Sauce is a recent winner in The Hot Pepper Awards, garnering a 3rd place win in the Habanero Sauce category. Their website proclaims of the sauce "…it represents the true flavors of Washington DC. From the Native Indians to today's multicultural mix of the city's urban landscape. This flavor transmits excitement that is so hot and tasty in every drop, it's addictive." Wow, this description in concert with the 3rd place standing really piqued my interest. I was expecting something truly unique and special that would have both the taste and compatibility of a half dozen cuisines. The same webpage boasted "It is made with Naga Jolokia, the world's hottest pepper currently grown only in Costa Rica." Well, everyone knows that's totally wrong, but I was willing to overlook that erroneous statement simply because I was excited to test this puppy out.
Ingredients:
Habanero pepper pulp, Spice blend seasoning, Cane vinegar, Beet powder, Naga Jolokia Powder pulp, Garlic, Xanthan Gum
Aroma:
3 out of 5. DC Redbone smells like strong vinegar and peppers with a dash of salt and garlic thrown in. There's nothing too original about the aroma.
Appearance and Texture:
3.5 out of 5. This sauce has a deep orange/red hue and a medium-thin viscosity. The consistency is smooth with no chunks, pulp or shreds of ingredients present, with only a dark flake of spice here and there.
Taste Straight Up:
3 out of 5. Heavy vinegar with a fierce, quick heat. I tasted a sparkle of garlic, but the spotlight belonged to the screaming hot chiles and vinegar. It's like a a nuclear version of Tabasco brand Garlic Pepper Sauce with a smidgen less garlic and no salt. If that approximation doesn't seem thrilling to you then you're catching my drift. I wasn't exactly thrilled, either. I was wanting something with a bit more vibrant and exotic (especially with this talk of "Native Indians" and "multicultural mix") but got middle-of-the-road Louisiana-style sauce flavors instead.
That's certainly not assessing this sauce as bad – it's clearly not bad. I liked the fresh pepper taste and the tang of the vinegar. But for what it is, DC Redbone is about as ordinary as you can get.
Taste on Food:
Heavy amounts DC Redbone of were splashed on beef and bean tacos one night for dinner. It didn't do much for me in the flavor department, but added admirable amounts of heat.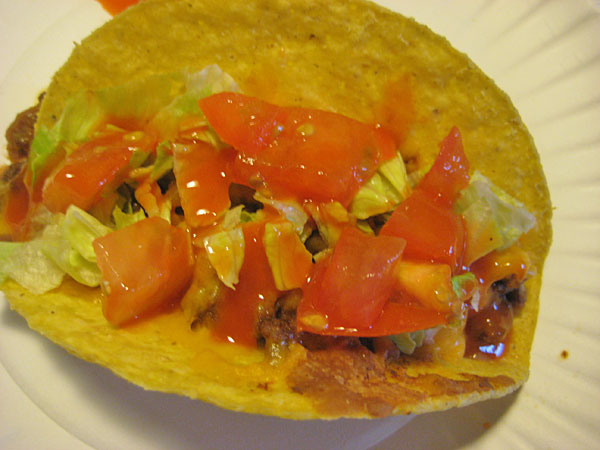 If you would use DC Redbone, I would recommend that it not be employed as a condiment or a topper for pizza or Mexican foods. Use it instead as an additive or in a mixture with other ingredients. Blend it with some butter to make a fiery wing sauce. Pour a good dosage with a pot of chili to give it the food a nice little kick.
Heat:
3 out of 5. Most hardcore heat fans can handle this blistering burn. The fire is almost immediate when you eat some of this sauce, and warms the tongue up. Mild mouths should use this very sparingly.
Label:
2.5 out of 5. Flat and uninspiring for a hot sauce container. This "Product of Costa Rica" possesses a dark blue label with red text. The words "DC REDBONE home of the Anacostias" are superimposed on top of pictures of the Washington Monument and the U.S. Capitol Building with a pair of Native American Indians dancing below. I'm not sure of there exists an "Anacostia" tribe to which these two dancers belong. To me this bottle looks more like a novelty item that tourists would pick up as a souvenir from D.C. than something a company would want to market nationwide.
Overall:
I wouldn't urge anyone not to buy this product, but it's not something I'd recommend right of the bat, either. You may have better luck with it than I have. The cost to order this online is dirt cheap at $1.83 a pop. You do have a six-bottle minimum to get that price, but if you're able to hand out some bottles to other hot sauce lovers you know, it may be worth it.
The actual order page for DC Redbone (as opposed to the static description page) on Sun Pony, Inc.'s website is very difficult to find; I was only able to stumble upon it using the site search. For your convenience, here it is: http://www.mcssl.com/store/sunponyinc/dc-redbone-hot-sauce-.
Review – Sun Pony DC Redbone Hot Sauce