Rudy Reviews is back with a Sriracha sauce for you!  Today's offering comes to you from Organicville Foods located in Yanceyville, NC. Organicville Foods started almost ten years ago by Rachel Kruse and they pride themselves on producing a ton of products that range from dressings, salsa, pasta sauce as well as a host of others – all of which are certified gluten-free as well as certified vegan.
Sriracha sauce was first made in Thailand and it gets it's name from a coastal city in the Chonburi Province on the eastern coast.
People often mispronounce Sriracha sauce calling it "SIRacha" or SREracha", but it's actually pronounced "SEEracha".
The ingredients used to produce Sriracha is comprised mostly of the same ingredients and vary with the presence of elements used.  Let's take a glimpse at Organicville's contribution, Sky Valley Sriracha Sauce.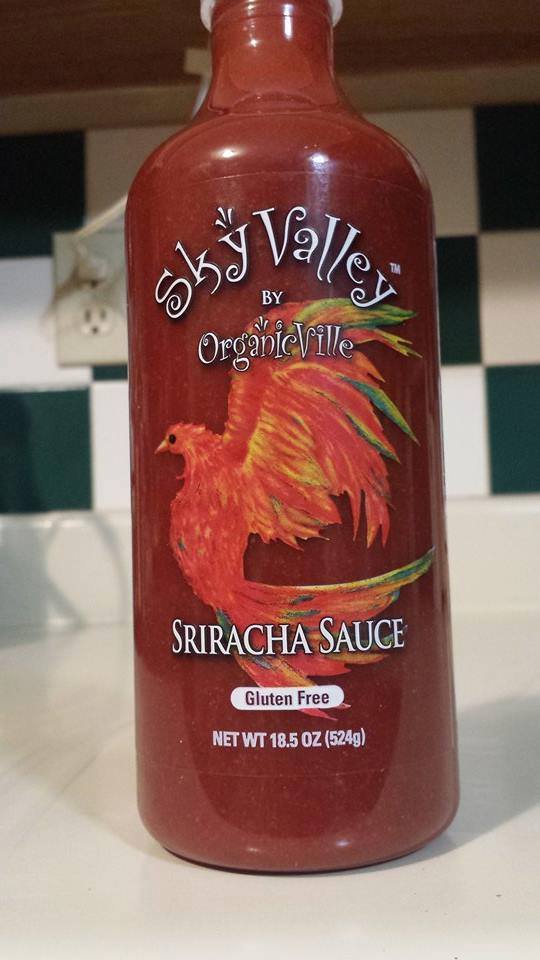 Ingredients:
Cayenne pepper puree, water, organic cane sugar, red jalapeno peppers, organic distilled vinegar, organic dried garlic, cayenne powder, xanthan gum, citric acid
Aroma:
4 out of 5. This sauce is brilliantly balanced.  The chile peppers are paired with garlic and sweetness from the sugar.  To me, there isn't a dominating ingredient in the sauce like you get with so many sauces that are out there – the vinegar has a nice little tang to it making this sauce toothsome to my senses.
Appearance and Texture
4 out of 5. This sauce is one of the thicker Sriracha sauces that I've familiarized myself with. It's not chunky nor is it completely smooth either. I don't pick up on chunks of matter, but I do see the powder that's provided by the dried garlic and the cayenne powder. I'm not a real big fan of real runny sauces so I'm very pleased the consistency of this.
Taste Straight Up
4 out of 5. Despite the sodium content being 150mg per serving, Sky Valley Sriracha Sauce isn't salty to me at all.  The chile flavor presented itself first with garlic not far behind. The vinegar and salt added a very nice one-two punch which "made" me take a few more spoonfuls.
Taste on Food
5 out of 5. Organicville knocked it out of the park with this one.  The sauce added such a rich addition to the pad thai that I made.  I didn't add any garlic or sugar to the dish itself and I let the sauce do it's work in that department.  The depth that this sauce added was beautiful and to be honest I was a little bummed when I shoveled the last forkful into my gullet.
Heat
1 out of 5.  To me this sauce isn't hot (I do think I have a high tolerance to heat), but it really is a mild sauce. Not every sauce has got to be extremely hot to be good and I'm glad that this one isn't because it would take away from the near flawlessness that this sauce totes.
Overall:
To be honest I'm not the biggest fan of Sriracha sauces, but this one is the best variety that I have ever had the pleasure of trying.  I'm very impressed with the product and I highly propose that if you ever see this sauce that you pick it up.  To me, this sauce has the perfect balance and if Organicville's Sky Valley Sriracha is this good, I'm very curious to see what their other products are like. I haven't yet found any other products from them in my town. Thank you for reading and have a lovely day!
For more information on Organicville, go to their website:
www.organicvillefoods.com
Review – Sky Valley Sriracha Sauce