QuikTrip, the American chain of convenience stores spanning a large part of both Southern border and Midwestern states, is one that I've been frequenting for more than 20 years. While everything they offer in one of their 700 national locations doesn't please the guilty pleasure food maven in me, but they have enough in the munchies and drink areas that I never have to  question whether or not they'll have something for my early morning or late night cravings when I fill up for gas.
With little fanfare, QuikTrip introduced something unique back in April. This item I speak of is not only a good-intentioned attempt to have yet another "spicy" food item…but praise the Lord…one that chileheads will actually love!
But let's take this into proper context. QT taquitos are hit and miss with me. They previously have had pepper jack cheese, chicken and steak version of their "roller grill" taquitos. (It is my opinion that QuikTrip's spectacular Spicy Chipotle sauce will bring some of this hum-drum fare to highly edible levels, but I digress.) It is because of their overall "so-so" past performance with these taquitos that gave me relatively low expectations for their new Habanero Cream Cheese Taquitos.
And boy, was I surprised.
Texture and Taste
QuikTrip's Habanero Cream Cheese Taquitos are approximately 9-10 inches in length (only estimated by eyeballing it), have have a dark honey/light brown colored crispy coating. Upon biting into one, the crunch was good, with enough sufficient chewiness for a impressive mouth feel.
As you could guess, I was antsy to get to some of the spicy habanero cream cheese. The ends of these QT taquitos lack the filling for about the first 3/4 to a full one inch, so I discovered this white cream cheese on my second bite:
There existed a bit of a peppery sensation in this snow white cream cheese mix, but at this point it was fairly non-descript. Hmmm…could this be another disappointing, mass-produced product that promises the taste and heat of X chile pepper, but fails to deliver? It only took me one more bite to reveal that: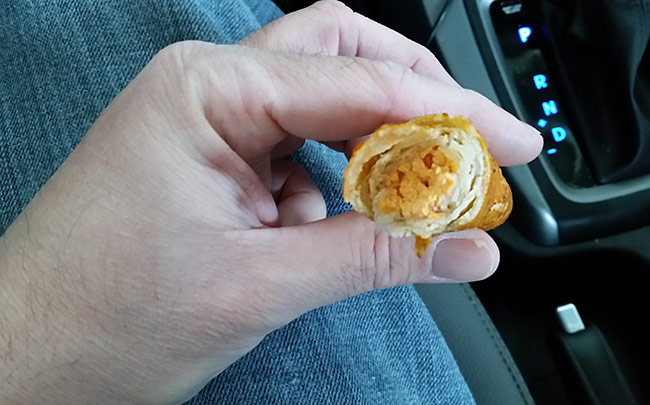 Ohhhhhh…NOW we're talkin'! This cream cheese filling was crammed FULL of habanero flavor and scorch! The cheesy filling turned orange in some areas, and specs of actual chiles could be found in it. Yum!
And ladies and gentlemen, when I say "habanero flavor", I FRICKIN' MEAN IT. Yes, perhaps for the first time outside the specialty hot sauce world, someone has actually wrangled that distinctively sweet, citrus-like taste of a fresh habanero chile and pushed it to be one of the starring roles on the stage of your tongue. This ain't no "here's a habanero product that is 10% hotter than our jalapeno product but still has no particular chile pepper flavor". Oh, no…make no mistake about it. THIS IS A HABANERO-FLAVORED SNACK FOOD ITEM and I'm excited that someone finally "gets it!"
Heat
QuikTrip's Habanero Cream Cheese Taquitos aren't going to rival the hottest Carolina Reaper or Scorpion hot sauces on the market. But hardcore chileheads looking for an "everyday" type of snack will be pleased with the burn. And those of you with mild mouths will find a terrifically hot thing to munch on while grabbing a fountain drink at a QuikTrip location.
Heat Level:

Overall Opinion
The folks at QuikTrip have done an outstanding job with this taquito product. As of this writing, I do not know who developed the recipe or produces these for QT, but I say they have a winner on their hands. And, with the aforementioned Spicy Chipotle condiment (available for free in squeezable bottles at QT locations), it makes it nearly perfect.
Overall Rating:
Since they are a "limited time only" item, get 'em while you can. At 99 cents a piece, grab a couple of them for some guilty pleasure grub and go edibles. And if you like these as much as I do, let QuikTrip know what you think of this on their various social media accounts linked on the top right of their homepage.
Review – QuikTrip Habanero Cream Cheese Taquitos