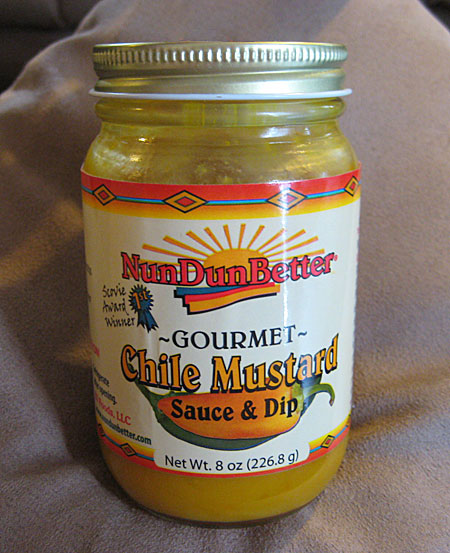 Ah, we have another Scovie Award Winner here; this one has snatched up both first and second place honors in the Mustard category. The name is NunDunBetter Gourmet Chile Mustard Sauce and Dip. I've confessed before that I'm not the biggest fan of mustards, but when a mustard is rich, bold, complex, balanced and a bit on the sweet side, there are very few condiments or sauces on earth that can touch them. Let's see if NunDunBetter Chile Mustard can fit that description and please my humble ol' palette.
Ingredients:
Chile peppers, sugar, distilled vinegar, water, prepared mustard (distilled vinegar, water, No. 1 grade mustard seed, salt, contains less than 2% of turmeric, paprika, spice, natural flavor, garlic powder) salt, unmodified potato starch, turmeric, xanthan gum. ** Contains no known allergens.
Aroma:
3.5 out of 5. The scent is like a blend of pickled jalapenos and a mild, sweet mustard smell.
Appearance and Texture:
3 out of 5. The liquid has a dark yet simultaneously "bright" appearance. NunDunBetter Chile Mustard is a lot less thick than what you'd expect. Simply tip the jar to it's side and let it drip out with a runny viscosity. Because of this, it's better suited for a bottle; a typical 5 ounce woozy bottle one would find hot sauce in would do the trick. But I can't help but think that the manufacturer of this also had in mind the "dip" aspect of this, so they opted for a jar to allow larger contents to be dunked directly inside.
Taste Straight Up:
3 out of 5. Very, very light. You get a hint of sweetness and mustard flavor at the onset and a touch of heat quickly afterwards. After that…there's not much. To say that's this mustard tastes "watered down" may sound derogatory, but it doesn't necessarily mean it's bad. If you're craving a mustard sauce that's not too strong, smooth and easy-going, or would appeal to a broad audience – think of party or dinner guests who may like a bit of spice with their appetizers but they're not raging chileheads by any stretch of the imagination.
Taste on Food:
3.5 out of 5. I tried a good smearing of NunDunBetter Chile Mustard on a turkey, ham and provolone on some sliced French bread. It did the trick and wasn't overpowering against the core flavors of the meat, cheese and bread, and complimented them very well. I gave NunDunBetter an extra point for this, but had to remove another point for it being, well, simply nothing special. I would have preferred NunDunBetter Chile Mustard to contain a notch more of "oomph". It was on the right track with the taste, but it wasn't quite there yet with a lack of a bombastic appeal.
Heat:
2 out of 5. This has a surprising sting of heat for something I was expecting to relatively gentle, yet it won't make your eyes water or your forehead drip with perspiration.
Label:
The graphics and colors give it a Southwestern feel. KS Foods, who distributes this product is based in New Mexico, so this is spot on at representing their geographical area.
Overall:
It may be hard to go wrong with NunDunBetter Chile Mustard. It's got taste that pleases with a texture that will go with a wide array of applications. Personally, every flavor component was on the weak side, so I would only use this when I'm in the mood for mild all around.
Interested? You can pick up an 8 oz. jar at Sweat N' Spice for $7.15 plus shipping.
Review – NunDunBetter Gourmet Chile Mustard Sauce and Dip