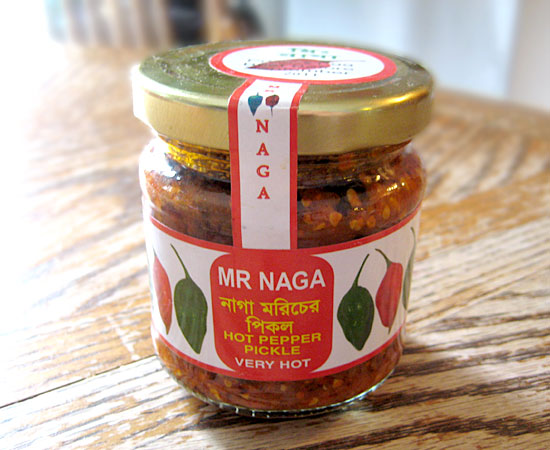 This jar of Mr. Naga Hot Pepper Pickle was shipped to me from the UK by Alexis Holliman, as this was one of his favorite naga chile products and he was eager to see my take on it. Overall my favorite chile pepper would have to be a nice, sweet habanero, but I also love the taste and fire of bhut jolokia/naga jolokia/naga morich, so I was hoppin' to test out this chile sauce/salsa.
Ingredients:
Hot Pepper (Naga Morich) 70%, Salt, Vinegar, Vegetable Oil, Paprika, Mixed Spices
Aroma:
4 out of 5. I was expecting to be blown back with a highly pungent odor, but I found it surprisingly subdued, pleasant and sweet. It was vaguely similar to a curry but without any nastiness associated typically with Indian foods (thankfully!).
Texture and Appearance:
2.5 out of 5. This ain't the best looking stuff I've seen. The naga chile mixture looked like thick, chopped-up, sloppy amalgamation that was a tad finer than a typical pickle relish, but there were enough small chunks and gobs of seeds to be able to distinguish it as some type of red-colored pepper. The dark oil was not appetizing at all. No matter how much I tried to mix it with the pickled pepper, the bulk of it would simply separate.
Taste Straight Up:
4 out of 5. I was able to taste very little of the salt and vinegar. Instead there was a terrific flavor where the sweet fruitiness of the naga morich shined through. The oil provided an intriguing richness which also lowered the heat of the chiles. Only on the back-end did I detect a touch of vinegary-ness which one would associated with a pickle-like taste. All the way through there were a lovely blend of spices.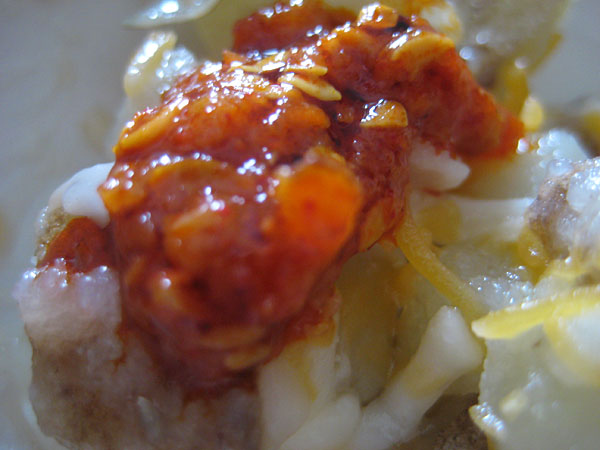 Taste on Food:
4.5 out of 5. I wanted to see how versatile Mr. Naga Hot Pepper Pickle was. One morning I had prepared some fried potatoes, sort of a large-sized home fries, with white country gravy and shredded cheddar cheese. I sprinkled a couple of spoonfuls of Mr. Naga on top. The pure, spicy flavor of Mr. Naga served as a wonderful counterpoint to the milky, mild tastes of the gravy and cheese. I scarfed up every last bite and wanted more.
I could imagine Mr. Naga on a number of things that you would normally apply a thick hot sauce or salsa to, like steaks, chicken and perhaps even burgers. It would work as a spread on a sandwich or dolloped in a dish as an additive.
Heat:
4 out of 5. It packs a strong burn. I felt the sting on the back of my tongue and throat. Oddly enough, the heat was not overwhelming even though I did get a bit teary-eyed after eating a few spoonfuls of it. The heat and flavor lingered for at least five minutes after consuming. If you like a good fire, Mr. Naga Hot Pepper Pickle will provide it.
Overall:
This may be a bit difficult to find online, but if you discover a link to purchase Mr. Naga Hot Pepper Pickle it's worth it.
Review – Mr. Naga Hot Pepper Pickle