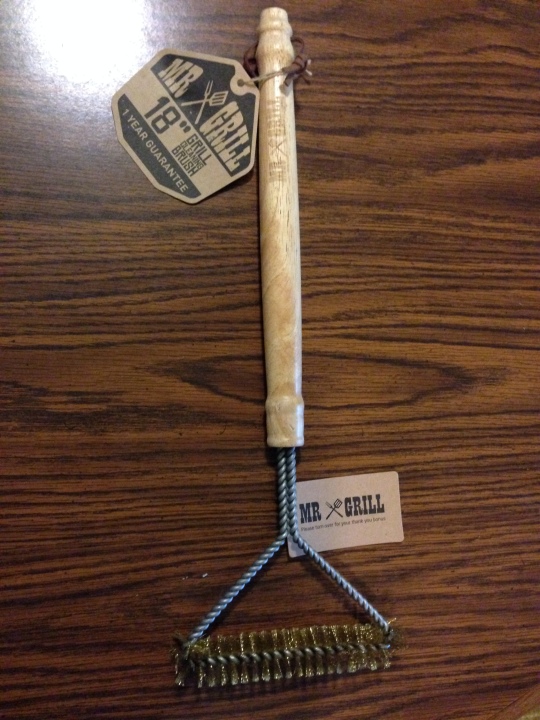 There are a myriad of solutions and variations when it comes to clean your BBQ grill or smoker grates. Heat and moisture can certainly help, but it almost always take something abrasive to remove the burnt and stuck-on food from the grate wires. I've actually been a fan of taking balls of waded-up aluminum foil and scraping the offending crust from the grill, but I've always had a good grill brush on standby for a different kind of attack on burnt-on grime if needed.
But what type of grill brush do I think is best?  The verdict is still out in that department for me, as I've had a full array of mixed results from all types.
Rizzi at Mr. Grill has recently sent me their Brass Grill Brush to put through its paces.
Mr.Grill's Brass Grill Brush is a t-shaped brush with (as the name says) brass bristles twisted into the metal bar connected to the 18-inch solid oak handle. I've had experience with these types of t-brushes; and they're not always good.  The bristles start ed to come out little by little until the bristle coverage was as spotty as a badly-grown beard. Since I've just received Mr.Grill's Brass Grill Brush, I've not yet had a chance to use it on a regular basis for several months, so I don't know how well it would hold in the durability category. It does state both on the Mr. Grill website and on its Amazon page that it has a "One Year Guarantee"; I'm not sure if that is legally binding as a one-year manufacturer's warranty, so hopefully Mr. Grill can shed some light on that statement.
I've always had mixed results with grill brushes of the "toothbrush" variety and all the bristles are together in one square clump; they were generally unwieldy to use and produced mediocre results when getting hardened gunk off the grate wires.
Performance 
So how did this particular brush perform? First, I started with an adequately messy grill:
I applied a moderate amount of pressure as I scrubbed the wires. It was much easier to use than the aforementioned "toothbrush"-type of grill brushes, where an awkward scrubbing pattern is required. With Mr. Grill's brush, I was able to "slide" back and forth with more effectiveness, using longer, smoother strokes. I was able to clean more wires in less time. With it's 18″ long handle, it was easy to get to nearly every nook and cranny.
After about 2 or 3 minutes of effort, and a flipping over to get the other side of the grate, it was 90-95% clean.
The results were pretty good. Although I have to see how this brush hold up in the log run, I would have to recommend this right now.
You can pick up a Mr. Grill Brass Grill Brush on Amazon for $9.95 plus shipping, get more information on their website.
Review – Mr. Grill Brass Grill Brush