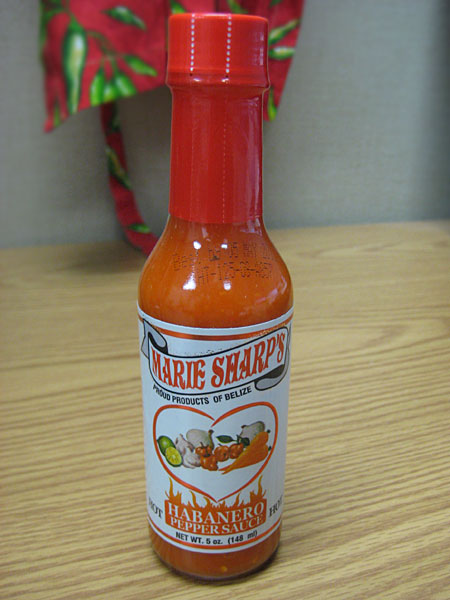 This review originally appeared on the English Chilli Company website. I've reposted it here for the benefit of those outside of the UK who may not have seen it.
If you've never tried Marie Sharp's Hot Habanero Pepper Sauce, you're really missing out on something special. This Belize-produced condiment has gotten me hooked on carrot-based hot sauces.
Ingredients: Select red habanero peppers, fresh carrots, onions, key lime juice, vinegar, garlic, salt.
This sauce is gorgeous to look at, with it's bright, deep reddish-orange color, pulpy consistency, and many habanero chile seeds intricately accenting the mixture to give it a nice speckled look. The aroma from this is out of this world. If you've never encountered a carrot-based pepper sauce, it has a very distinct and sweet vegetable smell with just the right hints of habs, vinegar and garlic, but the carrots, onions, and lime juice take center stage.
Let's get to the most important aspect – the taste! It is amazing. Similar to the aroma, it has a great, garden fresh, vegetable-dominated presence with just enough fire and tartness from the peppers and vinegar. All in all it's a well-balanced sauce with many good applications. I particularly like it on Mexican foods. It also pairs well with omelets and pizza. And it's a killer ingredient in Bloody Mary mixes.
For this demonstration, I've splashed some on New York-style pepperoni and cheese pizza. Alright, pizza not the most extravagant cuisine on which I could put Hot Habanero Pepper Sauce, but it's proved to be a very reliable culinary litmus test to me when it comes to most chile pepper sauces. I feel it adds a terrific flavor and heat to base of mozzarella and pepperoni, and the carrots and other vegetables along with the garlic pair well with the pizza's tomato sauce. Yum!
This has a medium-hot heat, around the same level as a good habanero sauce would be. If you love a good, warming burn without scorching your mouth out, this sauce would be perfect for you.
What's really good about this sauce is that it's not too terribly difficult to find a bottle. Not only is it relatively easy to acquire in the States, but in the UK as well. Go to the Hot Headz website to order a bottle for yourself.
For U.S. hot sauce fans, numerous online destinations sell this sauce including Sweat 'N Spice.
Review – Marie Sharp's Hot Habanero Pepper Sauce