Scott Zalkind (whom I interviewed for the Firecast Podcast last year) has proven himself to be one of the brightest talents to enter the hot sauce pool in the 2010s with his superb Lucky Dog Hot Sauces. Two years ago I covered his first three sauces in a review and gave them all above-average marks, and my son Kevin praised them even more almost literally one year ago to the day. Bottom line is, us Roberts boys like us some Lucky Dog Hot Sauces!
As a recap, the first three sauces Zalkind has released are colored as such: Green (Mild), Red (Medium) and Orange (Hot). Plus for clarification's sake (more on the newer three in just a second), these aforementioned trio are all fire-roasted pepper sauces.
The review subjects this time out are colored coded as well, but pay close attention to the heat level and style as I list these: a hotter version that trumps the spiciness of the Orange is Black Label or Extra-Hot. This, too, is a fire-roasted pepper sauce.  Joining the Black are two smoked pepper sauces instead of being on the fire-roasted variety: Purple Label (which is an Extra Mild hot sauce) and Pink Label (an Extra Hot hot sauce).
Pink Label – Extra Hot Lightly Smoked Pepper Sauce
Ingredients: Distilled white vinegar, onions, pears, habanero peppers, garlic, carrot juice, serrano chili peppers, dates, carrots, water, ghost pepper infused sea salt, applewood smoked sea salt, lime juice concentrate
Thoughts: This (as you'll read in my observation of the other two, as well) has an extremely likable consistency and texture.  You see, the older I get, the more I tend to gravitate towards hot sauce with considerable thickness and heft to it, and the Pink Label is almost dead-ass perfect with its applesauce-like looks and pourability.
The flavor boasts a familiar mood that's trademark of Lucky Dog Hot Sauces, yet adds some tones to the mix.  There is the veggie-fresh base of onions, garlic, carrots and chile peppers, but this one also has strong supporting performances from the sweet notes of the fruit as well as a tinge of smokiness. There are a couple of layers of heat, boasting but an immediate singe (I assume from the serranos) and a delayed burn from the habaneros. The taste is multi-faceted, but there's not a single point where certain flavors clash with others – the amounts of the ingredients are spot-on, making a terrific, unified hot sauce that sort-of fits in the "oniony/garlicky" vein.
The heat will please chileheads and the complex flavors will dazzle the spice-loving foodies in the crowd. Nice job!
Heat: 
Overall Flavor: 


Pictured: Pink Label Extra Hot Lightly Smoked Pepper Sauce on flatbread pizza.
Purple Label – Extra Mild Lightly Smoked Pepper Sauce
Ingredients: Green jalapeño peppers, distilled white vinegar, onions, organic apple sauce, garlic, carrot juice, water, carrots, hickory smoked sea salt, mission figs, lime juice concentrate.
Thoughts: If you're wanting to impress someone with the deep complexity of the above Pink Label, then definite but you know that they're not into huge amounts of fiery bluster, then the Purple Label may be the perfect answer. It's almost identical in the texture and appearance. While its similar in overall taste, the Purple is not simply just a "wimped down" version of the Pink.  It's got some unique flavor elements all of its own.
The jalapenos are given plenty of room to play, and there may be an even slightly more sweet edge to this sauce. This is a sauce that even more so than the Pink coalesces into a beautiful, broad, single voice while still maintaining complexity. For "mild mouths" the low heat is just right, and this would make an awesome table sauce if you like it thick. This gets a HUGE thumbs up from me!
Heat: 

Overall Flavor: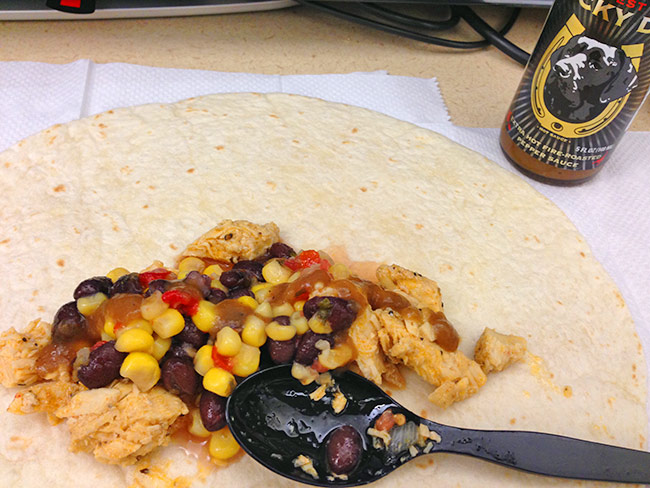 Pictured: Black Label Extra Hot Fire-Roasted Pepper Sauce in a chicken burrito with homemade black bean & corn salsa.
Black Label – Extra Hot Fire-Roasted Pepper Sauce
Ingredients: Onions, apple cider vinegar, water, organic apple sauce, jalapeño peppers, garlic, dried figs, sugar, scorpion peppers, sea salt, ghost pepper sea salt, lime juice concentrate.
Thoughts: Just when I think it couldn't get any better, Zalkind pulls this wonder out of his pocket and delivers a true "wow" product! The Black Label possesses a similar thick, light brown "applesauce" type feel to it. Another plus. The overall flavor profile is slightly less of a smokey one than the Pink and Purple, and more of a straight roasted variety like his previous three were.  The difference is, Black Label is much, MUCH hotter, but the taste does not suffer one iota. In fact, I think it only gets better!
This capitalizes on both the slight extreme burn and taste of both scorpion peppers and ghost chiles while blending in fantastically with jalapenos, creating a rich chile pepper base. Heavy doses of sweet and savory come forth from onions, figs and garlic.  Oh, and the garlic is heavenly! Not too much of it, but enough to give you a warm tingle in the nasal passages.
The overall heat is mighty and builds up tremendously on the tongue, and will definitely scare away most not hardcore chileheads. If you do find yourself in the camp of the extreme heat lovers, the Black Label might end up being your go-to, all-purpose table sauce.  It goes great with most anything and will leave you wanting more. I love this stuff! I give it my highest recommendation.
Heat: 
Overall Flavor: 
In Summary
With his Lucky Dog Hot Sauce brand, Zalkind has one of the strongest pepper sauce product lines of most any artisan sauce maker today. He's highly adapt of balancing flavors, savoriness, intricate nuances, fresh vegetable tones, heat, and wide appeal for heat junkies. The guy knows his stuff!
To find out more or to purchase any of these sauces, run over to http://www.luckydoghotsauce.com/ today. Tell 'em I sent you.
Review – Lucky Dog Hot Sauces – Pink, Purple and Black Labels