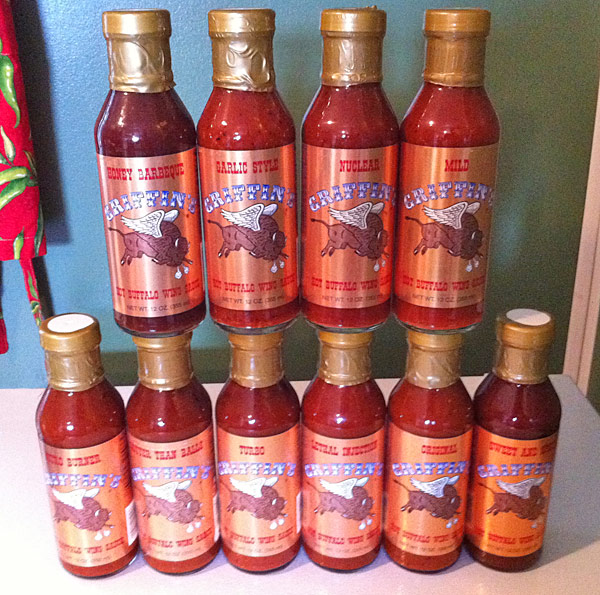 I don't know much about Griffin's Wing Sauce, other than the fact that it's owner, Mike Griffin, hails from Levittown, Pennsylvania. He contacted me a few months back and inquired about doing a product review for all 10 of his sauces. His website, http://www.griffinswingsauce.com, doesn't provide much in the way of info, either, other than proclaiming that Griffin's Wing Sauce has been around for a while, "burning mouths for 25 years".
I finally got a quick chance to meet Mike at this year's Peppers at the Beach, and he informed me that he was in the process of updating his bottle labels (more on that later), and I also got a chance to taste a few of his wing sauces before I was able to open the review products at home that he had shipped me. Even though at the time I sampled the sauces by themselves with the aide of actual chicken wings, I thought they had some promise.
Finally, about a month later I fried up a gargantuan amount of chicken wings at home and put all ten of Griffin's wing sauces to the test. Milk and unsalted crackers were eaten between each one to help clean my tongue's taste preceptors so that I could better judge each sauce on its own. Below are my findings.
Ingredients:
8 out of the 10 list the identical ingredients.
Sweet and Spicy: Hot peppers, honey, vinegar, seasonings and spices, salt, xanthan gum.
Honey Barbeque: Concentrated tomato juice (water, tomato paste), high fructose corn syrup, vinegar, molasses, salt, modified corn starch, honey, aged red peppers, minced garlic. Contains less than 2% of spice, natural flavor, paprika, mustard flour, caramel color, guar gum, Red 40.
Mild, Original, Turbo, Hotter Than Balls, Nitro Burner, Lethal Injection, Garlic Style, and Nuclear: Hot peppers, vinegar, seasonings and spices, salt, xanthan gum.
Labels and Heat Level Naming Convention:
Just like the Lucky Dog Hot Sauces I reviewed last month, these as I received them have an identification problem.
Now in Mike Griffin's defense, he did show me an early mockup of the new label design at the aforementioned Peppers at the Beach, so I assume he's still in the process of relabeling his product line. That having been said, the Griffin's Wing Sauce website still shows the older labels on the bottles, so I will comment on those and what I received for review.
Problem #1: All of the labels look the same. The artwork is okay, with the drawing of the buffalo with the bird/angel-style wings attached, and the actual font used for the word "Griffin's" is not too shabby with its old-timey appeal. I am not a big fan of the shiny gold background color, as it makes the red text a bit hard to read.
But the real issue is that EVERY SINGLE ONE of the ten sauces have the exact same color, artwork and overall appearance. I would at least change the colors up a bit or modify the designs somewhat. At a quick glance it's almost impossible to tell them apart! The only thing differentiating them is the word on top which signifies the type of sauce inside the bottles, which leads me to…
Problem #2: The names of the sauces aren't a clear indication of what heat level they are. It's easy to guess what kind of flavors Garlic Style, Sweet and Spicy, and Honey Barbeque are, but what about Nuclear, Turbo, Lethal Injection, Hotter Than Balls, and Nitro Burner? Could you estimate just by the names where they fall on the heat scale? I could not either. There is nothing on the bottles to describe that the burn from any of these would rank as "medium", "hot", or "extra hot". A simple circle with a word "Hot" on the front of the label would help, or at least show a thermometer-style heat scale on the back.
The website does come to the rescue in this regard and provide a heat scale (which I've posted below), but if you did not have the benefit of the internet at your disposal, how wuould you know what is what be simply going by the names? As mentioned before, referring to the ingredients list does not work because the Mild is listed as having the exact same components as Lethal Injection (the hottest), even if we can presume after the fact that the spicier ones contain for chile peppers in them.
Now let's get to reviewing the sauces in the order in which they appear on the spiciness thermometer, starting with the mildest…
Reviews of Flavor and Heat
Honey Barbecue
This is kind of run-of-the-mill BBQ sauce. There's nothing I would consider highly offensive about it, as it has some decent sweet, tangy and smokey elements to it. The smokiness did teeter too close to having an artificial liquid smoke tone to them. There was a little bit of detectable burn on the backend. On the plus side, it was thick and hefty in consistency, just the way I like it. If you don't expect a heapin' helping of BBQ greatness, and just want a general, plain BBQ sauce for the masses, this might do.
Overall Flavor –

Heat –
Sweet and Spicy
I really enjoyed this runnier sauce. This was almost like a combination of a tangy, vinegary wing sauce with the rush of a honey-driven Asian sweet chili sauce, if you can imagine that. Not too hot, peppery-wise. My kids loved this product as well, so purchase this and you make have a hit on your hands the next time it's homemade wing night.
Overall Flavor –

Heat –
Mild
A highly tart, vinegar-laden product could have benefited from more of a chile pepper taste and heat. It's fairly watery and has more of a brownish hue instead of the typical orange color buffalo sauces tend to have. The slightly sweet edge sets it apart from other wing coaters on the market, yet I think this needs some serious work overall. I'd skip this one.
Overall Flavor –

Heat –

Original
The Original (listed as "Hot" on the Griffin's Heat Scale) is a definite step up taste-wise from the substandard Mild. A good, solid, tangy flavor that possesses a touch of the sweet factor I mentioned the Mild had, and it seemed like I could sense more garlic in this as well. You could do worse with this product.
Overall Flavor –


Heat –
Garlic Style
You take all of what sets Griffin's Mild and Original Sauces apart from the competition, and amp it up with a smidge more heat and loads more garlic, and this dark orange/red liquid is the end result. I like it. Garlic Style has a terrific peppery scope and just enough garlic bluster to force you to chew gum to freshen your breath after sucking down a few wings with it on there. Good stuff.
Overall Flavor –


Heat –
Turbo
This first of the "hot" ones is a bit too similar to the Original; there's just not enough difference in the heat level, in my opinion, to justify having another level up so close. That having been said, Turbo is an enjoyable product.
Overall Flavor –


Heat –
Nitro Burner
I'd say get rid of Turbo in the line and have Nitro Burner be the next step up from Original. It's beautifully hot and tangy, with a slightly more thick and creamy feel to it. I imagine if you eat a plateful of these, they'll leave you with numb lips (oh, yeah!). This is one of my favorites from Griffin's Wing Sauce line.
Overall Flavor –


Heat –
Nuclear
Almost identical to Nitro Burner except for a little more chile pepper burn – hot, creamy and tart. This makes it even tastier and more appealing to me as a wing fanatic.
Overall Flavor –

Heat –

Hotter Than Balls
Even though this ranks higher than Nuclear, I did not get a sense it was spicier at all. In fact, to my tongue it seemed milder. The flavor is also a step down or two from the previous two, and this had a bit of a distracting, high vinegar edge that gave it annoying tartness. Not a fan of this one.
Overall Flavor –

Heat –
Lethal Injection
And now we get to the top of the heat heap with Lethal Injection. It's noticeably different from the other wing sauces in that a) this boasts a much denser consistency, and b) a grittier taste dominates each bite of it, as if WAY too much dried chiles went into making this. Although, for an extreme heat wing sauce, you could do far worse.
Overall Flavor –

Heat –
In Conclusion
It's interesting what approach Mike Griffin has taken with his flavor profiles, and I mean that in a sort of negative way. My advice to him (if it's not already in the works) would be to drastically improve the clarity of what the sauces' heat levels are on the labels, as the average consumer could be bewildered as to what heat level each vaguely-named sauce was. He should definitely get rid of a two or three of his sauces (in my opinion, Turbo and Hotter Than Balls are unnecessary in his lineup).
Sauces are available in 12 oz., 32 oz., and gallon-sized bottles at http://www.griffinswingsauce.com.
Review – Griffin's Wing Sauces