It's time for another captivating snack chip showdown! Of course, since I try to keep it spicy, I've selected a pair of nationally-available brand names with takes on fiery flavor variations. Since major snack manufacturers are scatter-shot when it comes to not only featuring a product that should appeal to chileheads, but also be delicious at the same time, I came into this review with no expectations.
Interestingly enough, there are now actually a wealth of hot n' spicy options down the chip aisle (almost too many, to be honest!), so I had to be very judicious in not only selecting suitable review subjects.
I ended up choosing Doritos Dinamita Fiery Habanero Tortilla Chips and Ruffles Deep-Ridged Classic Hot Wings Potato Chips, and I was fortunate because they were two fairly dissimilar munchies in core ingredients, texture, and flavor styles.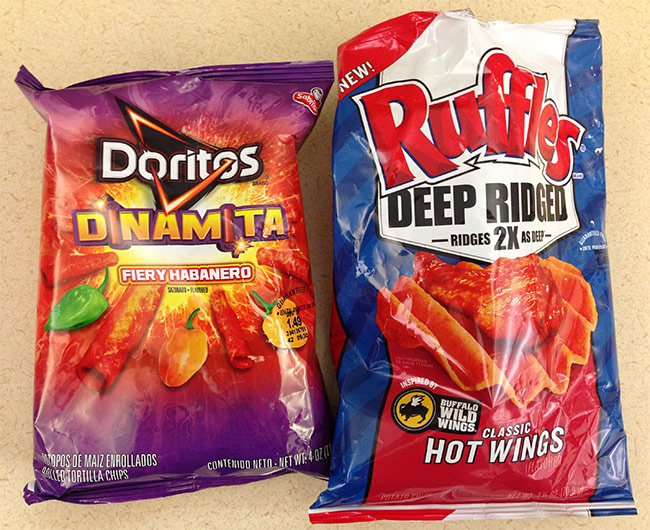 Let's get to examining each of these, starting with what is the spicier of the two, the Doritos Dinamita Fiery Habanero Tortilla Chips.
Doritos Dinamita Fiery Habanero Tortilla Chips
I first saw bags of Doritos Dinamita a few years back (I think it was the Chile Limon flavor), and at the time I genuinely thought these might have been a Doritos import from Mexico, as I've seen the occasional odd foreign food product seep through and be available at an American retailer. After a bit of quick and dirty research, these are indeed geared for (at least in part) for the U.S. market; and just like a lot of products intended for use all over North America (as in Spanish for Mexicans, English for Americans and most Canadians….and sometimes even French for those who reside in Quebec), this was printed bilingually.
Texture and Appearance
Let's take a look at these puppies out of the bag. As all of the offerings in the Doritos Dinamita lineup are, these chips are of the rolled and fried type. Each chip is approximately 3 inches long and has the diameter of a pencil. With the the entire cross-section thickness being around 4-5 chip layers deep (even with the hollow insides), you get substantial crunch when biting into these babies. It at no point becomes too hard or too laborious to chomp through these; and if you love crunch, you'll find these to your satisfaction.
Flavor and Heat
A notable point that I must make is that the term "Fiery Habanero" next to the brand name "Doritos" really piqued my interest when picking these up at the store, because there was a flavor of the regular, triangular Doritos back around 2006-2007 called "Fiery Habanero Doritos" that were AMAZING; they contained a bit of nacho cheese flavor, and combined it with real heat that pleased a lot of us chileheads back in the day.  Parent company Frito-Lay sadly discontinued the chips, so I had admittedly a bit excited at the prospect that these were a re-introduction of the original Fiery Habanero flavoring.
The answer to that last point is…well, sort of. Now I'm not going to pretend that I have a "photographic tongue" (if that phrase has never been coined, I'm creating it now), but I remember the original Fiery Habanero Doritos being cheesier, richer and more balanced.  These Doritos Dinamita Fiery Habanero rolled tortilla chips derive much more flavor from the habanero chile pepper itself: a tad peppery, grassy and even citrusy, with a sharp, quasi-bitter kick coming in on the front-end, with a long burn on the finish.
It's not a bad flavor coating, but maybe what I admire most about this is that it opens up just enough breathing room on the tongue for the actual taste of the chip to shine through. The fried corn with its rolled-up thickness give it an extra heavy-duty dose of tortilla-ness is almost exquisite.
The heat, while not approaching levels obtained by the likes of Blair's Sauces and Snacks, can find an appreciated home in the average chilehead's cupboard or pantry. Non-heat freaks will find something hot enough if they're in the mood for something with a little kick, yet this probably won't be too incendiary to eat unless they have extremely weak tongues.
Overall
All that having been said…this did not blow me away. So did something go wrong here? I think that even though on individual benchmarks the Doritos Dinamita Fiery Habanero Tortilla Chips performed rather well, the overall product is not equal to the sum of its parts.
Here's how I would explain this to you folks: the Doritos Dinamita Fiery Habanero Tortilla Chips lack the all-important attribute of addictability. What that means is while they may taste good, there is something missing that makes you crave these day and night, something that may or may not be intangible that makes you want to continue to eat one after the other. Perhaps it's the lack of a truly hardcore "umami" sensation, or maybe it's the fact that you indeed get a lot out of each chip (the rolled-up quality can hide a lot of fried corn material). I don't know.
What I can tell you is that this 4 oz. bag (which is a little larger than a single serving portion for most people) provided not one, not two, but three snacking sessions worth of tortilla chips for me. After a crunched on several of these, I quickly got my fill of them. They simple weren't addictive enough to make me want to continue on.
So because of that, I had to knock off a couple of points down from a perfect 5 to a score of 3.  Doritos Dinamita Fiery Habanero Tortilla Chips are still good enough for me to recommend, but I'd much rather reach for the Nacho Cheese version, even if they can no chile pepper-induced spiciness.
Overall Rating:


Heat:

Ruffles Deep-Ridged Classic Hot Wings Potato Chips
Next up at the snacking plate were Ruffles Deep-Ridged Classic Hot Wings Potato Chips…
Texture and Appearance
"Thick", "bold" and "intense" chips of various kinds can almost because their own their own sub-category (think of the "Jacked" Doritos and any of the thick-cut kettle-fried potato chips like Krunchers), and these no doubt could be lumped in with them.
Shape and size-wise, each of the Ruffles Deep-Ridged Potato Chips is about on par with any standard chip on the store shelves, with assorted oval shapes; you'll find on mondo 4-inch diameter chips here! Obviously, where the distinction lies is the depth of the ridges and of the actual girth of the cut. The bigger ridges also allow for more surface area on which the sprinkle coating can be applied. The crunch and crispiness is phenomenal!
Flavor and Heat
On the bag it states that these Ruffles Deep-Ridged Classic Hot Wings Potato Chips are "Inspired by Buffalo Wild Wings". I cannot tell you to what degree the collaboration there was between Frito-Lay's flavor labs and the Buffalo Wild Wings product development department, but as a B-Dubs connoisseur I have to honestly say that there was nothing that jumped out at me as being distinctively from the chicken wing chain. I've tasted all of Buffalo Wild Wings' sauces many times, and not one really resembles the tones created on these Ruffles.
That does not mean the flavor is lacking in any way. Uhnt-uh. In fact, the taste is pretty damn good, even if it's not a highly-refined and easy-to-pick-apart flavor sensation.
It's a general, smooth and full-reaching umami blast with soft pepper notes and a bit of tang of a vinegary hot sauce without the annoying harshness of some of those ineptly-made "hot sauce"-flavored potato chips. Do they genuinely  taste like buffalo wings? Hmmmm. I would have to say both "yes" and "no". These Ruffles loosely approximate a smooth buffalo essence and hint of a general chicken impression, but it's different enough to be almost vague for a good deal of untrained mouths.
But I like what I get with these. I REALLY like them! My word, these Ruffles Deep-Ridged Classic Hot Wings Potato Chips are magnificent. And unlike the Doritos Dinamita Fiery Habanero Tortilla Chips mentioned above, the Ruffles pack in loads of addictiveness. This makes for a delicious and kick-ass snack!
There's not much in terms of spiciness that abide within these chips. If you're looking for a stinging chile pepper burn, you're going to be disappointed. I'd say the overall taste more than makes up for it.
Probably the only drawback to these chips is the value for the money. A 2 1/2 oz bag (which is slightly larger than a single-serving size) runs for around $1.49. This is the same cost as the aforementioned Doritos Dinamita, but you can easily and quickly plow through a bag of the Ruffles Classic Hot Wings Chips in one shot. Because of that, I will knock off a half-point from getting a perfect 5. If it weren't for this, these might very well be my favorite new snack of the year.
Overall Rating: 

Heat:
Review – Doritos Dinamita Fiery Habanero Tortilla Chips and Ruffles Deep-Ridged Classic Hot Wings Potato Chips