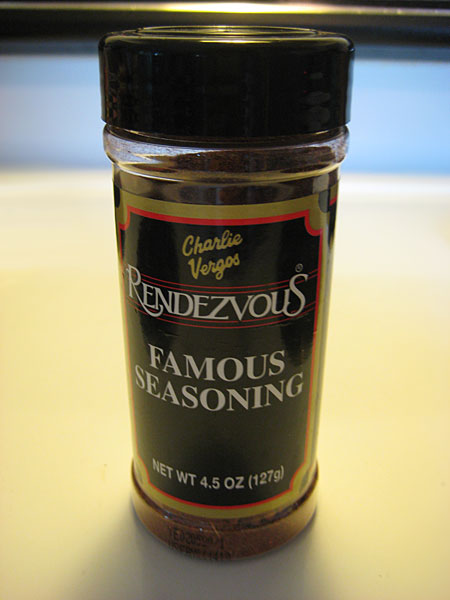 Charles Vergos' Rendezvous Famous Seasoning suffers from the fact that it's not a highly versatile product.  I wouldn't expect food lovers to be able to sprinkle this stuff on salads, veggies, sandwiches, deviled eggs, or even regular grilled burgers and steaks.  It started as one thing: a dry rub for Rendezvous' delicious barbecue smoked meats, in particular pork ribs, and by God that's what it's good for.
It's highly recommended that you use this on foods that you cook over low heat and do it slowly all day, with plenty of wood smoke. You know, real barbecuing. Pork shoulders, ribs, chicken and beef briskets are outstanding with Charles Vergos' Rendezvous Famous Seasoning coated on thick. If you're merely "grilling" (cooking fast with high heat) without smoking the meat, it's just missing something even if this dry rub is applied. It just ain't the same.
I picked up a bottle of Rendezvous Famous Seasoning during my trip to Memphis earlier this year to see if I could replicate the BBQ joint's fantastic dry rub ribs at home.  The following is a review of the seasoning and my efforts to achieve rib sucking nirvana…
Ingredients:
Spices, Paprika (Color), Garlic, Monosodium Glutamate, Salt and less than 2% Silicon Dioxide Added to Prevent Caking
Aroma:
By itself, 3 out of 5: Noticeable scent of cumin, salt, paprika, and perhaps some brown sugar.  On smoked meat, 4.5 out of 5: Wonderful, perhaps a little too heavy on the cumin, but it's still mouthwatering all the same.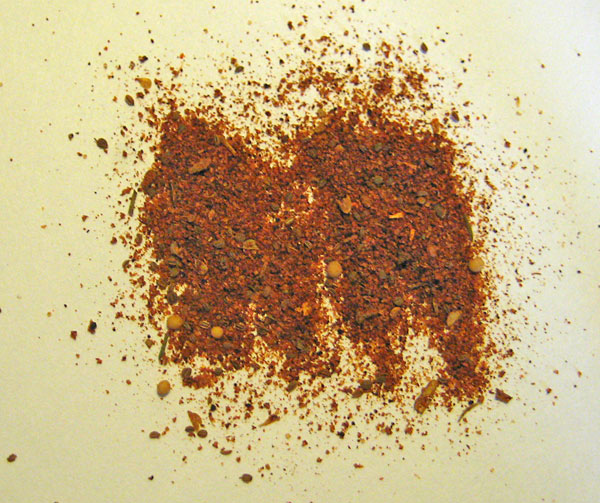 Appearance and Texture:
4 out of 5. A good-looking brown on the side of having a reddish-orange hue. Contains everything from the finest powder of paprika and cumin to granules to small flakes of green spices.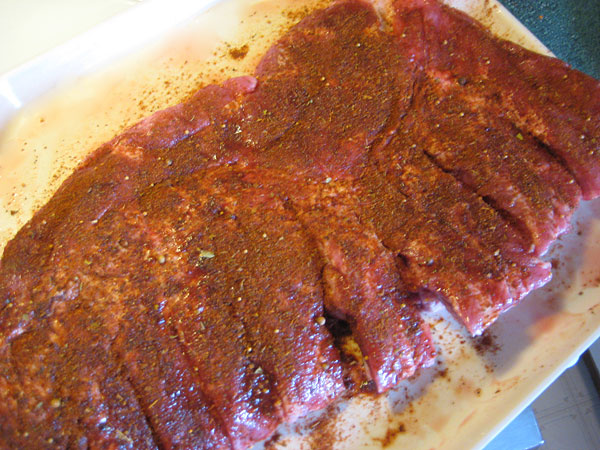 Taste Straight Up:
3 out of 5. Obviously this rib rub was created to complement meat, not be eaten on its own. After shaking a dash of Famous Seasoning in the palm of my hand and tasting it, I could detect cumin, oregano, paprika and salt. The ingredients seem to be in correct proportion to one another and no one flavor dominates the mixture. It's blended well and that's how a rub should be.
Taste on Food:
5 out of 5. This is where Charles Vergos' Rendezvous Famous Seasoning sparkles.
I covered a slab of St. Louis style spare ribs, various pork pieces (including parts of the ribbon) and chicken pieces in the Rendezvous rub before placing in the smoker, and an additional sprinkle approximately 30 minutes before serving them for supper. It helped create a nice bark on the meat.
A cut into the meat brought forth some it's juices, which produced almost a type moist sauce by mixing with the seasoning. It was superb, and easily one of the best rubs I've ever tried.
I didn't possess all the elements that the famous Memphis smokehouse has at their disposal, which include choice cuts of ribs, a 50+ years tried-and-tested method of smoking meat, their particular mop (which is reportedly a mixture of water and vinegar) to baste with, all honed to perfection.  So it wasn't quite like the experience of visiting their fine restaurant.  For a novice-to-intermediate level BBQ-er like me, though, it was still pretty damn good.
If done right, you won't need BBQ sauce with this. Take it, savor it for what it is, and spend a luxuriant several minutes in BBQ heaven.
Heat:
None to speak of.
Overall:
If you can't make it down to Memphis to try the "real thing", you can order Charles Vergos' Rendezvous Famous Seasoning dry rib rub at theor official website of http://www.hogsfly.com. They have special deals on 4-packs and combination seasoning/sauce packs.  Believe me, multiple 4.5 oz bottles of Famous Seasoning may be necessary, as you'll use up a lot of this stuff if you cook ribs several times a year.
Review – Charles Vergos' Rendezvous Famous Seasoning