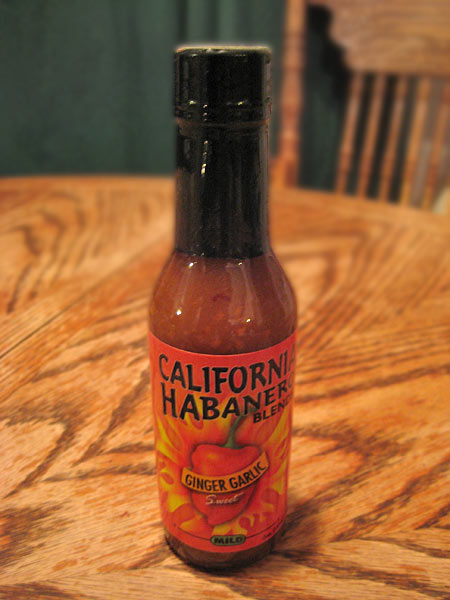 Here's a sauce that I think has a very narrow scope. California Habanero Blends Ginger Garlic Habanero Sweet Mild Heat Hot Sauce certainly wouldn't be as versatile as it touts itself to be on the bottle, but for what it does do, you may discover it that it adds that little bit of difference you're craving to spice up hum-drum meals.
Ingredients:
Sugar, Orange juice, Pineapple Juice, Soy Sauce (water, wheat, soybeans, salt), Garlic (garlic, water, citric acid), Habanero (habanero peppers, salt, citric acid), Ginger, Key Lime juice, Vinegar, Salt, Spice, Xanthan Gum
Aroma:
2.5 of 5. This one didn't exactly please me. A whiff of this consisted of strong garlic, ginger and some fruitiness. For some reason, I don't think the smells played right together to make this aromatically appealing. Cook with this, and I don't think your family will come bounding into the kitchen begging you to "hurry up" with supper.
Appearance and Texture:
3 out of 5. The base liquid is very watery, but for what I'm guessing will be a heavily Asian-inspired sauce that's okay. There's an abundance of pepper seeds and fragments along with pieces of ginger and garlic. Visually, it's very lovely, with a nice golden-brown hue. If you're looking for a thicker sauce with more clinginess, you may have to look elsewhere.
Taste Straight Up:
4 out of 5. My assumptions are correct: this is pure Asian. I put a spoonful of Ginger Garlic Hot Sauce on the tongue and was immediately pleased with the intense pineapple flavor mixed with a tinge of oranges. Milliseconds after, the vibrant and bright sensations of garlic and ginger. Vinegar was not strong at all, and I'm kind of glad of that fact as I feel a lot of sauce makers use vinegar as a crutch. Heat (a relatively mild one) was noticeable every now and then. I could feel the chewy little bits of the ingredients as I chewed and consumed this. Nothing was wrong with that. I tend to dislike sauces, liquids, dips, with overly hard or tough dices of ingredients – such as dried chile peppers that the chef failed to rehydrate properly and are WAY too chewy – but this was not like that it all.
Taste on Food:
3.5 out of 5. I was in the mood for some Asian zing with some fried chicken breast pieces. I dipped some of the chicken into a puddle of the Ginger Garlic Hot Sauce and coated others. It handled taste duties pretty well. I think that this sauce would fare better with foods that are grilled or steamed, as the "heaviness" of the oil in the breading might have thrown the taste of the sauce off a smidgen.
Chicken, fish (probably all types that are "light" and not "fishy") and pork are good candidates to put this sauce on. Stir-fry or steamed veggies would also be tasty, as would white rice or a nice spinach salad.
Heat:
A lot of the perceived pungency comes from the garlic and ginger, not from the habaneros. For a habby sauce, California Habanero Blends Ginger Garlic is pretty mild (hence the "Mild" classification of the label). On a heat scale of 1 to 5, this would clock in at 1.5.
Label:
4 out of 5. Very bright and colorful, dominated by red and oranges. It shows a red habby amid a fiery "splash" and is surrounded by sharp text that's varied but easy to read.
Overall:
For what it does, California Habanero Blends Ginger Garlic Habanero Sweet Mild Heat Hot Sauce performs moderately well. Available around the internet in a 5 oz. bottle for around $5.99.

Review – California Habanero Blends Ginger Garlic Habanero Hot Sauce