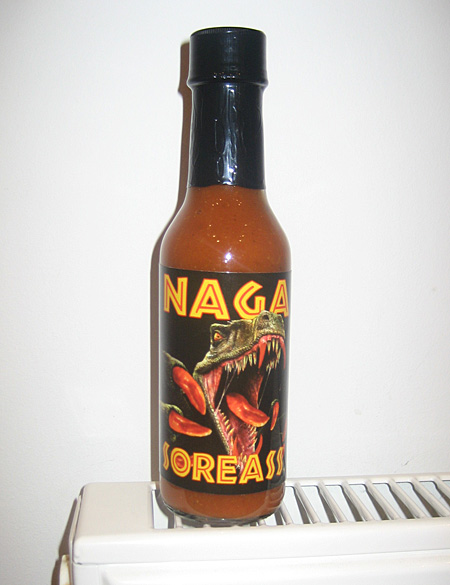 I have been an avid reader of Scott Roberts's blog for some time and to be asked to write an article for his blog is a tremendous honour. I hope I do you all justice!
I write for The English Chilli Company over in well, um, England. The blog was set up to review chilli related products and is a labour of love – we are trying to catalogue every chilli product we can find!
So to be asked by Scott to write for his blog is a nerve wracking experience – firstly, us English must appear a funny group of people to those of you in the USA – having bad teeth, liking cricket and spelling Chile differently – Chilli.
There is a well established and fast growing chilli scene over here in the UK, we have plenty of fine sauce companies such as Chilli Pepper Pete, the UK's best chilli magazine – The Chile Foundry and our very own Darth Naga who reviews hot sauces with no fear.
However when selecting the product I was going to review, the decision was simple, my favourite sauce brand is CaJohn's. They are without doubt a fantastic and original hot sauce maker – they have some awesome brands in their collection and they always innovate. The real clincher however, is the fact that the sauces have some of the best tastes around.
So I chose to review CaJohns NagaSoreAss Hot Sauce. It is not one that I had tasted before and it is only when I got the sauce in the post, opened the package up that I got the joke – there is a really great looking label with what looks like a Tyranasauras Rex on it – hence the NagaSoreAss… Get it? It took us a while!
With no delay we opened the sauce up and took a deep sniff from the bottle – and the only thing that you can smell are the Naga Jolokia peppers – it smelt a little bit fruity – maybe a hint of vinegar – but the Naga just kept on coming through.
The bottle needed shaking as it has settled a bit and it lived things up ahead of tasting. This is not one of those runny sauces that you get.
We poured some onto a spoon and away we went. The first thing you get is a fantastic sweet and fruity taste before the heat arrives. It probably takes around five or so seconds for the heat to kick in. It is not an unbearable heat – it is actually rather pleasant. It is so pleasant in fact, that it's very easy to go back for more. Yes it is the hottest chilli ever, but it's survivable and has all the original flavour that you'd come to know and love from CaJohns.
The ingredients are Chillies (the Red Savina and Naga Jolokia), vinegar, onion, tomatoes, lemon juice, garlic, salt and spices.
So that wraps up my first proper chilli product review, thoughts, opinions and feedback are very welcome!
All the best,
Review – CaJohns NagaSoreAss Hot Sauce